I have been intrigued by the concept of rain gardens for quite a while and was delighted to see this article from my friends at 
Soulsby Farm - A Very Small Farm
. It is the best article on rain gardens that I have come across.
How to Build a Rain Garden
Got rain on the brain? It hasn't been very rainy yet, but it sure will be again soon. Have you thought about where all that
rain water
 is going to go? 
Rain gardens
 will capture the rain water and get into the ground where it belongs!
Every time it rains, we generate a ton of water.  Every drop collected with all of our neighbors, every parking lot, every business, every hard surface, generates rain water.  When we collect all that rain water together, it is usually too much for our local streams, creeks, and lakes to handle. When we pipe all that water to our local waterways, we create a lot of harm – we increase erosion and flooding, reduce 
native plant
populations, and can even increase the spread of
invasive species
. Rain gardens were developed as a way for a homeowner to do their part and beautify their property, while also trying to manage rain water at home and get it into the ground where it belongs.
What is a Rain Garden?
 Rain gardens are shallow depressions, usually six inches deep, that are hand-dug and planted with 
deep rooted
, water-loving native
plants
.  Essentially our rain water is directed from our roofs to a sited rain garden where water can be captured and temporarily stored it for one to three days in duration. Once there, the plants, soil and microbes in the soil work together to clean the water, while the deep rooted native plants create capillaries that help it to soak into the ground .
When these 
gardens
are not soaking up rain water, they are looking great and enhancing our landscapes.
Native plants
 have great leaf textures, a variety of flower colors and heights to create interesting and unique gardens for our homes.
How to Build a Rain Garden:
For more "how-to" information on rain gardens,
please visit our resource page
.
Rain Garden Plant Lists
for sunny & shady sites
available on our website
.
This article was written by Soulsby Farm's good friend 
John Gishnock
 of 
Formecology
. John is the foremost authority in 
Rain Gardens
 in the Midwest and gives lectures throughout the US on subjects that include rain gardens, natural stone hardscape features, native landscape design, and 
sustainable landscape
 features. For information about John and his company please visit his website or click on the links above.
[caption id="" align="alignnone" width="146"]
Making Peace with the Land[/caption] I have just started reading
Making Peace with the Land: God's Call to reconcile with creation
by agriculturalist Fred Bahnson and theologian Norman Wirzba. This is the seventh book in the
resources for Reconciliation series.
All I can say at this point is that this is a very profound book, one that I think is essential for all who are interested in a holistic view of faith. Even reading the prologue has turned some of my thinking on its head. And what time to do this than after Pentecost as we enter the season of Ordinary time or as some prefer to call it Kingdom time. Listen to this provokative beginning talking about the first couple of chapters of Genesis.
We are right to believe that God loves you and me. But in these earliest pages of Scripture, we discover that God's first love is the soil. This is how it has to be, because without healthy soil and the fertility and food it makes possible, there would be not terrestrial life of any kind. God's love for us- described definitively in John 3:16 as God's giving of his Son to us- only makes sense in terms of God's love for the earth that sustains us. God daily cares for us by providing the nurture of food, as well as the the gifts of fiber and timber and energy, all of which find their origin in soil.... Genesis 2:15 is an invitation to know and share in God's love for the whole creation. (pp16,18).
Over the next week or so I plan to post several articles about how we can steward God's good earth in creative ways. If you know of examples of creative approaches to stewardship that you think need to be shared I would love to hear from you.
I posted this on facebook this morning and meant to post it to the blog as well - enjoy Tomorrow is Pentecost - this prayer was written as I contemplated the Holy Spirit breathed into us by Jesus (Jn 20:22) Spirit of God may we breathe in and hold your love within us May we breathe out and share it with the world Spirit of God may we breathe in and hold your peace within us May we breathe out and share it with the world Spirit of God may we breathe in and hold your life within us May we breathe out and share it with the world.
[caption id="attachment_6828" align="alignnone" width="300"]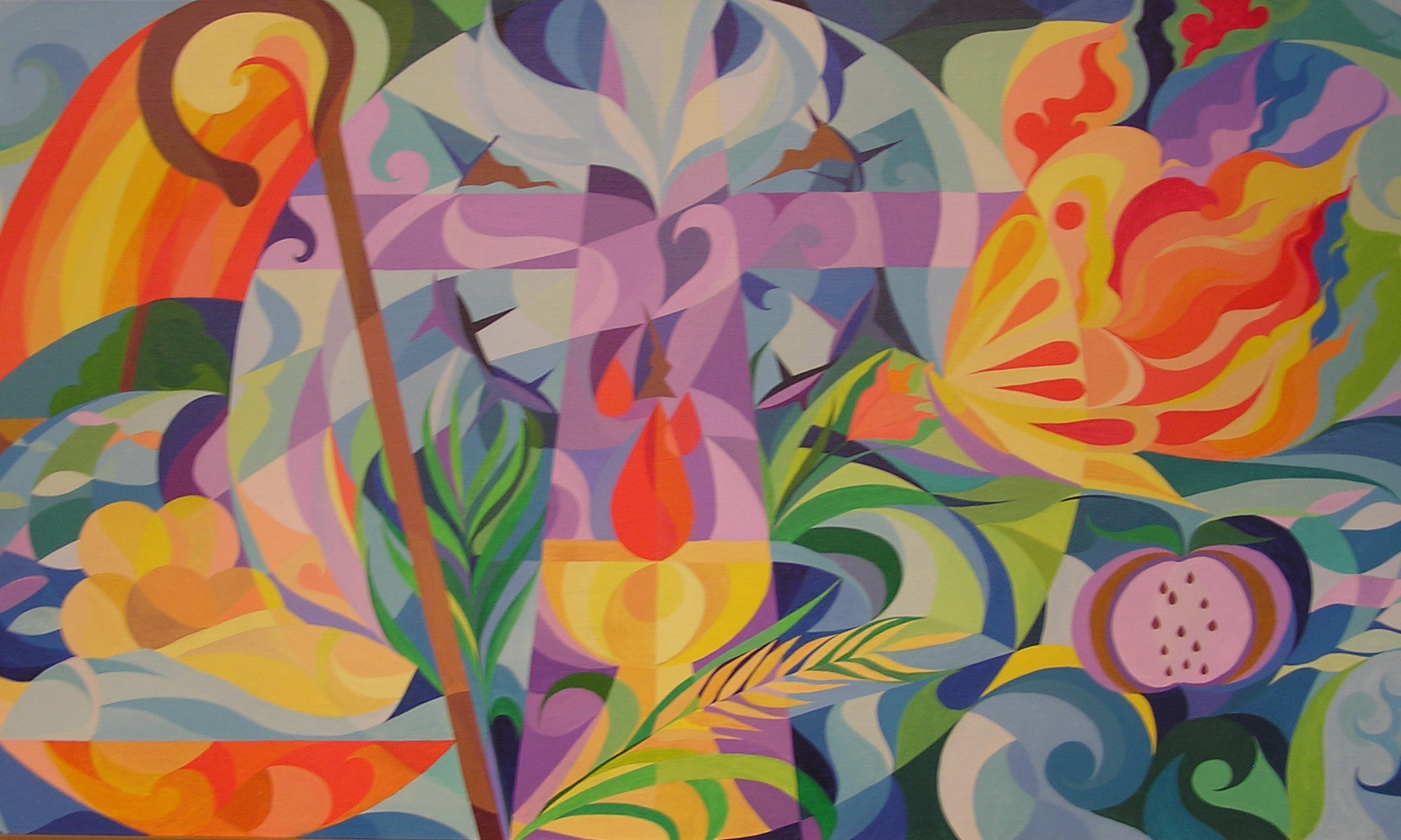 Art at Overseas Ministries Study Centre[/caption] Last week my good friend Tom Balke sent me this quote from 18th century French Mystic Jean Pierre De Caussade. (1675 - 1751). "God instructs the heart, not by ideas but by pains and contradictions." His classic writings in 
Abandonment to Divine Providence
express the belief that his belief that the present moment is a sacrament from God and that self-abandonment to it and its needs is a holy state. - right up my alley. I must confess that I was not familiar with his work. But the quote made me hungry for more. So an internet search later I came up with some beautiful quotes and much more wisdom from this great man. Here are my favourites which I
gleaned here
that I thought you might enjoy. Come, then, my beloved souls, let us fly to that love which calls us. Why are we waiting? Let us set out at once, Let us lose ourselves in the very heart of God and become intoxicated with His love. Let us snatch from His heart the key to all the treasures of the world and start out right away on the road to heaven. There is no need to fear that any lock will hold us back. Our key will open every door. There is no room we cannot enter. We can make ourselves free of the garden, the cellar, and the vineyard as well. If we want to explore the countryside, no one will hinder us. We can come and go; We can enter and leave any place we wish, Because we have the key of David, the key of knowledge, and the key of the abyss that holds the hidden treasures of divine wisdom. It is this key that opens the doors of mystical death and its sacred darkness. By it we can enter the deepest dungeons and emerge safe and sound. It gives us entrance into that blessed spot where the light of knowledge shines and the Bridegroom takes His noonday rest. There we quickly learn how to win His kiss and ascend with surety the steps of the nuptial couch. And there we learn the secrets of love- Divine secrets that cannot be revealed and which no human tongue can ever describe. Form Beevers, Jon, trans. Abandonment to Divine Providence, NY Doubleday, 1975, pp 25,37, 40, 73, 81-82 Faith transforms the earth into a paradise. By it our hearts are raised with the joy of our nearness to heaven. Every moment reveals God to us. Faith is our light in this life. By it we know the truth without seeing it, we are put in touch with what we cannot feel, recognize what we cannot see, and view the world stripped of all its outer shell. Faith unlocks God's treasury. It is the key to all the vastness of His wisdom. The emptiness of all created things is disclosed by faith, and it is by faith that God reveals Himself … With faith, All that is dark becomes light, and what is bitter becomes sweet. Faith transforms ugliness into beauty, and malice into kindness. Faith is the mother of tenderness, trust, and joy … There is nothing faith cannot overcome; It passes beyond all shadows and through the darkest clouds to reach the truth, which it embraces and can never be parted from. Ramiere, Rev. H., trans. Abandonment. New York: Benziger Brothers, 1887, pp. 112
[caption id="attachment_6818" align="alignnone" width="199"]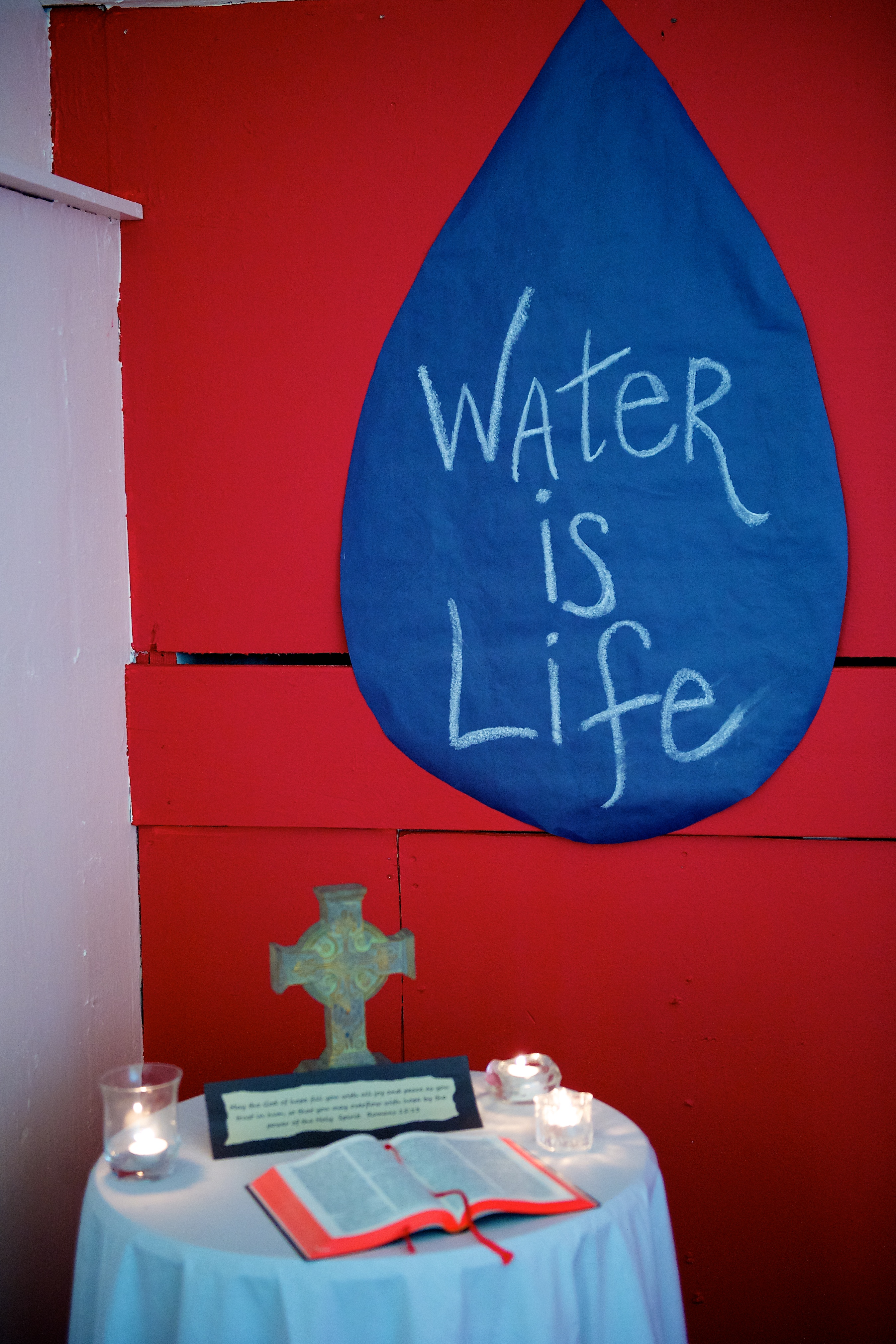 Water is life[/caption] This morning's post comes from Brian "Wolt" Wolters. Wolt is the executive director of
the Overflow Project 
. The issue of access to fresh water is one that I am particularly concerned about and I think that
The Overflow Projec
t is a very creative response to this issue.
---
I remember a report in my church's bulletin the week after Easter titled "Easter by the numbers" sharing the number of Easter volunteers, attendees, services, and flowers. In general, churches promote and plan well in advance for Easter by decorating sanctuaries, orientating volunteers, and expanding parking lots. This year a church even
rented out the Benaroya Hall
 in downtown Seattle for its Easter gathering. Clearly, a phenomenon exists where people attend a church service on Easter more than any other day of the year, and churches make a big deal about it. I am fascinated with Jesus, the very one people celebrate coming back to life on Easter Sunday. Joyfully and ironically, Jesus doesn't disappear after Easter Sunday. In fact, Jesus lives on earth after his death before he ascends. The Holy Spirit then arrives on Pentecost. Easter is a season that spans 50 days. Why do people - including churches- typically stop celebrating the day after Easter? An alternative exists: living a life similar to Jesus as he actually teaches by being light in this world where there is so much darkness, caring for the poor and broken, and celebrating the hope and new life of Christ that he offers to all. Enough is enough. You have all that you need in Christ. Jesus ushers a new way of living in the world post-death as a testimony to us. What does Easter and the significance of how Christ lives after his death mean to you? What would it look like to form new habits of faith and live intentionally? Could you go beyond writing checks and instead live and give generously out of the overflow in your life? This year a small team and I launched a new endeavor called
The Overflow Project
 to invite individuals and communities all around the world to participate in a new kind of living. During the 50 days between Easter and Pentecost we developed resources for groups and churches to celebrate and live simply to break down the barrier that divides rich and poor and to free us from ignorance about poverty. [caption id="attachment_6819" align="alignnone" width="200"]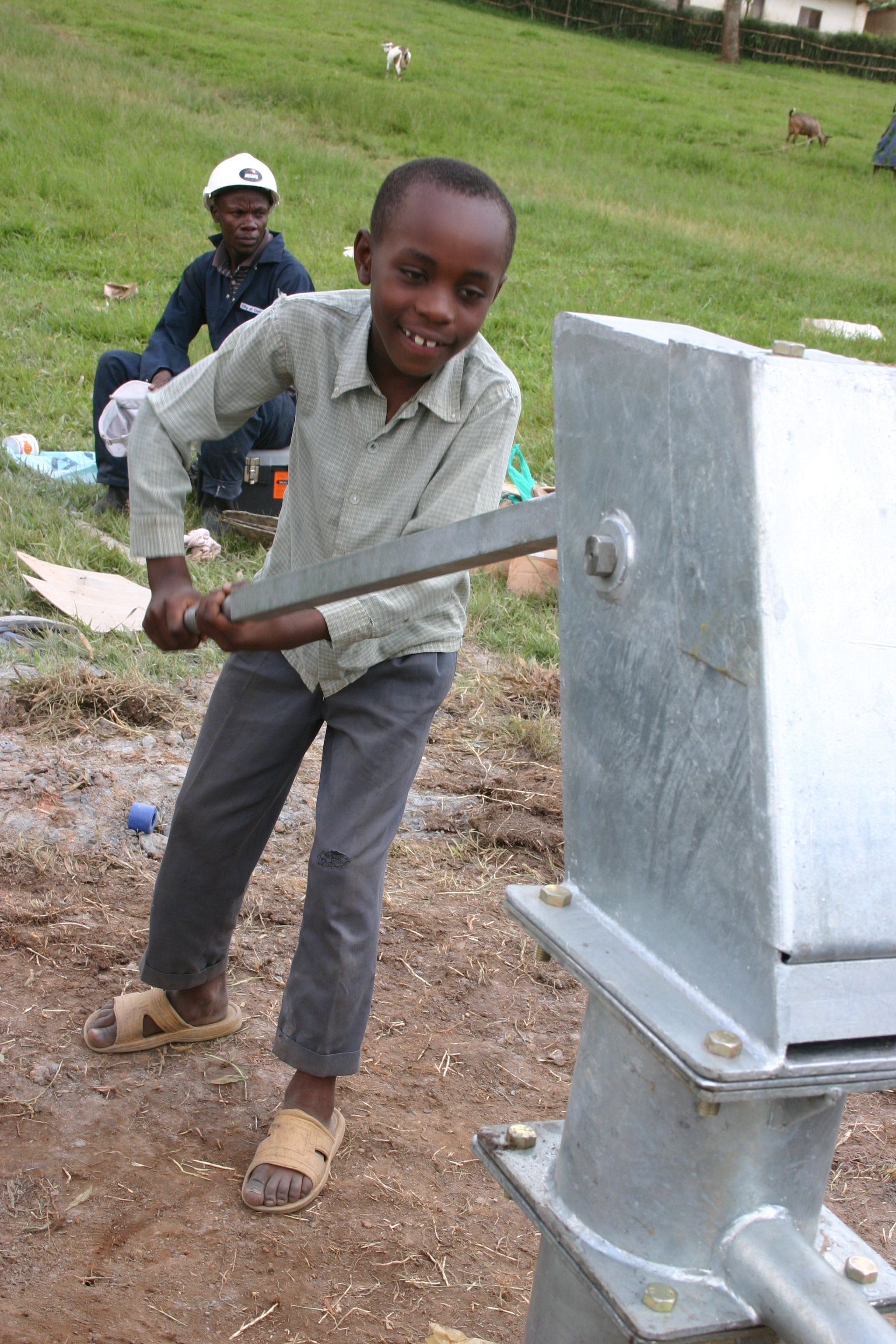 Providing water brings life[/caption] Currently about 1 billion people in the world live without access to clean safe drinking water –a basic human right and a fundamental need for empowerment and economic development. On Pentecost Sunday we will receive participant's collective contributions to support sustainable clean water projects in Uganda. This effort changes our lives by opening our eyes to a different kind of life and changes Uganda through investing in clean water solutions and hygiene training. The
Overflow Project's 50-Day Challenge
 is still happening right now. Anybody can join, even for the few days that remain. We have so much to celebrate today! Christ has risen. Remember Easter for what it is, even today, nearly 50 days later.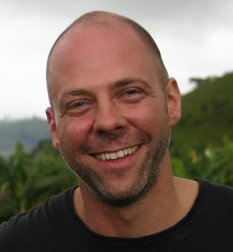 Brian "Wolt" Wolters
[caption id="attachment_6814" align="alignnone" width="300"]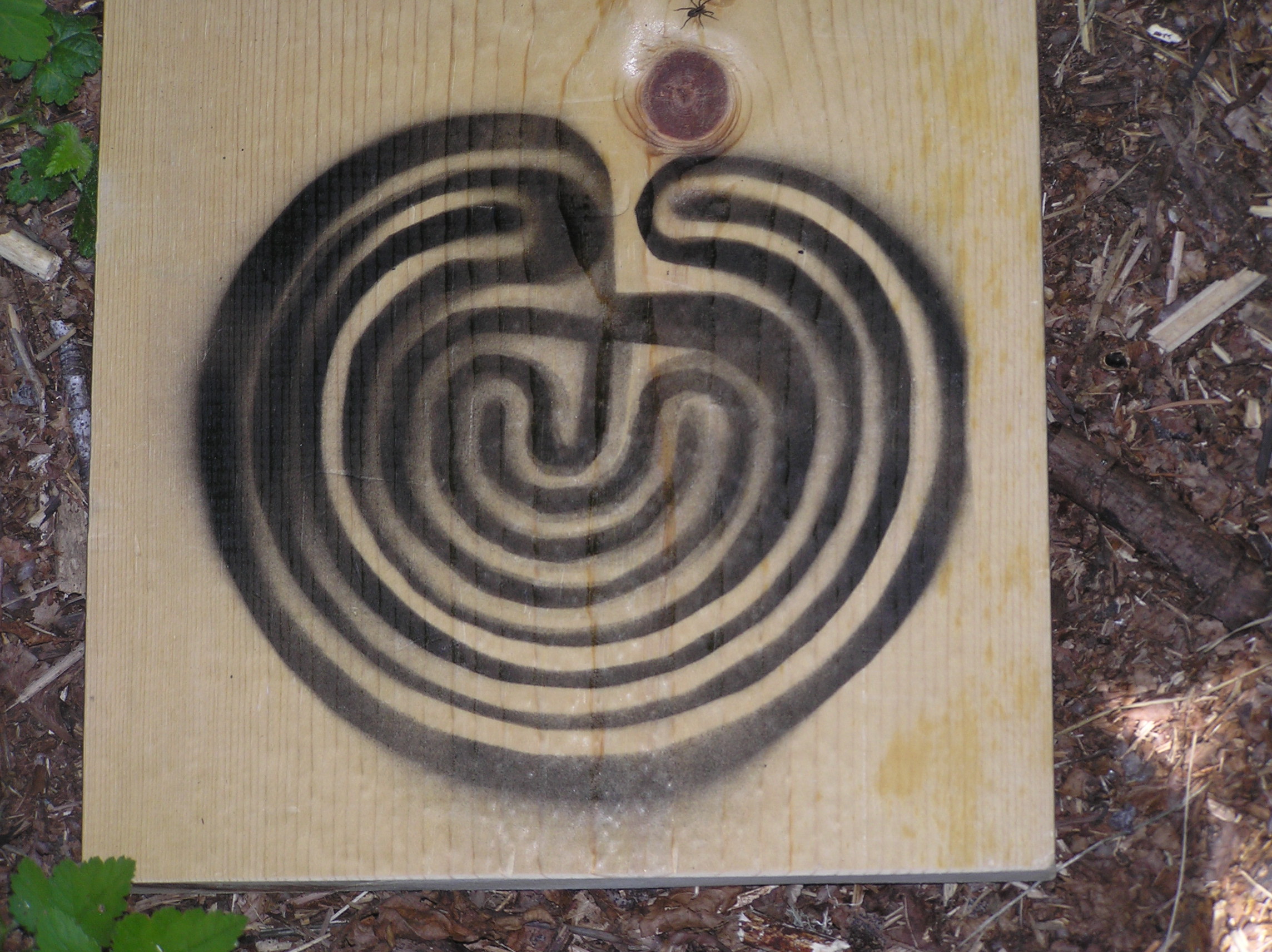 finger labyrinth[/caption] Last year for my sixtieth birthday, someone gave me a finger labyrinth. I put it in my draw and promptly forgot about it. However, as I started to research various methods of prayer to incorporate in my new book
Return to Our Senses: Reimagining How We Pray,
I pulled it out again. To be honest this seemed a very strange way to pray especially when most of the articles I read suggested that the best way to trace out a finger labyrinth is with a finger from your non-dominant hand. Evidently, research suggests that our non-dominant hand has better access to our intuition. Much to my surprise, when I experimented with my finger labyrinth, I found that it really did help me focus and often brought intuitive inspiration when I was grappling with challenging issues. This morning it inspired this prayer: Walk with us Lord through all the twists and turns of life, Walk with us when the clouds obscure the way, when what seemed close is now so far away. Walk with us Lord until we trust in you, Lead us to the centre of your love. Interestingly, some of the earliest labyrinths found in Christian churches are finger labyrinths, their circuits well worn over the centuries by the passage of innumerable fingers "walking" to the center and then out again. In view of that you may like to try your own finger labyrinth experiment. Try this exercise from
United Christ Church Ministries
Before you start any finger labyrinth "walk," take time to breathe and relax. If you keep a journal, have it ready for recording any insights after your walk. Set an intention or question for the walk. Without an intention a finger labyrinth walk can become an exercise in hastily and mindlessly moving your finger along the circuits and wondering why at the end of the walk you even bothered. Say a prayer, if you like, for support, healing, and guidance. Place a finger from your non-dominant hand at the entrance to the labyrinth. As you trace the circuit, stay open to whatever presents itself: feelings, sensations, memories, images, or just "knowings." Pause at any time to breathe, be with a memory, work with an image, or simply relax into the labyrinth. At the center of the labyrinth, feel its connection to your own center. The center is a wonderful place to relax, pray, or sing. When you are ready, trace your way out, staying open to whatever comes up for you. When your walk is done, place both hands on the labyrinth and give thanks for whatever you learned and experienced. Experiment and play with your labyrinth. Try using a favorite word or phrase that evokes the sacred for you. Repeat the mantra slowly in your heart as you "walk." You may also walk with questions such as, "In what way do I most need to grow spiritually right now?" or "What most blocks me from fully receiving and living God's love?" You can also walk the labyrinth in intercessory prayer for someone else, sending them the fruits of your walk. If you are experiencing a difficult feeling-anger, grief, bitterness-have as your intention its healing and release (knowing, of course, that many deeper feelings may take more time than a walk). If you are struggling with a problem, ask for insight and guidance: What must I release in order to allow healing? What am I not feeling or acknowledging that I must let into my conscious awareness to allow healing? Whom do I most need to forgive, and for what? If you are working with an illness, either serious or insignificant, you may walk into the labyrinth simply asking to return to balance with yourself and life, no matter what the circumstances of your illness. You can also walk with the question: What part of my life (or me) am I neglecting that needs attention? Illness may also be a teacher or an ally. If you are interested in exploring your illness as a teacher, you may walk asking, "How may I open to my illness as a teacher and ally?" or "What does my illness have to teach me at this point in my life?"
[caption id="attachment_6810" align="alignnone" width="300"]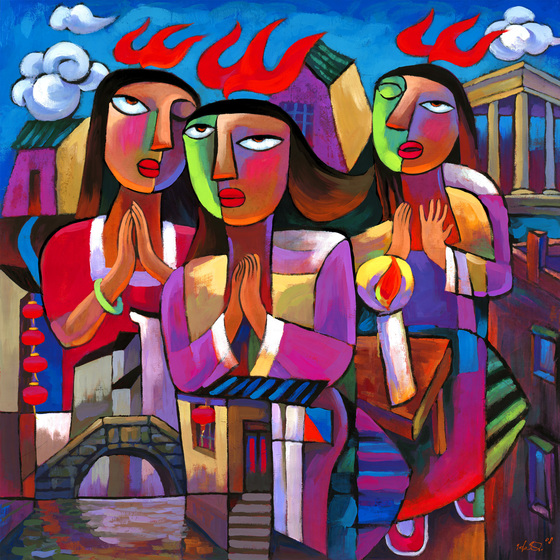 Pentecost by Chinese artist He Qi[/caption] Sunday May 27th is Pentecost. This is the day when we celebrate:.
The coming of the Holy Spirit and the infilling of Jesus' disciples with the power to go out and change the world
The great multi cultural gathering that we catch a glimpse of as we watch the spirit fall and suddenly everyone is able to understand each other – not all speaking the same language but able to understand each other in their own languages.  Acts 2:11.
Pentecost is traditionally the time that many churches pray for the peace of our world in which at times there seems to be so little cross cultural understanding.
Each year I like to add to my resource list from the previous years so that this becomes a rich array of helpful suggests for everyone. So what kinds of resources do we need?  First I think we need to provide our congregations with resources that help them to see Jesus from other cultural perspectives.  In a visual society like ours art is one very powerful way to do this.  Liturgy is another powerful tool because as we read the words aloud they resonate deep within our souls and take root. Matt Stone at 
Glocal Christianity 
still has the best collection of art from different cultural contexts – not just European, Asian, African, South American, Middle Eastern, Australian and Celtic but also other more unusual perspectives – goth, alien, feminist and tattoo.  We may not agree with all these perspectives – after all how many of us can relate to Jesus as a Cyclon – but it important for us to see the different ways that people perceive if we want to "understand them in their own language".
The Text This Week 
has one of the best online collections of links to 
Christian art
 I have come across – all indexed according to Biblical/liturgical subjects.  They also provide an interesting list of 
movie clips
 that correspond to biblically related themes as well as a rich array of other resources on Pentecost Another great collection of pentecost art is available at 
Biblical Art on the WWW
In terms of Pentecost liturgies there are endless possibilities out there so please don't expect this to be a comprehensive list.  My own liturgies from past years are
A Prayer for Pentecost
A Liturgy for Pentecost
Others that I have enjoyed browsing this year are:
The Worship Well
 with great resources mainly from Australia & New Zealand
Sacredise.com
 always provides wonderful liturgical resources for the seasons including these excellent
Pentecost resources
re:Worship
has a very rich array of resources available - make sure you take time to follow the links provided to songs, liturgies and videos. If you are looking for alternative approaches to worship  for this season I would heartily recommend Jonny Baker's 
worship tricks
Steve Taylor a – 
sustain:if:able kiwi
 is another very creative worship leader.  I love his Ascension Day suggestion – 
the footprints of Jesus
As an Amazon Associate, I receive a small amount for purchases made through appropriate links.
Thank you for supporting Godspace in this way. 
Attribution Guidelines:
When referencing or quoting Godspace Light, please be sure to include the Author (Christine Sine unless otherwise noted), the Title of the article or resource, the Source link where appropriate, and ©Godspacelight.com. Thank you!