We are now into traditional Advent, and as I look at the remaining time until Christmas I am very grateful that I started November 15th for my Advent celebrations. This year traditional Advent is only 3 weeks long!!!
In some ways it seems very fitting. Many of us are very aware this year that there are many places in our world in which the light of God's redeeming child still needs to be seen. So many places of darkness and chaos. The celebrations in Jerusalem and Bethlehem have been cancelled in solidarity with the people of Gaza. Many of the Christians of this area can trace their Christian heritage back to the days of Christ and their hearts ache, as do ours, for what is happening around the birthplace of Christ. As our pastor Megan Ramer commented on Sunday "This year there is no sanitized Bethlehem. The streets are ravaged and silent. How long must we wait for the liberating love of God to be fully expressed?" As we light our candles and meditate this Advent let us do so mindful of those for whom there seems to be little light during this Advent season.
In my Meditation Monday – Stretched I comment: "Life stretches us every step of the way if we will open ourselves to the pain and the grief of it, as well as to the joy and the wonder of it. To be stretched is to enlarge the capacity of our hearts for life with all its joys and sorrows." And this year I think all of us are being stretched by the joys and sorrows around us.
Today I posted a new litany for the second week of Advent. It is adapted from one I wrote many years ago but I continue to refine and update in light of what is happening in the world around us. I hope you find it helpful. On Tuesday last week, I posted a new Advent prayer – Waiting in which I express more of my own longings and heartache during this year's Advent.
In her Freerange Friday – Advent is the Invitation to Believe Lilly Lewin invited us to move slowly through the season of Advent and to enjoy the season of Christmas for a full twelve days, an important reminder as we rush towards Christmas. In his post Being a Host/Hostess, Ron Friesen shared his thoughts on hosting and being hosted during this season. As he said: "I pray that there will be warmth and healing found in all our occasions of celebration." On Saturday Sheila Hamil gave us a break from Advent with her post Why Not Write a Memoir sharing about the memoir she has recently written which is available for free for all of us. What a wonderful gift for us this Advent season.
Godspacelight has many wonderful posts that you might like to check out during this Advent season. This week I wanted to highlight our Blue Christmas/Longest Day resources, already very popular this year. As well as that I suggest you check out some of the beautiful Advent prayers we have posted in the past – The Grace And Impatience to Wait by Walter Brueggemann and Gabriel's Annunciation by Jan Richardson.
Our Advent Quiet Day Retreat is less than a week away. This is your chance to sign up and let go the rush and noise of the season, pause, refresh and renew yourself. It is an opportunity to sit in the stillness, breathe deeply and enter into an oasis of calm contemplation.  Prepare for the real meaning of Christmas.  December 9th will be a great time to pause, rest and refresh yourself as we move towards Christmas Day.
Today's prayer is adapted from Sunday's Advent message as well as an Advent meditation given by Cole Arthur Riley on Sunday evening.
This year our eyes are open,
No beautiful Christmas cards can dispel the truth.
There is no sanitized Bethlehem,
Only ravaged buildings and unlit streets.
How long must we wait
For the liberating and freeing love of God,
To be fully expressed?
How do we hold
The sorrows of longing,
With the joyful proclamation of Christ's birth?
In the messiness of Christmas
Cultural festival compete with fervent faith.
What do we hold on to?
What do we embrace?
What do we reject?
What do we discard?
The world feels dim,
But we dream in the dark.
We claim the wild mystery of believing.
Hope unleashed amidst the heartrending brokenness.
Astounding beauty amidst the pain and suffering.
Christ will come.
His light will shine once more in Bethlehem.
God be with you this week as you await the coming of Christ.
---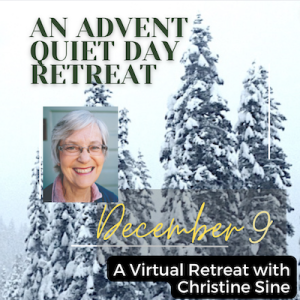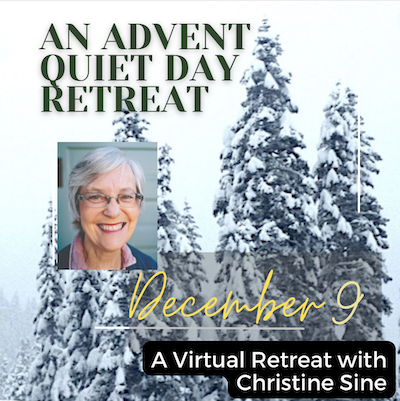 LAST FEW DAYS TO SIGN UP.
December 9, An Advent Quiet Day Retreat with Christine Sine.
Join Christine for a virtual retreat celebrating quiet anticipation and focusing on experiencing a meaningful Christmas. She will lead a morning of scripture reading and quiet reflection that will be for many of us a much needed oasis of quiet in the midst of this chaotic season. Register to participate here.
As an Amazon Associate, I receive a small amount for purchases made through appropriate links.
Thank you for supporting Godspace in this way. 
Attribution Guidelines:
When referencing or quoting Godspace Light, please be sure to include the Author (Christine Sine unless otherwise noted), the Title of the article or resource, the Source link where appropriate, and ©Godspacelight.com. Thank you!