I strongly believe that prayer changes things and that God's activity in our world is somehow curtailed when we do not pray. What I am less confident of is how to pray and as I talk to sincere followers of Christ around the world I realize that many of us do not always know how to take advantage of the many tools that are available for prayer. And I don't just mean books and websites here. I mean good practical tools that help us to pray regularly and with conviction.  This is the first of several posts I intend to write this week on tools for prayer.  Some of these may be familiar to you, others may be unknown.
Part of the problem is that we don't really know why we need to pray or what kinds of prayers we should use. And most of us don't really know how to pray either. Prayer comes in many forms – there are those like prayers of gratitude and adoration that move us upward closer to God. There are others  like the prayer of examen, prayers of confession and prayers of lament that draw us inward to search out the hidden and broken places of our lives.  Lastly there are those that draw us outward into the global community encouraging us to action like prayers of intercession and healing. Upward, inward and outward – all these types of prayers are necessary for a well balanced prayer life.
It is reassuring to know prayer has never been easy nor has it ever come naturally for Jesus' followers. Although the disciples must have grown up with the Jewish rituals of shema twice a day and prayer three times a day—morning, afternoon, and sundown—they still needed to learn to pray. Although they had watched Jesus pray in all kinds of situations, seen him connect his prayer life to his public ministry, and watched him use prayer and his relationship to God to mold all he did, they still didn't understand and begged him: "Teach us to pray" (Luke 11:1). Even after Jesus taught them about prayer, they still could not watch with him one hour and fell asleep in the Garden of Gethsemane.
Why do we find it so hard to carve out time for the practices that should be the focal point of life? Why, like the disciples of old, do we still need to come to Jesus with the cry, "Teach us to pray"? Part of it I think is that most of us have very limited toolkits and hopefully of the next week or so we can all learn from each other how to enlarge our toolkits.
If you would like to submit a post for this series, please let me know as I am sure that my toolkit still needs to enlarged and strengthened too.  
This is the second part of the liturgy for the Celtic retreat today
Building Together 
Regathering song – All Creatures of Our God and King
Introduction to Lectio Divina
God as we read your word and meditate on your promises,
Grant that we may hear afresh the hope of your salvation ,
And respond to the wonder of your forgiveness,
Not just for ourselves but for all who need rest and release.
May we walk forward without fear into your ways Oh God,
And enter with assurance and trust into the love of Christ.
May we greet all that happens expected and unanticipated,
And walk with humility into God's grace and peace.
Have mercy on us God almighty.
Immeasurable God, patient God, incorruptible God,
God of infinite love.
Immortal God, eternal God, perfect God.
Merciful God, wonderful God.
God who provides in unexpected ways 
Who abides in the heavens above,
Have mercy on us
Come close this day to the God who loves you without measure,
Open your eyes to see the One who sustains all life,
Open your ears to hear the One who calls you by name,
Open your life to respond to the One who fills all your deepest longings.
Love and justice meet, mercy and grace abound,
God we hear your trumpet sound,
In this time of Jubilee and new beginnings,
Rest from all striving and release from all captivity.
Song – Micah 6:8 – He has shown thee O man what is Good
He has shown thee O man what is good,
And what doth the Lord require of thee,
But to do justly, and to love mercy,
And to walk humbly with thy God.
Time of Guided scripture meditation
Isaiah 61: 1-3  Good News for the Oppressed
The Spirit of the Sovereign Lord is upon me,
for the Lord has anointed me
to bring good news to the poor.
He has sent me to comfort the brokenhearted
and to proclaim that captives will be released
and prisoners will be freed.
He has sent me to tell those who mourn
that the time of the Lord's favor has come,
and with it, the day of God's anger against their enemies.
To all who mourn in Israel,
he will give a crown of beauty for ashes,
a joyous blessing instead of mourning,
festive praise instead of despair.
In their righteousness, they will be like great oaks
that the Lord has planted for his own glory.
Time for Meditation – Lectio Divina
Luke 12:22-26; 31-34
Then, turning to his disciples, Jesus said, "That is why I tell you not to worry about everyday life—whether you have enough food to eat or enough clothes to wear. For life is more than food, and your body more than clothing. Look at the ravens. They don't plant or harvest or store food in barns, for God feeds them. And you are far more valuable to him than any birds! Can all your worries add a single moment to your life? And if worry can't accomplish a little thing like that, what's the use of worrying over bigger things?…. Seek the Kingdom of God above all else, and he will give you everything you need. "So don't be afraid, little flock. For it gives your Father great happiness to give you the Kingdom.  "Sell your possessions and give to those in need. This will store up treasure for you in heaven! And the purses of heaven never get old or develop holes. Your treasure will be safe; no thief can steal it and no moth can destroy it. Wherever your treasure is, there the desires of your heart will also be
Time for Meditation – Lectio Divina
God may we wait in patience and hope for what is emerging
In our lives, in our world and through our faith,
May we be willing to walk on paths unknown, 
That you have marked out with loving care.
May we wait in trust and not fear for your new world, 
For the justice and peace and freedom that has been promised,
For those things hoped for and not yet seen.
Knowing that the future is in God's hands,
May we wait for the release and rest of God's Jubilee
Song – In the Lord I'll be every thankful
So many have expressed disappointment at not being able to join us for the Celtic retreat that I thought I would publish the morning liturgy for you to follow along with if you are interested
Joining Together – Preparing the Altar
Gathering Prayer:
God we gather in this quiet place,
To hear the prayers you have placed in our hearts,
Filled with the ache of hurting people and a broken world,
We come willing to listen to the silence,
Alert and attentive to your voice speaking within us.
Let the busyness of our bodies rest,
Let the worries of our minds rest,
Let the doubts of our hearts rest, 
Letting go of self may we all hold on to God. 
God we release to you the rush and noise of life,
We breathe out all that hinders our closeness to you,
Fear, anxiety, busyness, confusion, guilt and tiredness,
We throw off our busy distractedness and breathe in all that is of you,
Love, joy, peace, compassion, justice, grace and mercy.
O God may we embrace the rest that flows from your love,
And enter the place of deep communion with you,
Where time is stilled and place is fertile ground for seeds to sprout,
May we willingly walk into the unknown mystery of faith.
(Silence)
God may your silence penetrate deep inside,
Opening for us the rest and release of Jubilee,
May it bring us to the place where love and justice meet,
Enabling us to surrender all that holds us captive,
And encouraging us to release all that has enslaved us.
God may we be mindful of you today,
Knowing that each moment of time is sanctified by your spirit.
May your words echo deep within us O God,
So that we can hear your call to holiness, justice and compassion.
Amen 
Song – be Thou My Vision
Introduction to Celtic tradition 
Setting up the Altar
Eternal God, creator of the earth, the stars, the universe,
You who are more majestic then the mountains,
More beautiful than the trees around us,
More secure than the rocks beneath our feet.
God in this time of Jubilee and new beginnings,
May we hear your trumpet sound,
May we see what you promise, and believe what you offer, 
Rest from our striving and release from our captivity.
As we gather your gifts to build our altar,
May our eyes be opened and our ears unstopped,
May we see in every sight a cathedral giving glory,
And hear in every sound angels singing alleluia.
God in this time of Jubilee and new beginnings,
May we hear your trumpet sound,
May we see what you promise, and believe what you offer, 
Rest from our striving and release from our captivity.
Go out to collect items for decorating the altar
Tomorrow we head up to Camano Island for the Celtic Prayer retreat.  One of our first tasks is getting the weed whacker out to clear the nettles and other weeds that have grown since our last visit, which probably explains why weeds are on my mind this morning.  Nettles which grow in abundance on Camano Island, believe it or not are very nutritious (rich in vitamins, flavonoids, serotonin, and histamines) and some like Good Natured Earthling think that they are great protection against allergies.  I have not tried her Nettle pesto recipe yet but one of these days hope to and just thinking about this always reminds me that often the "weeds", those difficult people we want to get rid of, are often the most nutritious elements of the garden – if we give them a chance they nourish and grow all of us in amazing ways.
There are other great ways to eat nettles too. Nettle soup was a common addition to the diet of early Celtic Christians as well as to many others around the world.  Once you cook the leaves they lose their sting.
Of course one of the most nutritious weeds in the garden is our friend the dandelion.  And they require no care at all. The roots can be used for tea, the leaves for salad and the flowers for jelly. It helps to hold the soil together and to bring nutrients up to the surface from deeper down within the soil. I love the suggestions in this post: 16 Dandelion Recipes  that gives some great suggestions. And I was just sent this recipe by Jason Barr for Dandelion Jelly that certain sounds like a winner.  Thanks Jason.
Ingredients:

4 cups dandelion blossoms

3 cups water

4 1/2 cups sugar

2 tablespoons lemon juice

1 package pectin

Directions:

1. Pull the yellow blossoms apart from the green parts. Get lots and lots

of blossoms.  Make sure there are no green parts since the green parts

have a bitter flavor. (It is ok to have a few green parts but don't

just put all the blossoms in with the greens attached)

2. Bring the water to a boil and fill the water with dandelion blossom

shreds. Simmer over very gentle heat about 5-8 minutes.

3. Pour the water and blossoms through a strainer. Press the blossoms as dry as possible to extract the maximum amount of water (mom used a coffee strainer, a lined wire strainer works too).

4. If you have more blossoms, add blossoms to the strained water and simmer

5. Continue simmering and straining until all the blossoms are used up.

6. Add more water to bring it back up to 3 cups (the blossoms will takes some and some will go due to evaporation).

7. Combine water with lemon juice, sugar and pectin.

8. Bring to rolling boil and stir until sugar is dissolved (mom added a

little yellow food coloring, not necessary). Boil hard for one minute.

Skim. Pour into 5 hot jars (half-pints) and seal.

9. Boil hard for one minute. Skim. Pour into 5 hot sterilized jars (half-pints) and seal.

Notes:Make the jelly the day you pick or it will start seeding (become

white and fluffy)
Last week I harvested my largest ever cauliflower from the garden – almost 5 pounds of it plus another rather large companion.  Add an abundance of beans, squash and broccoli plus some wonderfully sweet Walla Walla onions and I realized I needed to get creative so I came up with this garden salad.  Everyone loved it so much that I have made it 3 times in the last week & plan to make another large salad for Celtic retreat.  Quantities are approximate.  Experiment & see what combination you like best.
Cauliflower & Bean Summer Vegetable Salad
——————————————————————————-
Recipe By: Christine Sine
Ingredients:
2 pound cauliflower florets
1 pound broccoli florets
1 pound breans, green, cut in 2 inch pieces
1 medium onion, sweet, diced
1 medium red bell (capsicum) peppers, halved and seeds removed
1 medium squash, patty pan, cut in rounds
1/2  cup tomatoes, dried, soaked in hot water to rehydrate
1/2  cup sprouted seeds
1/2 cup olive oil
1/4 cup balsamic vinegar
1/2 teaspoon oregano, dried
1/2 teaspoon basil, dried
1/2 teaspoon thyme
Directions:
1. Steam cauliflower and beans separately for 3 minutes each until cooked but still crunchy, Cool
2. Steam broccoli florets for 2 minutes until cooked, cool
3. Drain water from rehydrated tomatoes
4. Place pepper under broiler with skin towards flame.  Cook until skin is black.  Cool in a paper bag.  Remove skin and cut into inch long strips
5. Mix all vegetables together
6. For dressing mix 1/4 cup olive oil with 1/8 cup balsamic vinegar.  Add 1 clove finely diced garlic or 1/4 teaspoon powdered garlic.  Add 1/4 teaspoon salt and 1/2 teaspoon each dried basil, oregano and thyme or 1 tablespoon each fresh basil, oregano and thyme.  Shake in a jar and add to salad.  Mix thoroughly before serving.
7. Top with sprouted seeds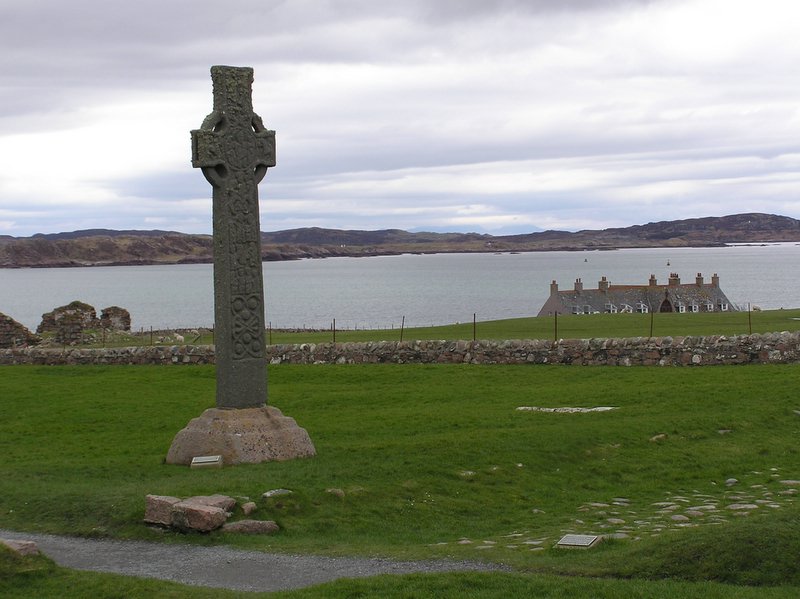 Last week, I posted this resource list for Celtic spirituality that Tom Cashman had sent me. He graciously reminded me that he had also produced a bibliography for celtic prayers which I have copied below.
My favourites from this list are – Adam, David: The Rhythm of Life: Celtic Daily Prayer; De Waal, Esther: The Celtic Way of Prayer: The Recovery of the Religious Imagination; and Earle, Mary & Maddox Sylvia: Praying With The Celtic Saints. I have also found Brendan O'Malley's A Celtic Primer: The Complete Celtic Worship to be a great resource when looking for liturgies.
One that is not on this list that I would add is Celtic Fire by Robert Van de Weyer. A great whimsical collection of prayers and good as an introduction for those that know nothing about Celtic spirituality.
Enjoy and thank you, Tom, for sharing these resources.
Adam, David, The Edge of Glory; Prayers in the Celtic Tradition; Morehouse 1985. David Adam's best known work provides prayer in lorica, litany, and free verse formats for personal and group usage. Now widely used.
______________The Rhythm of Life: Celtic Daily Prayer; SPCK, 1996. Warden of the Lindisfarne Community and the most prolific author of prayer in the Celtic Style, Adam offers a seven-day cycle of prayer for individual or community use. There are segments for morning, mid-day, and evening comprised of scripture and prayers of his own origination. Quite an orthodox and usable resource for any community moving toward a Celtic liturgy.
Carmicheal, Alexander, The Carmina Gaedelica; Lindisfarne Press, 1992 (various earlier editions and publishers). This is the classic primary source book of oral tradition collected between 1855 and 1910 by Alexander Carmichael largely in the outer Hebrides. Included are many prayer forms that stretch our 20th century definition of prayer in the Christian tradition. Some of the "charms" and "spells" remind us of Psalms that call down God's wrath against our enemies. There is also great depth and beauty in many prayers that have been rescued from oblivion by Carmichael. Most of these prayers are available online here.
De Waal, Esther, The Celtic Way of Prayer: The Recovery of the Religious Imagination; Doubleday, 1997. This well researched work comes from one of the most respected commentators on Celtic spirituality, approaching it from the Benedictine perspective. Many prayers from the Carmina Gaedelica are included along with current Celtic oral tradition. Her commentary on the hallmarks of Celtic prayer are valuable and definitive.
Earle, Mary & Maddox, Sylvia: Praying With The Celtic Saints; St. Mary's Press, 1999. This series of meditations is built around the lives of 15 Celtic saints. Some are well known, but many such as Welsh saints Melangell, Non, Illtyd and Winifride are less prominent. Each meditation takes an attribute of the life and ministry of a saint as theme for the day. Beautifully done.
Fitzgerald, William J.: A Contemporary Celtic Prayer Book; Acta Publications, 1998. Perhaps the best practical guide for community daily liturgy yet. Fitzgerald is a retired American priest who reframes the Carmina for today. An excellent 7-day cycle of prayer is the books' core. The second half provides prayer for special needs and extraordinary occasions.
_______________________ Blessings for the Fast Paced & Cyberspaced; Forest of Peace Publishing, Leavenworth, KS, 2000. Fr. Fitzgerald provides this extension of prayers for the hectic world in which we live today. For example, there are blessings for "the computer as I sit down to it," for soccer moms, and for couples trying to conceive. He takes us through many routine life situations with an eye towards finding the sacred in all of them.
Galloway, Kathy: The Pattern of Our Days: Worship in the Celtic Tradition; from the Iona Community Paulist Press, 1996. A most diverse, intriguing and useful collection that ranges widely into prayer for peace and justice issues. Prayers for the unheeded, painful events of our lives that need to be marked with compassion by the Christian community are included. Highly recommended.
The Iona Community, Iona Abbey Worship Book; Wild Goose Publications, 2001. The forward of this wonderful offers insight into the uses of these prayers, liturgies and litanies within the Iona Community and the thinking that underlies their composition and utilization. Suggestions are made for use in our communities world-wide as well. The use of these prayers offers insight into the essential theology and ethos of the Iona Community.
Jones, John Miriam, SC With An Eagle's Eye; Ave Maria Press, 1998. Another 7-day cycle is presented here as a Celtic Retreat. The material for each day begins with thematic readings, prayers for the routine tasks of the day, suggested scripture references, meditations and options for activities that support the them of the day.
MacLeod, George F.: The Whole Earth Shall Cry Glory; Wild Goose Publications, 1985. In 1938, MacLeod founded the contemporary Iona Community. These prayers from his hand reflect the mysticism of this "radical conservative" and offer somewhat more traditional and historic insight into the ethos of that community and era.
McLean, G. R. D.: Praying With the Celts; Eerdmans Publishing, 1988. These prayers are excerpted from McLean's Poems of the Western Highlanders, first published in 1961. A mixture of the Carmina Gaedelica, and McLean's 19th century Scottish adaptations. Wonderful blessings for ships and the seagoing are included.
Newell, J. Philip, Celtic Prayers from Iona; Paulist Press, 1997. Another book that offers a cycle of daily prayer. Six days lift up the community concerns for justice & peace, healing, the goodness of creation and care for the earth, commitment to Christ, communion of heaven and earth, and welcome & hospitality. Gospel and psalm readings from the lectionary are coordinated with the readings.
_________________Sounds of the Eternal: A Celtic Psalter; Canterbury Press, 2002. This is a cycle of daily prayer that expresses in prayer what Newell expresses in thought in Echo of the Soul. Newell also is mindful of the closeness of Celtic spirituality with Jewish mysticism. In that vein, he crafted this set of prayers which could be shared between these great strains of wisdom. Catholic and Orthodox Old Testament readings from the lectionary are coordinated with the readings.
Sounds of the Eternal: Meditative Chants and Prayers CD, 2005. Based on the themes of Newell's Sounds of the Eternal, this CD was recorded at the Cathedral of The Isles on Cumbrae in the Western Isles of Scotland. It is a remarkable chant recording.
Northumbrian Community Celtic Daily Prayer; Harper Collins, 2002. This is a compilation of the previously published Celtic Daily Prayer and Celtic Night Prayer. In addition to providing a daily cycle with lectionary, it also includes Complines in the tradition of various Celtic Saints, meditations, and a Holy Communion service. The latter portion offers themed and situational prayers and blessings. Two series of daily readings after the tradition of Aidan and Finian comprise the final section. This is a substantial resource.
O'Malley, Brendan: God at Every Gate; Canterbury Press, 1997. This unique little book of prayer is organized by theme, from emotions to creatures to the members of the universe. Imagine a micro-liturgy based on reptiles or on rivers, on the stars or around depression. O'Malley's sub-title is "Prayers and Blessings for Pilgrims."
_______________________ Celtic Blessings and Prayers: Making All Things Sacred; Twenty-Third Publications, 1998. A very useful collection of individual prayers and liturgies for group use. O'Malley addresses many moments in life that the Church today does not address; Blessing of the Elderly, the Ending of a Relationship, Blessing of a Vehicle, for a Still-Born Child, etc.
______________________ A Celtic Primer: The Complete Celtic Worship Resource & Collection; Morehouse Publishing, 2002. The most complete compendium to date of prayer and liturgy in the Celtic tradition from O'Malley. Like the Stowe Missal, much of the content is from Gallican and Gelasian sources. Morning and Evening Prayer, the Psalms, Eucharist, Compline, and many individual prayers are included. A CD with all content in Word format provides easy inclusion in local liturgies, with the author & publisher's permission.
Raine, Andy and Skinner, John T.: Celtic Daily Prayer; A Northumbrian Office; Marshall Pickering, 1994. A variety of liturgical threads from the Jewish Shabbat to the blessing and prayer of Columba are incorporated in this book's year-long cycle. Certain liturgical roles in the Shabbat are specified for a woman and the introduction explores the implications of women's roles in the worship of today. There is a companion volume for Night Prayer.
Sawyers, June Skinner: Praying with Celtic Saints, Prophets, Martyrs and Poets; Sheed & Ward, 2001. A collection of short bios of persons associated with Celtic Spirituality from the Golden Age of Saints and Scholars on through to such contemporaries as Seamus Heany, John O'Donohue, and Allister MacLeod. This book provides a bridge into the great cloud of saints by including both well known individuals and the nameless ones who perished during historic trauma such as the Highland Clearances and the Potato Famine.
Simpson, Ray: Celtic Worship through the Year; Hodder and Stoughton Ltd, 1997. A marvelous collection of liturgies previously published individually by St. Aidan Trust, collected in a single volume for use by worshipping communities. Be prepared to modify syntax and adapt for gender appropriate language.
__________________ Celtic Blessings: Prayers for Everyday Life; Loyola Press, 1999. Simpson gives us more prayers in the Celtic style for homely everyday events like work, travel, and parties; formal occasions such as weddings and funerals; seasonal rituals and rites of passage such as divorce, anniversary, promotion, a girl's first period, retirement, etc.
(Tom Cashman, Corporate Coaching & Consulting, September, 2009)
Believe it or not it is time to start thinking about the autumn and winter vegetable garden here in the Pacific NW.  I have been thinking of starting some salad bowls for friends for autumn and winter and came across this great video that gives some good tips on what to do so I thought that some of you might enjoy it.  I have seen lots of these in the nurseries this year & friends that have bought them say that they are great.  If you want to start your plants from seed like I do I heartily recommend Cooks garden seed (at least for those in the US.)  they have the best range of lettuce & mesculin mixes I have found.
As an Amazon Associate, I receive a small amount for purchases made through appropriate links.
Thank you for supporting Godspace in this way. 
Attribution Guidelines:
When referencing or quoting Godspace Light, please be sure to include the Author (Christine Sine unless otherwise noted), the Title of the article or resource, the Source link where appropriate, and ©Godspacelight.com. Thank you!