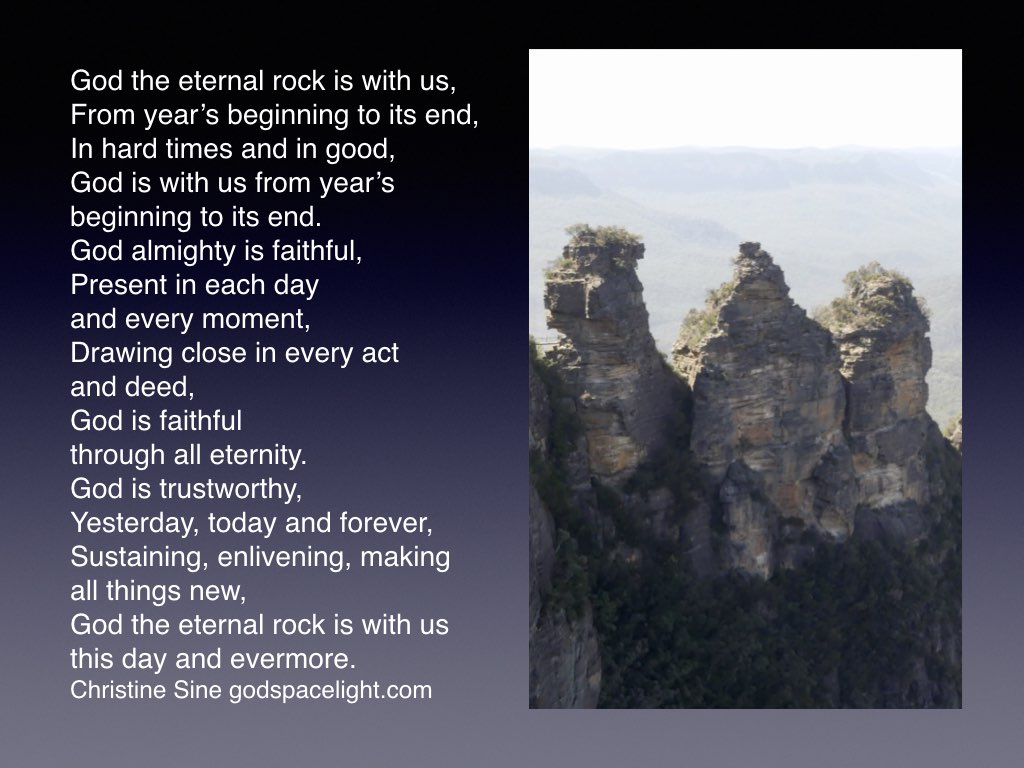 This past year has held many traumatic moments for us. Floods in Australia Thailand and the Philippines, earthquakes in New Zealand, tsunamis in Japan, as well as unrest in the Middle East and turmoil in all our economies. Most of us look ahead to the new year with mixed feelings, unsure whether it will bring more of the same traumatic moments. The prayer below was written with in mind. It is adapted from one I wrote a year ago and I hope that you find it as comforting as I do as I look ahead to 2012 God the eternal rock is with us, From year's beginning to its end, In hard times and in good, God is with us from year's beginning to its end. God almighty is faithful, Present in each day and every moment, Drawing close in every act and deed, God is faithful through all eternity. God is trustworthy, Yesterday, today and forever, Sustaining, enlivening, making all things new, God the eternal rock is with us this day and evermore.
[caption id="attachment_5774" align="alignnone" width="300" caption="Nativity Kenyan"]
[/caption] Alleluia, the waiting is over, Jesus has come, The promised One of Christmas in now present in our midst.
May we let the chaos settle and turn from our distractions,
May we notice the places that shimmer with his presence. 
Alleluia, love comes down at Christmas, Beloved son of God, Saviour of the world we welcome your coming.
A child born as one of us to make all things new, 
A Saviour birthed to bring righteousness and justice for all.
Watch for the signs and listen for the messengers, Stand on tiptoe, shout for joy and trumpet the good news,
God's miracle has come down from heaven, 
Alleluia the Christ child has come. 
May this child of Christmas come to us and give us hope, May he grow in us and show us life, may he speak to us and teach us love,
Alleluia something new is emerging something new is being birthed, 
Jesus has come and we open our hearts to be his home.
Tomorrow is Thanksgiving day here in the U.S. I love this opportunity to gather with friends and family and give thanks. We are so generously blessed yet rarely take time to thank the God who provides so abundantly. The following prayer I wrote this morning as I reflected on the many blessings of my life. It is adapted from other prayers that I have written throughout the year. God may we pause in the busyness of this day and listen to your quiet whispers, May we look back with gratitude, May we look forward with anticipation May our hearts respond with thankfulness, and our lives respond with praise. God may we live fully in the wonder of this moment, Our eyes open to see in every sight a cathedral giving glory, Our ears unstopped to hear in every sound angels singing Alleluia May we enjoy each cathedral moment before it bursts, giving thanks and seeing God. God the fulfiller of enduring promises, God the sharer of abundant love, God the giver of eternal life, For all you are and all you have done we praise and thank you today. God of the bountiful and ever giving heart, God of the generous and overflowing spirit, God who gives enough for our own needs and abundance for every good work, For the wonder of your harvest that never runs dry we praise and thank you today.  God whose love never gives up, God whose forgiveness never says no, God whose mercy never lets go, For the hope and promise of your presence we praise and thank you today. May we always savour what each moment holds, May we live always in the promise of God's love and faithfulness, May we ever trust in the One for whom all things are possible, For all that was, for all that is and for all that is to come, We praise and give you thanks Lord God Almighty,  Amen
This morning I sit looking at my kitchen counters which are currently bursting with produce from the garden - tomatoes waiting to be dried, zucchini waiting to be cooked, ground cherries, and strawberries waiting to be eaten.  And outside the apple and pear trees are bulging with fruit, the big luscious Brandywine tomatoes are finally ripening, beckoning us to make BLTs and beans have dried on the vine ready for winter soups. The garden can be a little overwhelming at times especially when it is in full production.  Even more so if we feel that there is no one to help, which was how I felt a few days ago.  But then I sent around an email asking for help.  And hey presto we have a garden day at the Mustard Seed House tomorrow and everyone in the house will be out there weeding, harvesting, and enjoying the fun.  The kids are so excited and are already living in anticipation of the morning's activity As I thought about the garden this morning I could not help but think of Matthew 9:37, 38 
37
Then he said to his disciples, "The harvest is plentiful but the workers are few. 38 Ask the Lord of the harvest, therefore, to send out workers into his harvest field."  
What I wonder about is the harvest in God's garden that is overwhelming us because it is ready to be picked but we have not thought to ask for harvesters to help us? It seems that there are many harvests in God's garden that can overwhelm us.  The fruit in God's garden is incredibly diverse, and all of it needs a multitude of harvesters.  Some of us would immediately think of the need for evangelists to go out and share the good news of the gospel.  Others would think of the need to find harvesters to feed the poor, care for the sick and set the oppressed free. It is one thing to bring fruit to maturity, it is another to bring in the full harvest whether it be in the garden or in God's world without letting it go to seed or rot.   So the question is how and where do we find the harvesters we need?  To be honest I am not sure of all the answers and many of us feel that we never have enough help.  But I am convinced that though I don't have all the answers, I do know that unless we ask we will never get any help at all.  So here are some suggestions:
Identify where you need harvesters - I became very aware of this over the summer when I felt I was drowning under a workload too that I could not cope with.  We asked ourselves the question what do we want to accomplish in the next year and who do we need to help us accomplish it?  Jesus rarely worked alone.  He was constantly together with his disciples - his harvesters in a field of plenty
Be specific when you ask for help - once we had asked ourselves who we needed we developed job descriptions for internship positions and even established a new staff position for a garden manager.
Get the word out - getting the word out about our needs is always challenging but I suggest starting with friends, community members, and neighbours.  Those that are closest to us will usually respond the fastest and the most enthusiastically.
Share the harvesters and the harvest.  A couple of years ago I went raspberry picking with some friends.  At the end of the day, we talked about what we had learned.  One person mentioned that she found it very hard to leave ripe fruit on the vines and felt she had not done an adequate job unless she had harvested every berry.  Then she remembered that she was not the only harvester in the raspberry field that day and it suddenly occurred to her that she needed to leave some of the harvest for those who would come behind her.  How often do we feel overwhelmed by the abundance around us because we think it is just for us?  Remember you are not the only one called to preach or heal or set people free.  Pick only what you can carry, only what you can reasonably consume, only what will not go bad because you have tried to gather too much.
Pray - As Jesus reminds us we will never see harvesters without prayer.  And that again has been my experience this week.  Almost before we asked God had prepared an answer and I already have a new assistant to help me in the office.
[caption id="attachment_5305" align="alignnone" width="203"]
Tools for Prayer - Crosses are always effective[/caption] Over the last couple of weeks I have posted a number of articles on tools for prayer. For those that have been following along but may have missed some here is the entire series. However, I do realize too, that this is a never ending discussion and I hope that in the coming days some of you can help me add to this topic. The ways of prayer have not all been invented yet and there is still much room for creativity and for learning from each other
Expressive Arts Therapy as A Tool For Prayer by Kim Balke
Prayer Flags are They only For Buddhists?
Using Icons - A Powerful Tool or Graven Images?
Visio Divina - Praying with Art
Desert Rose - Another Rock for My Collection
Tools for Prayer - Images that Speak of God 
Tools for Prayer - Learning from Teresa of Avila
Tools for Prayer - Stirring Imagination, Awakening Creativity
Greetings from a Labyrinth - Reflections on a Workshop with a Doula by Kim Balke
Tools for Prayer - Five Ways to Pray the Psalms
 - by Alex Tang
Tools for Prayer - Walk the Labyrinth
Tools for Prayer - Prayer Beads Anyone?
Tools for Prayer - Collecting Rocks
The Transforming Power of Lectio Divina by Christine Valters Paintner
Tools For Prayer - Increase Your Awareness of Our Hurting World 
Tools for Prayer - Moving Beyond Chronic Randomness to Intentionality 
Tools for Prayer - The Price of Tomatoes keeping Slavery Alive in Florida
Tools for Prayer - God Teach Us to Pray
This morning's post comes from Kim Balke, an
expressive arts therapist
in British Columbia [caption id="attachment_5297" align="alignnone" width="300"]
Daffodil rooted in hand; My life an embodied prayer.[/caption] I was looking at this drawing the other day and I asked myself,
just where did this image come from?
 I invite you to do a little digging with me in my prayer garden using a few tools that I have on hand from my work as an expressive arts therapist. It was during a record cold spell in Edmonton, Alberta, March 2011, that I found myself one evening with pencil in hand, doodling this image, eyes closed, using my non-dominant hand. I was staying at a friend's home while taking a course on Art Therapy with Children and Adolescents through St. Stephen's College, U. of Alberta. I had taken an hour bus ride back to their home and just walked through the driest and coldest weather I had experienced in my life. I live in sunny Tsawwassen, BC –er, uhm…sunnier than the city of Vancouver.…Well, actually it rains quite a lot here but at least it is mostly mild all year 'round when compared to the rest of the country. I walked through the squeaky snow totally covered from head to toe in winter clothing I had dug out from years living on the east coast of Canada. I was trying to take the last rays of sunset and deep blue sky into my watering eyes and nose, where the moisture was also turning to ice, mindful of the slippery roads under my feet as I contemplated my day. My day had been quite a journey through my studies and reflection on children/ adolescents who had suffered abuse and trauma and found expression for their suffering in expressive arts therapy. This blended with contemplation of my own childhood and adolescence as well as with my work during my EXAT practicum with children and trauma in an east side Vancouver elementary school, and pressing personal experiences of the past year:
all swirling around,
 eddies of snow forming mounds of cold,
over wintery wonders, muffled, covered up,
beckoning, subtle, stirring thoughts
 through sleepy frozen stillness and silence.
In the past year three women in my life died in the same month, and my own mother died (March 5
th
, 2009). The course took place just before the one year anniversary of her death. I had also faced major work transition and challenges as did my husband. I usually start doodling/drawing in this way with an exercise to check in with myself, my body, to bring me into the here and now.
A simple roll breathing relaxation exercise would be a good way to start,
I thought, but shortly after starting, I found myself wanting
to shiver, to shake, shake, shake,
shake
all that cold snowy heaviness away; to shake it off like a dog after a bath; like a hunted animal shakes off after escaping the hunter.
So I stayed with this feeling in my body until I found myself all warm and waiting…beloved. The doodle drawing emerged, I added a bit of oil pastel colour; beheld the image and did some dialogue with the daffodil in hand; then moved my body in ways that were an enactment of what I saw before me. I felt truly that I was this daffodil emerging from the coldest of ground, responding to the warmth of my Maker's love holding me, calling, beckoning hesitant new beginnings out of the wintry places of my life; gratitude and wonder rooting me into the Loving Hand who is forming me, sustaining me. I was mindful of the words,
Behold, I have engraved you on the palm of my hand (?)
So, what were the tools I had in my EXAT basket that day?
Check in: I began with a relaxation exercise like roll breathing that brings to my awareness how I am feeling, from sensations of delight to discomfort, connecting body, breath and heart in the here and now. I found an excellent example recently of a check in breathing exercise in the newsletter of www.abbeyofthearts.com by Christine Valters Painter, who is an expressive arts therapist and writer. In my breathing exercises, I acknowledge my Maker as the giver of life and breath; as the One in whom I live and move and have my being; the Lover of my Soul.
Awareness and attending: as I became aware of what I was feeling in my body, I followed through with some simple movement that gave expression to what I sensed. For me it was shake like a dog. By the way, this is a natural, healthy response to trauma and a great way to follow through on letting go of challenging events in one's life.
Openness to the moment: I had pencils, paper and oil pastels on hand for further expression. I chose to doodle with my non-dominant hand because I find this activity invites openness and engages right brain contemplation. I trusted in the creative process (and the Creator of that process) to take me where I needed to go.
Dialogue with the image: as the daffodil in hand emerged, I asked the image who are you, what do you need, want, wish, where do you want to go?
Move it further: an invitation to take what I had drawn back into my body through movement as prayer.
Reflection: I journaled whatever it was that came to mind and heart. As you can see, I wrote about how I perceived that I was emerging into this world as an embodied prayer, beloved beginner emerging from under a wintry world of late spring.
I hope you have been able to glean a few tools for your own prayer meditations- the expressive arts way.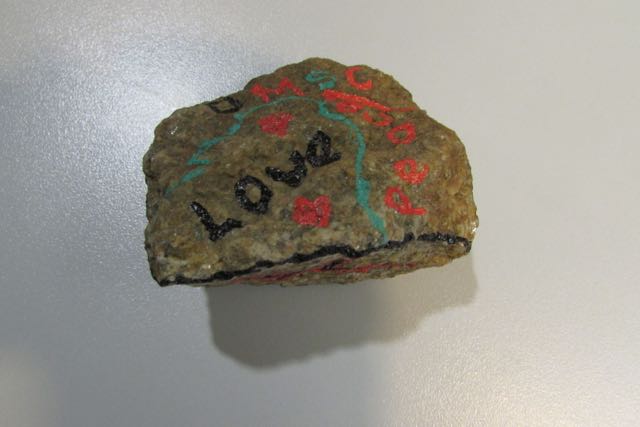 With the 10th anniversary of the terrorist attacks just a couple of days away, many of us are looking for prayers to use in church services or for personal remembrances.  So I thought that I would share some of the most beautiful and helpful that I have found. This list is updated every year -
check out the latest resource list here
Christine Longhurst at
re Worship
has collected a number of compelling prayers and litanies including
this beautiful memorial 
.  I highly recommend taking some time to read through all of them.
This prayer
 which I read on reWorship was originally posted on Engageworship.org  a few days ago.  It is designed to help congregations reflect on their memories, and centre around God and how he meets us in tragedy.  There is a PowerPoint you can download, or you could just print the words in a service booklet.
Here
 is another beautiful litany from the
national Council of Churches USA
I was really touched by this collection of prayers from
Huffington post
from Christian, Jewish, Hindu and Buddhist perspectives And an almost overwhelming but 
great collection of resources
of all kinds for 9/11 Anniversary from
textweek.com
And finally my own prayer for the day:
May all of us remember with love and compassion this day. May we grieve with those who still mourn, And share memories with those who cannot forget. May we draw strength from those who bravely responded, And gave their lives to save others. May we stand with strangers who became neighbours that day, And remember their generosity and hospitality. Above all God may we remember your faithfulness And learn to trust in your unfailing love
As an Amazon Associate, I receive a small amount for purchases made through appropriate links.
Thank you for supporting Godspace in this way. 
Attribution Guidelines:
When referencing or quoting Godspace Light, please be sure to include the Author (Christine Sine unless otherwise noted), the Title of the article or resource, the Source link where appropriate, and ©Godspacelight.com. Thank you!