Tom Sine holds a Ph.D. in history with a minor in strategic foresight. He has worked for three decades with a broad range of churches, non-profits like Habitat for Humanity and Tear Fund UK as well as college students and recent grads to create new ways to live and join those making a difference in these increasingly turbulent times. 
Tom and Christine Sine, and their pup, Goldie, live in an intergenerational community in Seattle where they seek to model a new way of living for the 2020s called the Mustard Seed House. They and their four other residents share a weekly meal and liturgy, monthly gardening and generous hospitality when social distancing is reduced.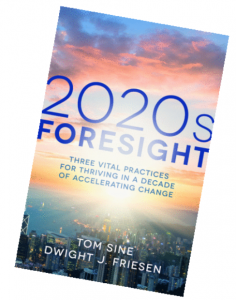 As we race into a future of accelerating change and uncertainty leaders in the church, and those they work with, are looking for new ways to live, keep their noses above water and make a difference.
2020s Foresight: Three Vital Practices for Thriving in a Decade of Accelerating Change is a new book published by Fortress Press that Tom Sine has written with his friend Dwight Friesen who teaches theology at the Seattle School of Theology and Psychology and is a leader in the Parish Collective.
Tom and Dwight offer 2020s Foresight Webinars in which they describe practical ways Christian leaders and educators can enable those they work with to:
Anticipate incoming waves of change so they have lead time to create new ways to respond
Innovate by learning to research a broad array of creative responses
Reflect on how to select innovative responses that both engage the new challenges and that reflect the way of Jesus
If you are interested, contact Tom.