Following The Star Into The New Year
January 7 @ 9:30 am

-

12:30 pm

$44.99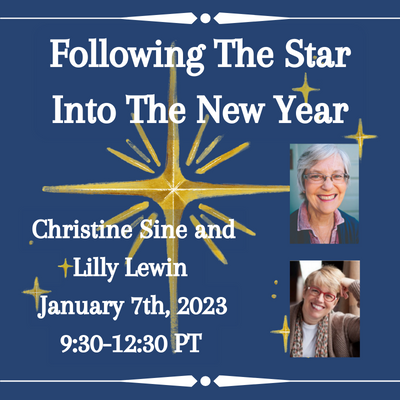 In January we celebrate Epiphany and the coming of the Magi to visit Jesus. Like them, many of us feel we are on a long journey following a star that is sometimes bright and shining, sometimes completely hidden yet still guiding us towards Christ. 2022 taught us important lessons that will shape the coming year. We sense God wants to do something new in our lives and we want to follow in the right direction.
Join Lilly Lewin and Christine Sine online Saturday, January 7th 2023 from 9:30 am PT to 12:30pm PT as they help us reflect on the past year and take time to hope, dream and pray for the year ahead. We will engage in some fun practices like chalking the door and interact with each other in ways that strengthen our faith and draw us closer to God.
Click here to register! We are once again offering several price points to aid those who are students or in economic hardship.