[caption id="attachment_5872" align="alignnone" width="300" caption="Garden catalogues everywhere"]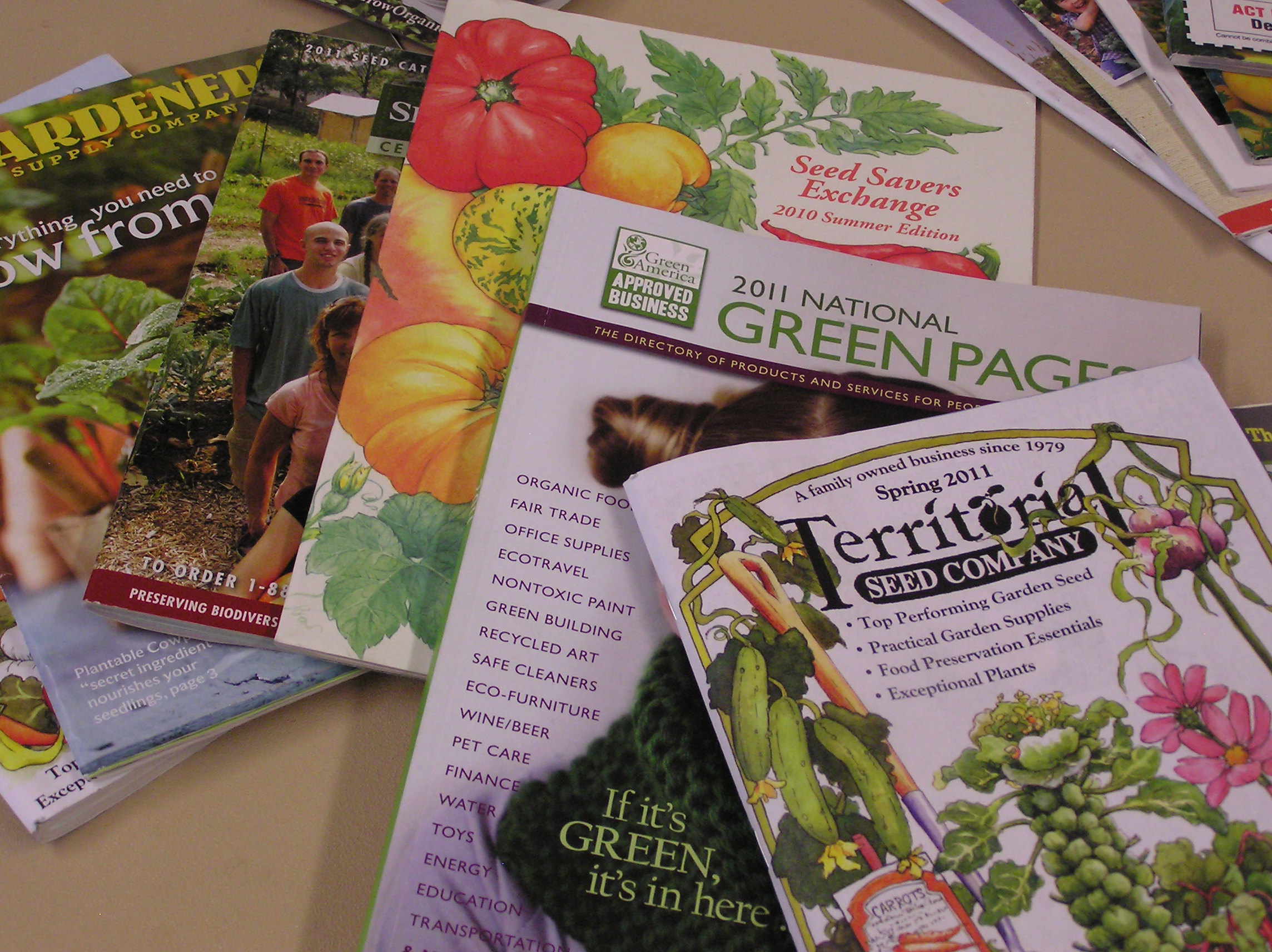 [/caption] It is that time of the year again - at least here in Seattle. The mail is flooded with seed catalogues and my email is alive with news on spring planting. There are so many options to choose from that it is hard to know where to begin. So how do we make the decisions? If you can't get outside yet here are a couple of websites that you might like to check out to at least give you the feel of being outside.  They are great planning tools.
BBC's Virtual Garden
 – it has a fun 3D function on the site and is free
Kitchen Garden Planner
 – part of the G
ardener's Supply
website which is one of my favourite places to look for seed starter supplies and self watering pots.  This is also free. I use it each year to help plan the vegetable garden, though it is a little limited on vegetable varieties to chose from. They also have some excellent
garden how to
information. And if your looking for more information on how to go organic my Texas based friends love
The Dirt Doctor
- Howard Garrett
Plangarden.com
 This website has some great hints for gardening on it.  The garden design function costs $20/year Of course this is also a great time to drool over all those wonderful photos in the seed catalogues that in your saner moments you know won't grow in your climate zone but which you just can't resist when it is too cold to grow anything anyway. I always like to buy from those companies that specialize in heritage and organic seed like:
Seeds of Change
Seed Savers Exchange
Bountiful Gardens
Peaceful Valley Organic Seeds & Supplies
and a couple of new ones I heard about this year:
Baker Creek Heirloom Seeds
High Mowing Organic Seeds
For my Canadian friends
Richter's seeds
West Coast Seeds
or those that are based in the local Pacific NW area
Territorial Seeds
Raintree Nursery
Nichol's Garden Nursery
- going virtual this year with only an online catalogue
Irish Eyes Garden Seeds
 in Ellensburg WA
Uprising Organic Seeds
in Bellingham WA Unfortunately I also cannot resist a couple of big company catalogues like the English classic  
Thompson and Morgan
 and 
Park Seeds
 which have products I can't seem to find anywhere else. And my favourite for lettuce and other salad greens
The Cook's Garden
. I particularly love their
Zen oriental green
- it is mild in flavour and delicious in salads or cooked.
As an Amazon Associate, I receive a small amount for purchases made through appropriate links.
Thank you for supporting Godspace in this way. 
Attribution Guidelines:
When referencing or quoting Godspace Light, please be sure to include the Author (Christine Sine unless otherwise noted), the Title of the article or resource, the Source link where appropriate, and ©Godspacelight.com. Thank you!