Spirituality of Gardening Online Course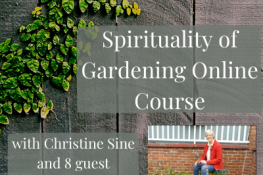 $39.99
The garden has seemingly unending lessons to teach us about God and what it means to be a person of faith. We read about the miracle of the fish and the loaves but experience a miracle every time we harvest God's bounty. Join us as we discuss connections between community, spirituality and gardening. Explore the wonderful ways that God and God's story are revealed through the rhythms of planting, growing and harvesting. Spiritual insights, practical advice for organic backyard gardeners and time for reflection will all enrich and deepen our faith. This series is based on Christine Sine's popular book, To Garden with God.
You can preview a video in the first module for free before you buy.
What will you get?
180 days of access to this online course that you can progress through at your own pace
Video sessions with Christine Sine (6 total)
Interactive survey questions (answers seen by Christine only)
Downloadable handouts to follow each video session
eBook copy of To Garden with God (second edition)
Downloadable resources exclusively for this course
Invites to Zoom Calls with Christine to connect with others, ask questions and discuss topics from the course
"Walk Through the Garden" videos from 8 guest gardeners

Give as a Gift!

Interested in giving this course as a gift? See instructions below.

Click "Buy for 180 days" button.
Create an account using the email of the person to whom you are gifting and password.
 Input your payment information.
The recipient of the course will receive an email letting them know they are enrolled. Be sure to share the password you created with them!

Have you purchased another Godspace course before? Please email us and we will provide a discount code for your purchase of this course!

Interested in doing this course with a group? We are offering a discount for 5+ people in the group. Please email us!
Copy and paste this URL into your WordPress site to embed
Copy and paste this code into your site to embed