Rhythms and Seasons Retreat
September 2 @ 9:30 am

-

12:30 pm

$49.99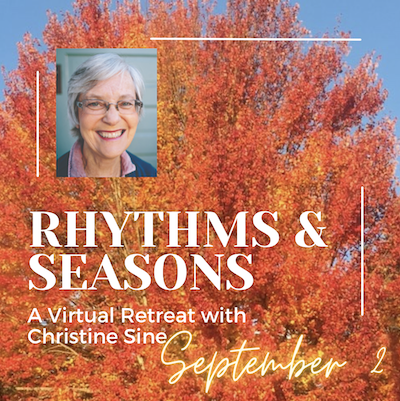 Have you ever wondered what it looks like to live in rhythm with God's eternal breath, to walk in step with the Holy One. Join Join Christine Sine September 2nd, 2023 9:30 – 12:30 PT. as we explore what that could look like.
As we move towards the end of the year life gets busier and busier until December has most of us living at a frenetic But that's not the way God intends us to live and now is the time to establish a new rhythm for our lives. In this retreat we will learn to make space for God and discover the Christ-like pace that liberates us from a culture enslaved by time.
Jesus said: "Walk with me and work with me—watch how I do it. Learn the unforced rhythms of grace. I won't lay anything heavy or ill-fitting on you. Keep company with me and you'll learn to live freely and lightly." (Matt 11: 29,30 The Message) 
Jesus exhibited a way of life that flowed between work and rest, solitude and community, feasting and fasting. We will explore these rhythms that governed Jesus life and learn to use them to connect more intimately to God.  
Through reflection, contemplation, and creative explorations, Christine Sine, will assist you to rediscover God's sustainable rhythms that provide balance between work and rest, effort and waiting, doing and not doing. Using the seasons of the year and the liturgical pattern of life they gave birth to we will explore how to reconnect our lives to God's patterns and the practices that should undergird them.
REGISTER AND PAY HERE using one of our three payment options.
Economic hardship or student rate = $39.99
Regular rate = $49.99
Regular plus scholarship rate = $59.99
Register for all 3 retreats for
Economic hardship or student = $89.99
Regular rate = $109.99
Regular plus scholarship = $129.99