Blue Christmas Online
December 8, 2020
Free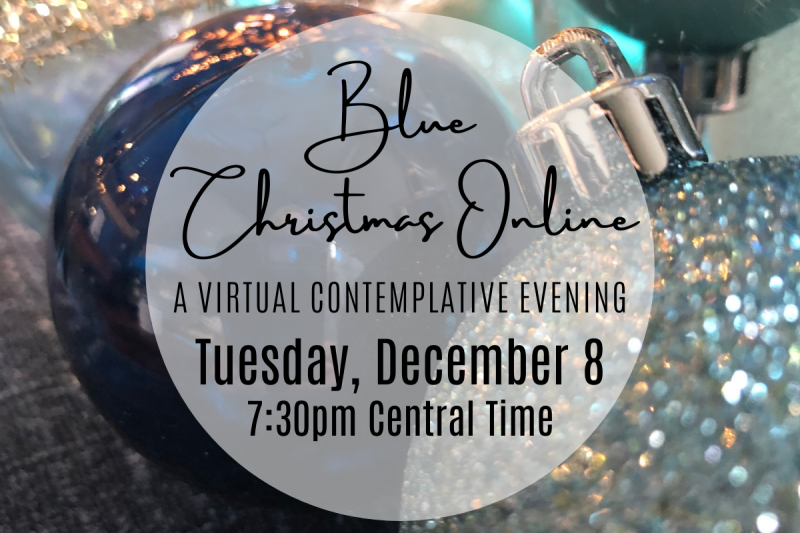 December 8 at 7:30pm to 9:00pm Central Time
A Virtual Contemplative Evening on ZOOM, free and open to all
Reflection, Music, Art, Community, Hope 
2020 has been a hard, tiring year. We're weary. The world is weary. An eclectic group of curators across the US with a passion for sacred spaces online and in real life have pulled together an interactive, experiential, contemplative evening for anyone who's feeling weary this season and wants a space to gather some hope. 
Come alone.
Come with your housemates. 
Invite your friends, small group, of faith community members to join in from their living room but share in the experience together. 
Registrations required to provide the link and details. We'll be recording it if you can't attend that night but want to participate later. 
Facilitated by: Lilly Lewin and Freerange Worship
Worship, Kathy Escobar and The Refuge, Christine Sine and Godspace Light, Joanna Cummings and A Sacred Home.
Special music with Heatherlyn, Kate Hurley, Archie Davis, and more. 
~Registration CLOSED~
Forget your perfect offering

There is a crack, a crack in everything (there is a crack in everything)

That's how the light gets in

~ Leonard Cohen
What you will need:
Candles to light
Blanket or shawl
Coloring supplies and plain paper
Pitcher and water