Celtic Advent starts today – may this be a season of blessing, anticipation, and preparation for you. Godspace has been gathering resources to help ground our spiritual practices in creativity, hope, and faithful attention to the Divine surrounding us and our lives. In these busy holiday times it is especially important to take time to prepare ourselves for spiritual growth.  There are liturgies, prayers, practices, and perspectives on the season.
We have a whole page of Advent, Christmas, Epiphany, and New Year resources gathered over the years. This includes a large selection of resources specifically for Celtic Advent. My favourite is the Celtic cards which I use throughout the first few weeks of Advent. They also make great Christmas gifts. One of our most popular store items right now is a bundle of Advent items – Christine's Advent book, Lean Towards the Light, a journal to go with it and Advent prayer cards. Along with spiritual practice resources we also have some fun resources for the session – Advent in a Jar and Color through Advent.

We also have a list of seasonal resources for gratitude, harvest, and Thanksgiving. In particular we have a list of Thanksgiving prayer resources and one of Christine's favorite Thanksgiving prayers. We also have a list of harvest prayers and resources from 2015. Back during quarantine Christine Sine and Lilly Lewin recorded a wonderful virtual retreat for the Thanksgiving season which is still available online: Gearing Up for a Season of Gratitude.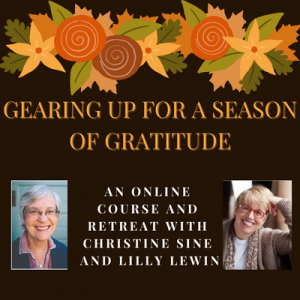 We also have resources which are not specifically for Thanksgiving or Advent, but, are so appropriate for a season of hospitality and gift giving. First there is the Godspace Community Cookbook put together last year. It is filled with recipes and stories about them. Then, we also have Walking in Wonder prayer cards which make wonderful gifts or useful treasures to keep for yourself.
Finally we have two Advent virtual retreats, one download, Walking in Wonder through Advent, was recorded a couple of years ago and you can use it to hold your own personal retreat. The other retreat, an Advent Quiet Day, is happening on December 9 and will be led by Christine Sine. Don't forget to sign up before December 9.
---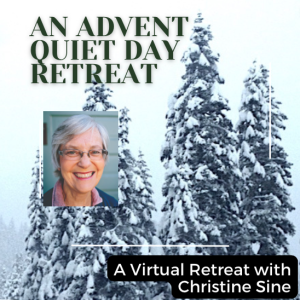 On December 9, Christine Sine will lead a morning of scripture reading and quiet reflection that will be for many of us a much needed oasis of quiet in the midst of this chaotic season.