Last week I mentioned my beautiful sentinel tree with its glorious centre streak. This week, with the sun shining brightly on its leaves, it really does look like a flame guiding me into a new season. August to October are prime harvesting and processing time in my garden inspiring me to create new recipes and dig out old ones. The Godspacelight Community Cookbook is my primary inspiration, and now my freezer is full of chocolate pear bread, dried tomatoes and olive tapenade, and bags of apples ready to make apple pies and apple cake. The cupboards too are full, with loads of dried apples and apple cider ready for the Christmas season and the gift boxes I send to family and friends. We are about to pick the bulk of our apples – probably around 400lb and another 100 lb of Asian pears. These plus the continuing supply of tomatoes can be a little overwhelming at this season, but that encourages me to share generously with neighbours and friends, something that I think God intended us always to do.
Like me, many in the northern hemisphere are celebrating the abundant harvest of the season. Some are heading back to school or to new jobs. Don't forget to check out the abundant resources we provide for these seasons. I particularly wanted to highlight the Back to School resource lists which provide an array of prayers and other ideas.
The focus of my Meditation Monday: Where Do You Find Hope? yesterday, was on our need for hope, a very important focus I feel, especially as we watch the unfolding tragedy of the earthquake in Morocco and remember the horrific terrorist attack of September 11, 2001. However it is important for all of us to find hope in our world today. Without it we become paralyzed and unable to respond to the needs and suffering around us.
Like me, you are probably enjoying Lilly Lewin's Freerange Friday report on her trip to Britain and her enjoyment of times with friends she has not seen for years.  Her question "Why is it that we so easily forget, and so often doubt the abundance of God? We forget the loaves and fish, the healings, the water into wine." Recognizing God's abundance is one way we find hope in the midst of pain.
Our most popular and intriguing post this week was by David Pott's Breathing the Trinity I love breath prayers and have used the Yahweh prayer for many years, but I was inspired by David's expanding that to include a Jesus prayer and a Spirit prayer as well.
June Friesen also blessed us with a couple of great posts and prayers this week. Her Being Under God's Shield was both a delight and a challenge as she shared honestly and vulnerably. Her poem BUGS = Be Under God's Shield is a must read. Her second post Behold the Wonder of Heaven is a delightful reflection on clouds and the heavenly lights of sun and moon which she encourages us to take time to reflect on. Like her I love the pattern of clouds and often find inspiration in time spent reflecting on them.
My October retreat A Season of Gratitude is only a few weeks away. Many of us feel overwhelmed by the pressures and heartache of the world around us and I feel that a season of gratitude and a day intentionally set aside to give thanks to the God who gives us so much to be grateful for is an essential part of the upcoming season. Please consider joining us.
Let me end with this prayer that I wrote for the 10th celebration of September 11th. It has been revolving in my head ever since I reread it yesterday. I hope that you will find strength and encouragement from reading it too. It was designed to be used as a responsive reading
God, so much violence, so much pain, so much heartache.
May our remembrances of this day instill within us a horror of war,
And help us stand against the atrocities caused by terrorism. 
As we grieve with those who still mourn,
And share memories with those who cannot forget,
May we be stirred by your love and compassion for all.
As we remember those who bravely responded,
And gave their lives to save others,
May we draw strength from their selfless sacrifice.
As we stand with strangers who became neighbours that day,
Sharing and caring for people they did not know,
We give thanks for their generosity and hospitality.
May it remind us of the call to be good Samaritans,
Reaching out across race and culture to other victims of violence.
Not just the violence of war but also of natural disasters. 
So many in our world have lost loved ones to terrorism and war,
So many have been displaced from homes and country,
May their plight fill us with a longing for peace.
Let us seek for understanding and reconciling,
And not turn from your kingdom ways.
Above all God may we remember your faithfulness,
And learn to trust in your unfailing love.
Amen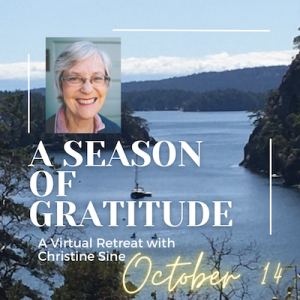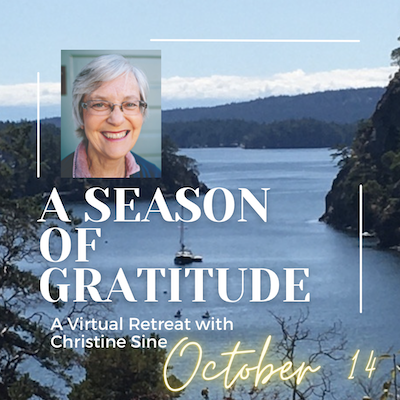 Join Christine Sine on October 14 or watch the recording later. October and November, the season between Canadian Thanksgiving and American Thanksgiving, is gratitude season on Godspacelight. Christine Sine will encourage you to enter into the practice of gratitude in this  interactive retreat that will help us enter this season of gratitude with joy and delight in our hearts.