by David Pott
As a result of Richard Rohr's teaching I suspect that many people around the
world are now using Yahweh as a breath prayer, breathing in on Yah and out
on weh. However I have found it helpful as I come into God's presence to add
two more Hebrew words as breath prayers. They are the Hebrew name for
Jesus, Yeshua and the Hebrew word Ruach which is translated in the Bible as
wind and spirit and, appropriately in this context, also as breath. The
references to spirit apply to the human spirit but also to the Spirit of God.
So then we have these three Hebrew names for God – Yahweh (יהוה),
Yeshua (ַשועֵי) and Ruacḥ (רוח) that can all be used as breath prayers in this
way: Yah-weh, Ye-shua, Ru-ach. It is interesting that all three names have no
hard consonants and they are not very different from the sounds of breathing.
Sometimes I breathe each name three times and at other times I say the three
consecutively, again quite often three times. At other times I might focus for a
while on just one of the three. I use the names as breath prayers when I am
walking and they can go well with various exercises that assume a worshipful
posture, such as this one:
Kneel in front of a chair and place your hands on top of the front of the seat,
keeping your arms straight. Breathe in as you begin in an upright position,
then on the out breath, slide your arms forward to the back of the seat and
bend your knees to crouch so your head will be down near the front of the
seat.
I find that I sometimes use these breath prayers where previously I may have
said "In the name of the Father, and of the Son and of the Holy Spirit." I find
using the Hebrew names feels like a closer connection to the roots of our faith
and especially when I think Jesus would understand all these words. In
referring to Father God, Jesus used both Abba and Yahweh and he would be
familiar with Isaiah 64:8, "O Lord (Yahweh), you are our Father." With regard
to his own name, he would not have turned round if someone had called out
"Jesus" to him as he walked through Jerusalem or Galilee, but Yeshua he
certainly knew!
One of my favourite scriptures is John 14:23, "If anyone loves Me, he will keep
My word; and My Father will love him, and We will come to him and make Our
home with him." I find that utterly astonishing, and for me using these breath
prayers of their names is an act of welcome and intimacy helping to increase
the wonder of this indwelling.
---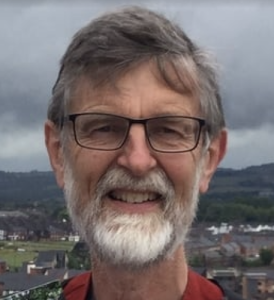 David Pott worked for ten years in drug rehabilitation centres and
detached youth work and then moved into teaching for 19 years. He was
head teacher of two independent schools. David is a keen naturalist and a
long distance walker. In 1997, he completed a 680 mile solo pilgrimage
from Iona to Canterbury called Peregrinatio 97 commemorating the
1400th anniversary of St Columba and St Augustine. He has led several
pilgrimages and walks with a reconciliation theme, such as the Offa's Dyke
Torch March along the ancient boundary between England and Wales.
Between 2000 and 2007 David led the Lifeline Expedition and the March of
the Abolitionists – a series of reconciliation journeys in connection with the
legacy of the Trans-Atlantic slave trade which has received widespread
media attention. See www.lifelineexpedition.co.uk/mota and
David was involved in setting up the Two Saints Way, a pilgrimage route
between the cathedral cities of Chester and Lichfield which opened in
2012. See www.twosaintsway.co.uk He published the full colour guide
book in November 2015. David is also the founder of Flag Up Scotland
Jamaica – see www.flagupscotjam.uk
Since moving to Bishop Auckland in January 2016, David has been
involved in assisting with initiatives in connection with the regeneration of
the area and he has also been developing pilgrimage routes to the shrine
of St Cuthbert at Durham Cathedral. See www.northernsaints.com
David has been married to Pam since 1970 and their three children are all
married and they rejoice in nine grandchildren. Their son Joel was the lead
singer of the indie band Athlete and his song "Wires" won the Ivor Novello
award for the best contemporary song of 2006.
---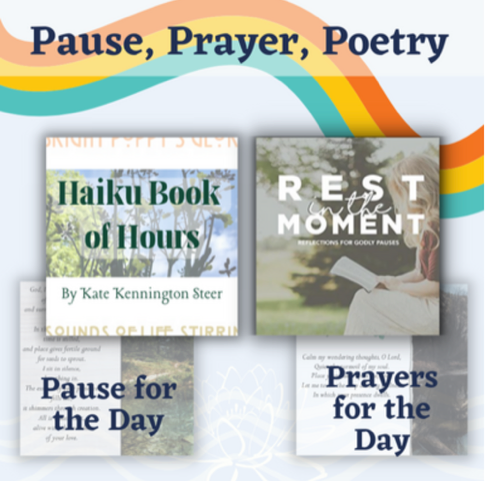 Whether you are praying the stations of the day, in need of resources for rest, hoping to spark joy and find wonder, or simply want to enjoy beautiful prayers, poetry, and art – our digital downloads section has many options! Christine Sine's book Rest in the Moment is designed to help you find those pauses throughout the day. Praying through the hours or watches, you may find inspiration in our prayer cards set Prayers for the Day or Pause for the Day. You may find your curiosity piqued in the free poetry and art download Haiku Book of Hours. All this and more can be found in our shop!