by June Friesen
Over the past few years, especially since the pandemic, I have been on alert for signs of God's love on my pathway through life. Recently I have been doing a study on compassion and it is interesting to me how I see it -or should I say differently than many others see it. The above photo I took on a hike a number of months ago after there was a big rain storm in an area where we like to hike from time to time (I added the caption). I am still wondering if someone actually placed the rock or if it happened to get lodged there in the rapidly rushing waters. 
The past couple of weeks I have been doing some reading on compassion in the Scriptures and one of the passages that really caught my attention was the one below and I believe it shows us the compassionate heart of Jesus when He walked this earth. He could have just walked on by since this was not a part of His group of followers, yet Jesus had compassion on her situation and it says, 'His heart broke'.
Luke 7:12-17
Jesus went to the village Nain. His disciples were with him, along with quite a large crowd. As they approached the village gate, they met a funeral procession—a woman's only son was being carried out for burial. And the mother was a widow. When Jesus saw her, his heart broke. He said to her, "Don't cry." Then he went over and touched the coffin. The pallbearers stopped. He said, "Young man, I tell you: Get up." The dead son sat up and began talking. Jesus presented him to his mother. 16-17 They all realized they were in a place of holy mystery, that God was at work among them. They were quietly worshipful—and then noisily grateful, calling out among themselves, "God is back, looking to the needs of his people!"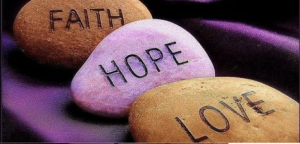 The first thing that I noticed in this was that it does not seem as if anyone directed Jesus to this woman or the situation. As His group met the procession it says that He took note – He saw that there was a woman in deep distress. When Jesus realized that this was not only devastating because it was the lady's son who had died, but because she was a widow and this son was her caregiver and provider. Out of the deep compassion for the situation Jesus chose to give her son life once again so that he could continue to care for his mother. It was through the love of Jesus that the miracle happened. That love once again gave the woman faith that she would have her son to care and provide for her. Even though it does not mention faith in this passage I suspect that this woman was able to have some faith in God or a renewed faith in God because she was a beneficiary of God's compassion. In some respects, this is a reversal of these three as listed in the passage in I Corinthians but there are times when they do not necessarily happen in a particular order. Yes, this was a sign along the pathway of walking with Jesus for the twelve disciples as well as for the other people that were present. I also believe that it was a challenge for the people to see how they can grow in their faith walk with God by the things that happen in and around them. 
The photo of the stone below is a stone I bought in a store as it caught my eye. I was not sure what I would do with it yet I could not leave it behind. I have had it for several years and it tends to move around my house, my patio and even altar displays I create when I am a retreat spiritual leader. At present it is a part of a small family display in my home that reminds me that no matter what I or anyone in my family is facing I can pray, and God will help us all grow through it.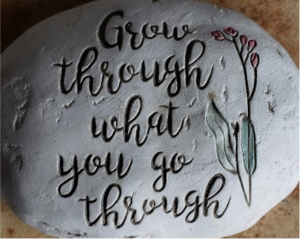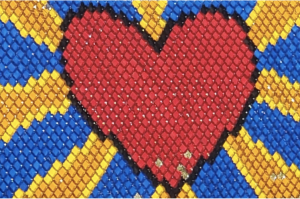 GROWING IN COMPASSION
How may I show compassion today God?
Where will I see You present as I walk through my day?
What or who will meet me?
God, give me Your eyes to see
Your presence upon my pathway today.
Soon the new school year will begin for many of our children,
I pray that You O God will truly watch over our teachers and children,
Give the teachers wisdom and creativity
As they seek to help their students understand new concepts,
As they teach them how to relate and help each other
And encourage maturity in their character as well.
Give the teachers and staff wisdom and courage
As they seek to provide a safe environment for learning,
Trying to help the students be able to concentrate and absorb
The materials that will be needed as they progress through the education process.
God, help us to be alert to the creativity of staff and students
As they display things in the windows