by Karen Wilk
Poetry for me is an invitation to slow down, pay attention and reflect. As you ponder this poem may it also inspire you to look and 'see' and be open to sitting in the unknowing of your life and neighbourhood with both calm and curiosity.
The Next Unknowing  
Beauty down the block,
     Sweetness on the street
Goodness holding on, yet also in retreat
Grace and brokenness in tension
    Are we open to the questions?
The risk of care and curiosity
Without presumption, expertise or animosity
      Can I sit with what seems strange?
               recognizing the need for constant change
      Can I rest without requital?
                Reexamining what is retractable.
The best answer, my next question
               The way forward, a sheer suggestion
What if the road we're walking isn't straight?
                Am I ahead or way too late?
Do I appreciate the winding go-rounds
                The cutbacks, circles, ups and downs
                The trail meandering out of  bounds
Barren — fruitful,
     dark — light
           Lonely — crowded,
                fearful — bright
Practicing seeing- listening
       I surrender, slowly softening,
the next step
         What do I expect?
The next forgoing,
        The next unknowing.
---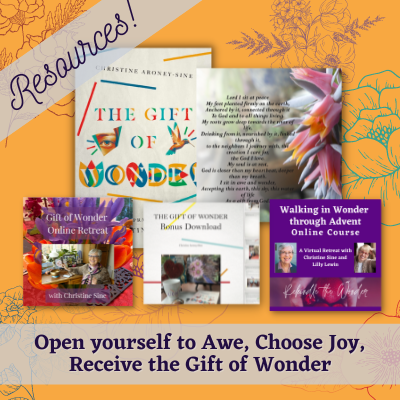 Did you know that alongside Christine Sine's book The Gift of Wonder, we have many resources available to you? The free downloadable bonus packet or beautiful prayer cards featuring prayers from the book, for example – something to hold and behold! Or perhaps you'd like to journey through the book alongside a retreat – we have that too! You can check it all out in our shop!