by Karen Wilk
Air, we can't see it
Yet we need it, yet we breathe it
Deep breath, gentle sigh
In-Out, Out-In, every moment
Cloud thick, mountain thin
Breathe on me, Breath of God,
Just so, Spirit in the wind
Breathe on me, Breath of life
Amidst pollution, climate strife
feels hopeless: Quality diminished,
Tornado, tsunami, hurricane, wildfire punish
Sometimes swirling, sometimes whirling
Sometimes too much, so much, in the atmosphere hurling…
"Stop, stop!"- all nature, rock, tree and sea rant!
Loss of breath, holding breath, masking, pant.

Yet air like grace, over chaos, over earth hovers
Sustaining life, reveals, recovers
For there is God, freely wholly
in the breeze  blowing
Like a leaf, like a feather
softly floating, flowing
Gently with redemptive Love always knowing…
In the storm, in the darkness, in the jitters
Even now, Three-in-One, in Spirit's breath whispers:
Air is Grace.
Painting "And the Last Word is Grace" by Karen Tamminga-Paton
---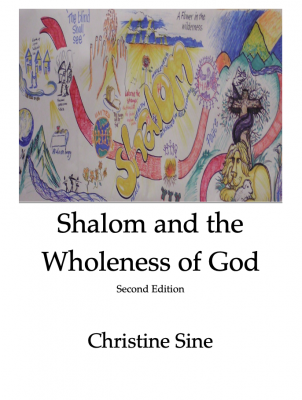 We all need the Wholeness of God…this resource includes reflections and activities for coping and thriving during challenges in search of shalom as well as hope for restoration.