[Photograph is of my friend,  Tessa, who loved life. This was taken by myself 3 months before she died. The UK November weather decided to be unseasonally sunny so she could enjoy her last trip to the seaside]
In the UK we love a good moan about "seasons". We bemoan the summer when it gets too hot, too wet, too windy, too cold. We bemoan the winter when it doesn't get enough snow, too much snow, rain, wind. You get the picture. We Brits love a good natter about the weather and how it isn't doing what it's meant to be doing for the time of year. I think the only time there was joy rather than whinging was the spring of 2020 when we went into lockdown and the weather was warm and dry so we were able to get out in our gardens, go for the allotted walks we had permission to do, and in rural areas maybe extend those walks. 
I wonder too if we moan about "seasonal spirituality" – as in Christmas is too busy and comes round too soon, the "Church" doesn't do Easter like it used to, in X denomination they don't do X-season as well as Y church that we don't attended because ….. 
But what does seasonal spirituality really mean? Or at least what does it mean to me? 
At the moment I'm not regularly attending a congregation and my husband has had to accept that this is the season I am in. But I do co-run a Christian youth group; although that has not taken place since May due to the majority of our young people being busy. We only have 5 young people so if 3 of them are busy and others don't want to come because their friends aren't coming then it doesn't happen. Myself and my co-leader have to accept this is the season our group is in. 
For me seasonal spirituality means not just going with the seasons of the land – spring, summer, autumn, winter – but going with the seasons of my heart, of what I believe God is saying to me, of what I have the energy to do. It is trusting that inner voice, checking that it isn't just me being obtuse [as in with the not going to church] or people pleasing [as in with the going to church/getting involved with church based activities], and checking in with God to really know what God wants of me in this season of my life. 
Talking of seasons, I am now in my early 60s and so I look at life differently to what I did in my early 40s even, and definitely differently to how I looked at life in my early 20s. I need to explore this new season of my life not just rush boldly forward doing whatever. And I think that is the same with spirituality – we often don't pause, take time out to feel that change of season, but rush forward either doing the same old same old or often getting busier and busier. 
Life changed in 2020. There were a lot of prophecies about "perfect vision" and I still believe lockdown, Brexit here in the UK, mass migrations, climate change, the war in Ukraine, and other things are part of the reviewing of the world. And I think we need to pause, to look, to really see what God is really seeing. 
Jesus talks about "those who have ears let them hear" and about people being "always seeing but never perceiving" and yet if we don't take time out to see what the spirituality season is that we are in then we will not hear God's voice, will not see what God is doing, will not perceive our role in this. 
So are we willing to take some time to contemplate what season we are in? To not grumble that it is too busy/quiet/fast/slow/wet/dry/revival/not/etc? And will we just wait until we can really hear what God is doing, really perceive what God is doing and really know our part in all of this. And maybe it is as Christine said the other day our work is loving the world just as it is. How about giving that a god for a while?
---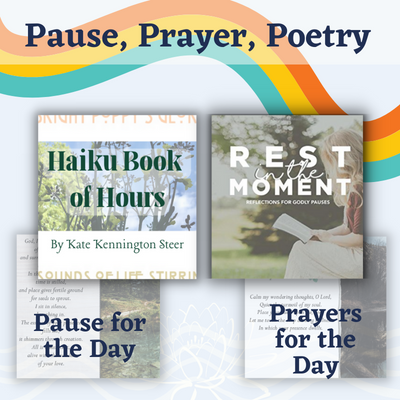 Whether you are praying the stations of the day, in need of resources for rest, hoping to spark joy and find wonder, or simply want to enjoy beautiful prayers, poetry, and art – our digital downloads section has many options! Christine Sine's book Rest in the Moment is designed to help you find those pauses throughout the day. Praying through the hours or watches, you may find inspiration in our prayer cards set Prayers for the Day or Pause for the Day. You may find your curiosity piqued in the free poetry and art download Haiku Book of Hours. All this and more can be found in our shop!