by June Friesen
Who does not love ice cream? Well, I have learned that some love and/or enjoy ice cream more than others. I grew up in a household where ice cream was almost like a staple in the freezer. For my father it was his regular bedtime snack. He had grown up on a dairy farm and homemade ice cream was definitely a part of the family lifestyle. The creamery that processed the farm milk processed milk for selling, cream for selling and they also made butter and ice cream. I remember a small oblong bar where one could sit on a stool and enjoy a sundae, shake, malt or ice cream cone. And there was not just vanilla ice cream – the creamery was known for its flavored ice cream as well. A few of those flavors I remember were chocolate, butter pecan, strawberry and cherry nut. There may have been others but I do not remember. 
As I pondered this writing I wondered what one could look to in the Scriptures to possibly relate to this celebration. I chose some verses from I Corinthians 5 as I think we can take an analogy from the verses that for some may relate to the appetite for ice cream. 
2 Corinthians 5:1-5
 1-5 For instance, we know that when these bodies of ours are taken down like tents and folded away, they will be replaced by resurrection bodies in heaven—God-made, not handmade—and we'll never have to relocate our "tents" again. Sometimes we can hardly wait to move—and so we cry out in frustration. Compared to what's coming, living conditions around here seem like a stopover in an unfurnished shack, and we're tired of it! We've been given a glimpse of the real thing, our true home, our resurrection bodies! The Spirit of God whets our appetite by giving us a taste of what's ahead. He puts a little of heaven in our hearts so that we'll never settle for less.
These verses are talking about one's appetite for God and how once a person really experiences God their heart will always want to follow Him. It may be hard for some of us to imagine that God really puts an appetite or desire for God in the heart of every single person. There are times when one may wonder how that can be true. I have met those who do not really have an appetite for ice cream as well. 
First of all, let us consider how one can have or gain an appetite for God? For some of us it has been something that we have grown up with – we were taught about God from childhood and taught how to realize His love for us as well as respond to His love. As one learns more about God and embraces His presence in one's life the reality is that a person will see the good around as gifts from God. They will not miss that there is the not so good but will learn how to embrace God in the midst of it as well. As one learns as well as embraces God in the whole of life every day they fall in love with God and would rather follow Him even if they do not necessarily like everything that happens. Each one of us may like a different flavor of ice cream. We may like a different brand of ice cream than another. We may prefer it served in a different manner than another. I have given you a few samples here of ice cream treats I have enjoyed over the years. Of course if you ask my sons or husband they would say 'she will eat ice cream any way it comes,' and that is almost true – although I have a flavor or two that I prefer to leave at the grocery store. My friends, it is the same with God – each one of us can experience God in a different way. For some they prefer a quiet space in their home, others prefer a quiet space out in a flower garden or in nature, others may prefer a library or a church sanctuary. Some prefer to sit in silence, some prefer to read and meditate over the Scriptures, some prefer to listen to readings of Scripture and/or meditations. Some prefer to journal while they are meditating. There is no one prescription (or flavor) that has to be followed to celebrate and embrace God in one's life. What is most important is that one finds a way that helps them relate with God and it feeds their spiritual life. 

So with the ice cream, it can be chocolate, vanilla, strawberry, cherry, peanut butter, cookie dough or any one that you can imagine to make and/or buy. This spring my one son and I were reminiscing about an ice cream store we would frequent as they were growing up. I am not sure if this flavor was featured more than one summer or not – but it was bubble gum ice cream. I just remember that as they were eating their ice cream cone the piece of gum grew larger with each bite. Oh my, that was quite the experience. Today there are Dippin' Dots and I often see people enjoying those at the mall as well. 
As I close today may I be so bold to suggest that maybe today would be a good day to enjoy some ice cream – preferably one of your favorite flavors and/or kinds. As I was thinking about this I had thought – I should dig out my ice cream maker but that would be more ice cream than I would know what to do with unless I went out in my front yard and shared with the neighbors. But in Phoenix where our temperatures now are usually well over a hundred degrees I think I will just enjoy a bit of ice cream as I enjoy a baseball game which is indoors. And along with that I will be grateful to God for taste buds to embrace the flavor that I choose to have. So whether you choose a plain bowl of ice cream or a special flavor in a cone or a milkshake or a float or sandwich or with a piece of pie or cake – embrace every lick right up to the last and then say:
"Amen God, thank you for helping us learn how to make and eat ice cream!"
Writing and photos by June Friesen; Scripture is from The Message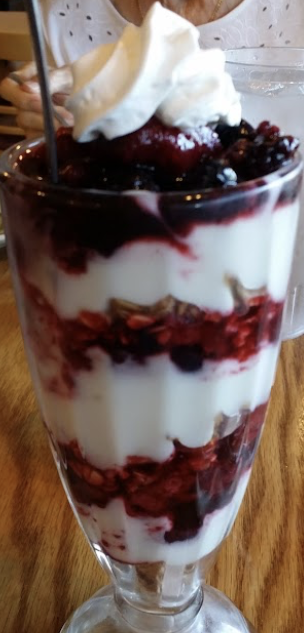 ---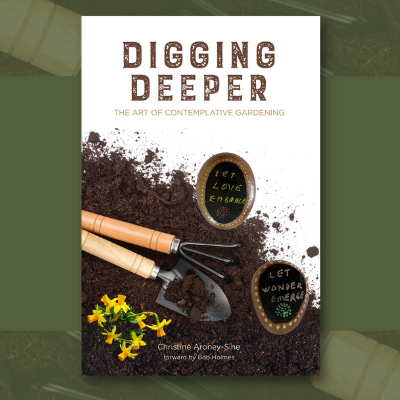 "My healing garden inspired by Digging Deeper has been a comfort to me in this time of transition." – M Christine Sine's latest book is packed full of contemplative wisdom and inspiration for creating your own meditative focus.  Click for more details!