Mysteries, Yes by Mary Oliver
Truly, we live with mysteries too marvelous
to be understood.
How grass can be nourishing in the
mouths of the lambs
How rivers and stones are forever
in allegiance with gravity
while we ourselves dream of rising.
How two hands touch and the bonds will
never be broken.
How people come, from delight or the
scars of damage,
to the comfort of a poem.
Let me keep my distance, always, from those
who think they have the answers.
Let me keep company always with those who say
"Look!" and laugh in astonishment,
and bow their heads.
This week we are back on track and Tom and I are headed for one of our regular retreats. Mary Oliver's poem Mysteries, Yes will travel with me as its words feel as though they are penetrating right into my heart. I will recite it at the beginning of each of our reflective sessions and look forward to what God will reveal through it. I love these special times away and as I mentioned in yesterday's Meditation Monday: Are We Deaf to Silence it is often the voice of God revealed in the silence that speaks to me most clearly.
I am really looking forward to our days away. Walks on the beach with our dog Goldie, sitting in silence soaking in the beauty of the view from our little cottage, allowing the silence to penetrate my soul and bring new measures of creativity and wholeness are a few of the things I gain from these times away. I take lots of photos and write poetry too, as I did during our recent trip to Portland which gave birth to my Morning Poems which I posted on Saturday. As Mary Oliver says, delight and damage both lead us to poetry and bring enrichment and healing to our souls.
Resting and Relaxing was very much our theme last week. Lilly Lewin's Freerange Friday: Encouragement for Your Rest Practice highlighted our need for rest and asks that important question: "What is Jesus saying to you about rest?" I have added all three of the books she suggests to my wishlist and look forward to reading them in a few months' time. I continued this theme in my poem Rest in the Presence of God and in my popular post Welcome God into the Day and Into the Night  talked about a different kind of rest that we need – sleep. It is fascinating to read some of the research on sleep and see how our use of electric light and of electronic screens has made this more of a problem than it once was.
Let me end with this beautiful prayer that Lilly Lewin wrote for Freerange Friday this week:
Uncrowd my heart, O God,
Until silence speaks
In your still, small voice;
Turn me from the hearing of words, and the making of words,
And the confusion of much speaking,
To listening
To waiting
To stillness and
To Silence. In the name of Jesus
AMEN
Many blessings on all of you
Christine Sine
---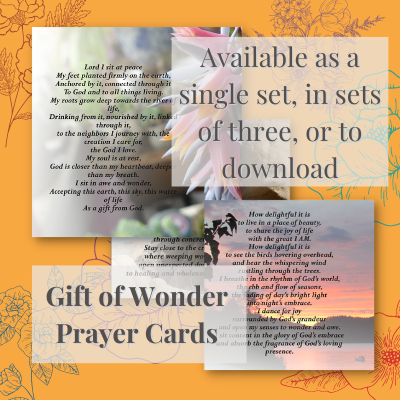 Gift of Wonder Prayer Cards
We have created a special set of Gift of Wonder prayer cards to compliment Christine's book, The Gift of Wonder. These cards are designed to enrich your book study and practice. Prayers from the book are illustrated with images to assist your contemplation. The back of each card provides a short excerpt with a question for you to reflect on.