Tuesday was Independence Day here in the U.S. No BBQs or parties for us this year, just a wonderful day to relax, take photos, watch fireworks and enjoy the beauty of God's wonderful world. Part of what I enjoyed was writing the poem I posted yesterday as I sat and reflected on the beauty around me. It is very refreshing and renewing for me, which explains why this is a bit late. Several people last week shared the prayer I added to last week's email. I have now added a video to it and you can check it out both on Facebook and Instagram.
I love that American Independence Day and Canada Day occur so close together. It helps to remind me that we are not independent but interdependent. Wherever in the world we live I feel it is a great time to reflect on this and on the meaning of freedom as I did in my Meditation Monday: What is Freedom; A Prayer for Independence Day. Lilly Lewin shared a similar theme in her Freerange Friday: Praying for Your Country in which she encouraged all of us to pray for our countries and for the injustices we see in them. Sandwiched between these was Steve Wickham's important post The Heart of Tolerant Hospitality in Reconciliation. It seems to me that we cannot really celebrate our freedoms unless we can celebrate together when all the peoples of the world are free.
Celebration, freedom and hospitality all seem to revolve around each other, as is obvious in Brenda Warren Griffin's post Celtic Hospitality and Welcome. https://godspacelight.com/2023/06/29/celtic-hospitality-and-welcome/ As she says, the Celtic Christians took to heart Jesus's command to love our neighbor as ourselves, to welcome the stranger, and to party with the outcasts. We have much to learn from them. Lynne Baab's post Hospitality and Listening conveys a similar message as she comments: All of us can grow in believing that listening does not imply agreement, that understanding other people's stories, motivations and thought processes will enrich us even if we disagree with them.
A big thank you Lori Shutrump who last week wrote: This edition and all of them are wonderful. I love your writing, insights, and support of other resources. You have created a community with which inspires, opens minds and encourages. You are truly gifted and a blessing to all.
I love reading comments that you send about your enjoyment of these newsletters and of the articles we post each day. Your interactions with what we write really help us to shape this ministry so please keep those comments coming.
Many blessings on you this week.
May the God who is One,
The God who is Three,
Bless and keep you
Wherever you may go.
---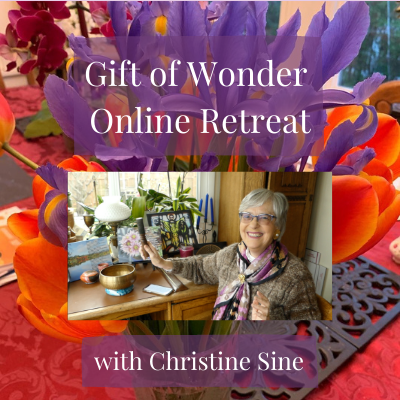 Want to experience more of the awe and wonder that God offers us? Check out the Gift of Wonder Online Retreat by Christine Sine. This retreat allows for 180 days of access for only $39.99 so you can move through the sessions at your own pace.