By Megan Bollen
In times of global overwhelm or solastalgia, the simple act of picking up trash can offer us hope, and an opportunity to connect to both The Divine and our feminine nature.
For me, local river cleanups were my first exposure to intentionally picking up trash. Gathering with others around the shared desire to tend to the Earth was inspiring. Yet, it was the experience of entering a tarnished, beloved space and moving through it as a wave of healing, that piqued my spiritual attention. It was a short leap from those experiences to realize any walk with others or alone, could be an opportunity to pick up trash.
As I experimented in spontaneous, solo trash pick ups, I developed a growing awareness and appreciation for the ways it nourished my soul. As a practice, I find it similar to gardening in how it keeps my hands busy doing "good work", while my heart can focus on prayer. It helps me get out of my head space and into my body, aligning ecological beliefs and longings with physical practice.
Anytime we interact with Earth in a tender and attentive way, we are connecting to The Divine. We see the beauty of our living planet through a necessary lens of empathy, responsibility and awe. Picking up trash as an eco-spiritual practice allows us to experience this connection as we work.
It also nurtures us in offering a chance to actively center on, and empower, our feminine nature. This is a welcome gift when we might feel separated from this part of ourselves or in need of a heightened connection to it. The feminine nature to nourish, sustain and protect life is embodied in the act of picking up trash for every human, regardless of gender identity. Its task consists of seeking out and removing environmental harm and fostering an environment where animals, plants, and humans can thrive. Being a part of this healing and restoration, gives each of us a path to return to our feminine nature.
Another way picking up trash offers spiritual nourishment is in its ability to foster hope. In a time when we struggle to see the ways our individual choices impact the collective whole, picking up trash offers a unique opportunity to see immediate results from our efforts. This satisfaction can be powerful fuel for sustaining and growing hope.
In states of overwhelm and wondering where or how to start; picking up trash can be an act of resistance to apathy. For me, it has become something I can literally reach for in times of environmental and spiritual discouragement.
In this way, picking up trash as an eco-spiritual practice, challenges my spirit to press into what our Sikh brothers and sisters call Chardhi Kala, or relentless optimism. It is difficult to see trash return again and again, but that doesn't stop us from picking it up. We believe and hope for a better future, and we show it in our actions.
Picking up trash can of course still be just, "picking up trash". And that alone is worthwhile. Yet, I can no longer unsee the opportunity it holds to be more for us, if, and when we want it to be.
In Practice: Go out and pick up trash somewhere important to you. While you do the work, offer prayers for human and environmental reconciliation, prayers for restoration of our polluted waterways, prayers for revitalization of plant and animal kingdoms, and prayers for bold resistance to mindsets, products, and actions that impede the thriving of life around us.
---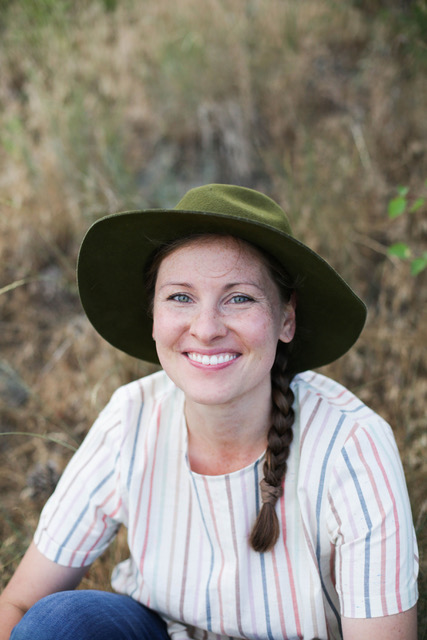 Megan Bollen is a writer and social science instructor in Milwaukee, WI. She holds an M.A. from the University of Colorado Boulder and enjoys playing outside in all kinds of weather. Some of her favorite things to do are biking with her husband and two young children, drinking tea in the woods, and exploring new places.
---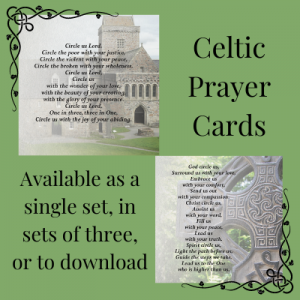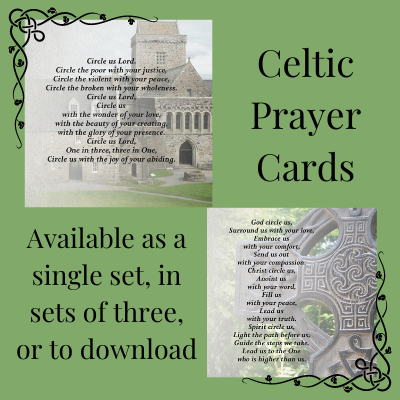 Celtic Prayer Cards include 10 prayers inspired by ancient Celtic saints like Patrick or contemporary Celtic writers like John O'Donohue. A short reflection on the back of each card will introduce you to the Celtic Christian tradition, along with prayers by Christine Sine and beautiful imagery crafted by Hilary Horn. Celtic Prayer Cards can be used year-round or incorporated into various holidays. Available in a single set of 10 cards, three sets, or to download.