By Barbie Perks
On my walk yesterday I noticed the gutters in the road, how full of leaves and grass cuttings they
were, how much of the mole heaps end up being washed into them, and considered how, over time,
those deposits compost and become fertile spots for seeds to germinate and grow. If those gutters
are not regularly swept and cleaned, the grasses and weeds grow stronger, and their roots begin to
crack through the cement/tar edges of the road. Come the rains, the power of water washes those
edges away and potholes form. There are times when those potholes become so big, traffic health is
threatened.
I was gently reminded that there are times in our lives when our hearts collect hurt. Whether the
hurt comes because of words spoken to us or by us, spoken in jest, disparagement, scornfully,
sarcastically, or in anger; or whether it is deposited by the negligent, or intentional actions of
another person or persons. If the hurt is not regularly cleaned away it festers, it will compost into
bitterness, unforgiveness, isolation and withdrawal. These seeds grow, tended by the storms of life,
and eventually we find that we are surrounded by potholes that threaten our mental, emotional,
and spiritual lives. Our joy in life drains away and any energy we have is spent in navigating our way
around the ever-growing holes.
Scripture speaks about hearts in many ways, so I think our heart-health is important to God. We can
ask God "search me, O God, and know my heart; test me and know my anxious thoughts. See if
there is any offensive way in me and lead me in the way everlasting" (Ps 139:23-24), "Test me O
Lord, and try me, examine my heart and my mind" (Ps 26:2).
When God reveals what we need to bring to light from out of the dark depths of our heart, "For God
who said, 'let light shine out of darkness', made his light shine in our hearts to give us the light of the
knowledge of the glory of God in the face of Christ." (2 Cor 4:6), then "we can approach the throne
of grace with confidence, so that we may receive mercy and find grace to help us in our time of
need." (Heb 4:16). When we pray about those hurts, God will help us to clean them out of our
hearts, and the result will be that peace that Jesus promised – "Peace I leave with you; my peace I
give to you. Do not let your hearts be troubled." (John 14:27)
May the God who created us, who redeemed us, who loves us, who knows us so intimately, bring us
to that point of surrender, that insight into what is troubling us, enable us to lay it down before him,
and move forward in peace.
---
Never heard of pothole golf? Take a look here:
---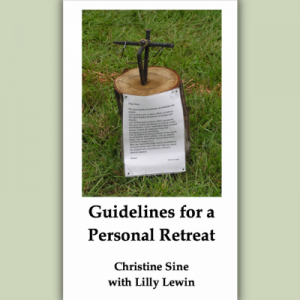 No matter the time of year, it's important to pause and take time to reset and restore. An excellent way to do that? Take a personal retreat. Building a retreat into the rhythm of your life is a spiritual practice often lost in our helter-skelter, busyness-is-next-to-godliness world. This booklet is based on the most popular posts about spiritual retreats published on Godspacelight.com over the last few years and provides resources for taking a spiritual retreat either on your own or with a friend or spouse. Check it out in our shop!