The Door is still Open
Propped Open
Cross the threshold into a thinplace
Into Peace
and Rest
and Joy.
Into Wonder
Into Beauty
Into Creation and Creativity
The Door is Open!
Propped Open!
Are you Ready to go through it?
Are you Willing?
It just takes One Step at a Time!
Walk forward and Believe
Walk forward and Receive…
.All that the Thinplace has to show you!
All that the Thinplace has to offer.
Leave your mat!
Rise and Walk.
Written on Iona in Oran's Chapel May 2023 ©Lilly Lewin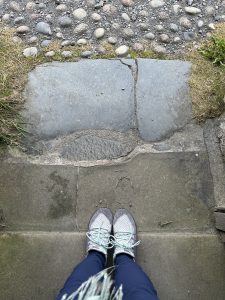 We all have thinplaces in our lives. Places where we have experienced the presence of God, the presence of the Holy. Like the mountains or the ocean or watching a beautiful sunrise or sunset. I believe we also have thinplaces in our regular lives. Things we do, or love that help us to experience the presence of God. We all need to allow ourselves, to give ourselves permission, to do more of those thinplace things! You might experience thinplace while working in the garden or baking bread. For some people it's through music, playing it or singing it. For others, their thinplace it outdoors, running, hiking, even surfing! it might be in your creating something or in writing
Where do you feel God's pleasure and God's presence? That's your thinplace!
Take some time to consider the places you've experienced God's presence in the past and take time to be be grateful and thank Jesus for these experiences and places.
Take some time to consider what your regular life thinplaces might be….How can you experience more of the thinplace in the days, months ahead?
What would it take to put aside your fears and walk through the doorway, across the threshold into a new thinplace with Jesus in the months ahead? Ask Him to show you!
©lillylewin and freerangeworship.com
If you might be interested in Finding Your Thinplace , JOIN US FINDING YOUR THINPLACE Pilgrimage August 28-Sept.4th this summer. We are looking for a few more pilgrims to join us to discover the beauty and wonder of Iona! Find out more HERE!