Mother's Day is May 14, 2023 this year, and we wanted to highlight some previous posts about the the mothering heart of God. This post was originally posted here on May 7, 2015.
Biblical Maternal Images of God
compiled by Christine Sine
The response from so many to the article and reflection I posted earlier in the week about the feminine images of God in the Bible has inspired me to produce this video with Biblical verses and prayers interposed. Enjoy and please let me know what you think.
The music is Vesper: La Dimora Dell'Eternal by Lisa Peretti. (Used with permission.) not by Jeff Johnson as it says on the title page. 
Today we thank God for the gift of mothers and mothering around the world.
As one whom a mother comforts, so I will comfort you – Isaiah 66:13. (RSV)
Gentle, patient God, thank you for your tender care.
Can a mother forget the baby at her breast
and have no compassion on the child she has borne?
Though she may forget,
    I will not forget you! Isaiah 49:15 (NIV)
Loving, caring God thank you for your compassionate care.
But I have calmed and quieted myself,
    I am like a weaned child with its mother;
    like a weaned child I am content. Psalm 131:2
Protecting, embracing God thank you for your nurturing care.
How often have I longed to gather your children together, as a hen gathers her chicks under her wings… Matthew 23:37
Comforting, warmhearted God thank you for your gentle care.
God was like an eagle hovering over its nest,
        overshadowing its young,
    Then spreading its wings, lifting them into the air,
        teaching them to fly. (Deuteronomy 32:11 The Message)
Ever present, sustaining God thank you for your enduring care
I have cared for you since you were born. Yes, I carried you before you were born. (Isaiah 46:3 NLT)
Sustaining, all sufficient God thank you for your satisfying care
I will be your God throughout your lifetime—
    until your hair is white with age. I made you, and I will care for you. I will carry you along and save you. (Isaiah 46:4 NLT)
Faithful, providing God thank you for mothers and their love
Everlasting and eternal One, thank you for your mothering love.
Amen, Amen and Amen
---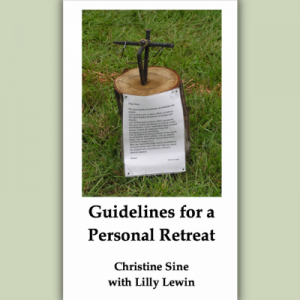 No matter the time of year, it's important to pause and take time to reset and restore. An excellent way to do that? Take a personal retreat. Building a retreat into the rhythm of your life is a spiritual practice often lost in our helter-skelter, busyness-is-next-to-godliness world. This booklet is based on the most popular posts about spiritual retreats published on Godspacelight.com over the last few years and provides resources for taking a spiritual retreat either on your own or with a friend or spouse. Check it out in our shop!