Christ is risen, He is risen indeed. It is the second week of the Easter season, and I hope you are still basking in the glory of the resurrection. It is also the last few days before Earth Day, a celebration that for me is very closely connected to Easter and resurrection. I am both inspired and stunned by the thought expressed by Richard Middleton in his book A New Heaven and A New Earth, that our purpose is to transform the whole earth into a fitting place, a hospitable place not just for humankind to dwell but also for God to dwell. Can you imagine it? God longs for a beautiful place where all creation flourishes and all creatures enjoy abundant provision. A place in which God too feels welcomed and comfortable, able to walk once more in a hospitable relationship with humankind.
This sums up the reason that Earth Day is so important for me. It is not just about climate change and our concern for a world humankind has abused, but about our longing to be able to walk once more with our God in world of beauty where creation flourishes and all are abundantly provided for. There are fun and inspiring ways that we can be a part of this in the next few weeks. My Meditation Monday: The Spiritual Practice of Seed Bombs for Earth Day gives one simple practice which I find very spiritually inspiring to use as a celebration of the day. Andy Wade in his post Earth Day in the Neighborhood – Top 10 Ideas provides more inspiring ways that we can reach out and bring restoration to our neighbourhoods. Louise Conner's Ecological Examen is another inspiring post to help us celebrate. She asks us to reflect on our personal relationship with creation, to acknowledge and change our ways, and to promote ecological justice by standing in solidarity with those most affected by environmental harm. If you are still wondering about why this matters please read Earth Day is Coming Why Christians Should Care or watch Two Things You Can Do Now About Climate Change produced by Andy Yardy which Tom and I were privileged to be a part of.
For more traditional reflections on the Easter season which I love to intersperse with my focus on Earth Day read Lilly Lewin's FreeRange Friday: The Friday After Easter and Carol Dixon's Easter Reflection with liturgy, songs and prayers for the season.
This week is a very busy one for Tom and me and we would appreciate your prayers. On Friday and Saturday we will participate in one of our favourite events, The Inhabit Conference: Building Together for the Future of the Church in the Neighborhood and on Sunday, which is Earth Day, I will both read the children's story and preach at Seattle Mennonite Church. It will be live streamed on zoom: Join Zoom Meeting (Meeting ID: 897 6599 1487). Of course or if you want to join me there it would be a delight to see you.
Many blessings on you in this season of resurrection and rejoicing. This is a season for great rejoicing. The Easter season and Earth Day both contribute to this being a very inspiring time of year.
Grasp the beauty of today.
Slow down and linger,
As long as possible in its presence.
It will quickly fade away,
This never to be repeated
Special moment of intimacy
With our Creator.
Sit in the sacred circle of life,
With all the creatures of this earth.
God's is the day,
God's also the night.
Pause and savor the wonder of this space,
Between the ending,
And a new beginning.
Christine Sine
---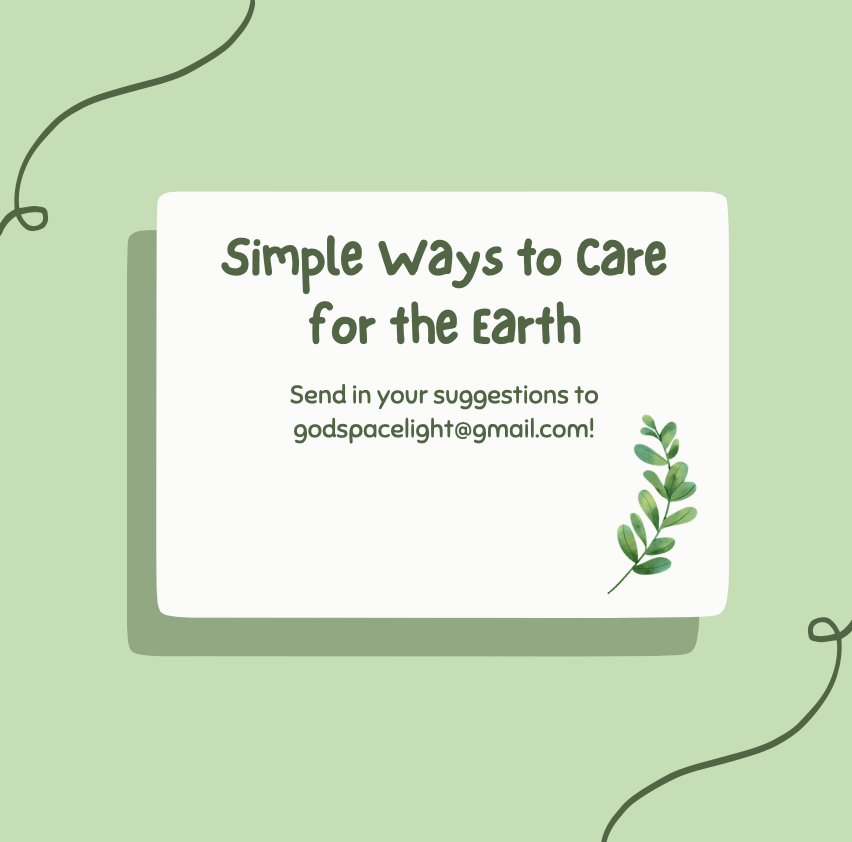 Simple Ways to Care for the Earth
We are creating a Godspacelight resource that provides affordable and simple actions we can all take to make a difference. What are some simple steps you have taken to live more responsibly and sustainably? Let us know at
godspacelight@gmail.com
.