100 GOOD MEDICINE (from Becoming Rooted: One Hundred Days of Reconnecting with Sacred Earth by Randy Woodley – used with permission)
In times of change learners inherit the earth; while the learned find themselves beautifully equipped to deal with a world that no longer exists.
—Eric Hoffer
Some estimates suggest that 70 percent of modern medications are made from natural plants. More than six hundred plant species have been lost to human encroachment and pollution over the last several hundred years. These two facts worry me. Why would human beings promote systems, structures, ideologies, and lifestyles that work against their own survival?
Good air quality is also a medicine. So is clean water. And healthy soil. Even a stress-free life is known to prolong people's lives. It seems to me that people in the Western world are working against their own self-interest—against their own healing—and against their own grandchildren's well-being. What will it take to change?
The only way I see such a destructive lifestyle changing is if people begin adopting different values and then living out these values. Our Indigenous ancestors figured this out—by trial and error and through necessity—so many years ago. These are the ancient values I have tried to communicate in this book, and the values that help us reconnect to sacred Earth.
Respect: Respect everyone. Everyone and everything is sacred.

Harmony: Seek harmony and cooperation with people and nature.

Friendship: Increase the number and depth of your close friends and family.

Humor: Laugh at yourself; we are merely human.

Equality: Everyone expresses their voice in decisions.

Authenticity: Speak from your heart.

History: Learn from the past. Live presently by looking back.

Balance work and rest: Work hard, but rest well.

Generosity: Share what you have with others.

Accountability: We are all interconnected. We are all related.
This is by no means a comprehensive list. But if we nurture these values in our lives, we will become more rooted in the community of creation. Begin working your way down the list and incorporating these Indigenous values into your own life. Search for songs, ceremonies, and stories from your own ancestry. Look for friends who align with these values. Then commit to immersing yourself in a new way of living. Good medicine awaits us as we seek the healing of ourselves and of sacred Earth. The journey continues. 
---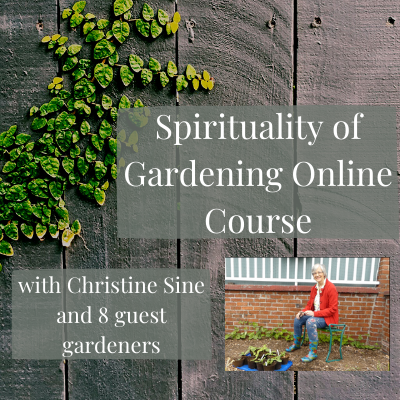 Come the spring with all its splendor all its birds and all its blossoms. All its flowers and leaves and grasses.
~ Goodfellow
Explore the wonderful ways that God and God's story are revealed through the rhythms of planting, growing, and harvesting. Spiritual insights, practical advice for organic backyard gardeners, and time for reflection will enrich and deepen faith–sign up for 180 days of access to work at your own pace and get ready for your gardening season.
Spirituality of Gardening Online Course