This year, Holy Week for me has been a challenge and not at all normal. Not at all as I had hoped it would be. In the past I've walked through Holy Week helping others engage the story through posts, photos and meditations on the symbols and happenings of the last week of Jesus's life. But this Holy Week, I have barely paused to light a candle for my own reflection. I've been living in the land of grief, in the valley of anger. As one of my friends said, anger and grief are probably the true emotions of the first Holy Week, especially Good Friday when the disciples didn't understand why this was all happening and were broken hearted by the horrific death of their friend and rabbi. I too am broken hearted this Good Friday.
On the morning of March 27, 2023,  I was walking our dog Jake down near the freeway, our neighborhood is in a very urban area near downtown Nashville. Over twenty police cars flew past over the course of 5 minutes. All types of cars, unmarked and well marked, with sirens blazing. I knew something bad had happened. I found out about an hour later, that at 10:13am, a young person shot their way into Covenant Christian School killing three nine year old students, the custodian, the headmistress and the substitute teacher of the class of nine year olds. This is a small school of around 200 students from kindergarten to sixth grade. Because of it's location, many people don't know their is school with in the church. I am in this neighborhood, right across the street from the church and the school twice a week. The church sits up on a hill, like Hogwarts in it's gothic splendor. They host lost of concerts there. My brother was a church elder there for many years. To honest, this is the posh part of town where people don't expect violence, especially not a school shooting. But sadly, the state of Tennessee has some of the most worst gun laws in the country. Anyone can get a gun without a background check. There is not a waiting period before a gun purchase, permits required. There are no  Red Flag laws, so a person with a mental health problem can easily walk into five different gun stores and purchase weapons. This actually happened in the weeks before the shooting. The entire city of Nashville is in shock and grief. This Holy Week has been filled with funerals and burials. And protests. Students are tired of having shooter drills in school. They know that this doesn't happen in any other country in the world. Only in America do we care more about guns that we do people! People have showed up at the State Capital that is here in down town Nashville and have let their voices be heard. Families with young children have marched with signs to end gun violence. Students have walked out of class and teachers have said they wan to teach not carry a gun!  (one of the worst ideas the State Government has is to allow teachers to carry guns in schools) Students from Fisk, Vanderbilt, Belmont University have planned protests and people of all ages have shown up from all over the state to tell the state legislature that ENOUGH IS ENOUGH! While the people are crying out for change and smart gun control laws. There is a bill going through the State Legislature, right now, that would change the age to buy a gun from 21 to 18. You cannot legally buy a beer until you are 21 in the state of Tennessee, but these so called law makers think 18 year old should be able to walk in a buy a gun no education required. We have to all take driving classes and take tests and get a license to drive a car, but not a gun.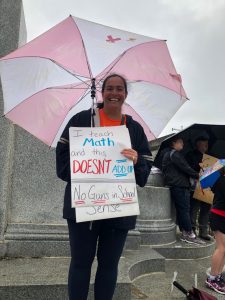 There is lots more that you may of heard on yesterday's news about kicking out three elected officials who represent the largest cities in our state because they interrupted the house procedures because no one seemed to be listening to the people who want to end gun violence NOW. Two of these leaders happen to be young and black. My anger and frustration grew and my Holy Week practice changed.
So on Maundy Thursday I went from a protest at the state capital in the morning ( the students stayed for 12 hours! ), to praying the Stations of the Cross in the afternoon. Walking the Way of Jesus. In the center of the stations the church set up a beautiful labyrinth to pray.  I truly needed to pray the labyrinth after the experience of this week. I know that praying a labyrinth can calm my mind and focus my heart back to God. Labyrinths were often prayed during Holy Week by people who were becoming full members of the Christian community in preparation for their baptism. And the stations of the cross were put in the Cathedrals in Europe as mini pilgrimages when a pilgrimage to the Holy Land was too dangerous and too costly. Both are pilgrim prayer walks that help us retell and relive the story of Jesus. I love praying the labyrinth. The path winds into the center and back out the way you walked in. You cannot get lost in labyrinth. You might walk in feeling lost, but the path winds into he center which for me, has always represented the hand of God. You can walk in carrying with you a question and walk out maybe not with an answer, but with much more peace and a knowledge that God is with you in all of it. I just sat in the center and let God holds love hold me. It's what i needed this Holy Week. I needed to take off my coat of anger and let God have it to hold.  If you haven't prayed a labyrinth as a prayer practice, I encourage you to find one and let yourself pray with your feet.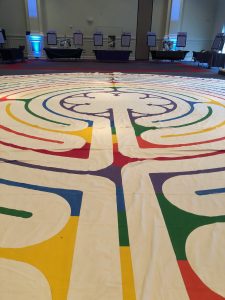 How is your Holy Week going? Where are you today in your Practice? Do you need another week? We can take next week if we need it to walk with Jesus through Holy Week because it's Orthodox Easter on April 16h this year. We can have a "do over" or just take time to pause again and reflect on the life and suffering of Jesus.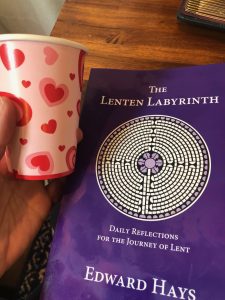 I usually invite people to pray with their cups during Holy Week. This week my cup has felt either filled with anger or very empty.
Today, on this Good Friday, what is in your cup? Do you need to pour out some things like I do? Do you need to pour out anger, bitterness, fear, busyness, etc in order for you to drink in the love of Jesus? We have been invited by Jesus to drink from the cup of love rather than the cup of hate and bitterness. Each day, each hour we are offered the cup of His Love! 
What cup are you drinking from today? Talk to Jesus about what is in your cup.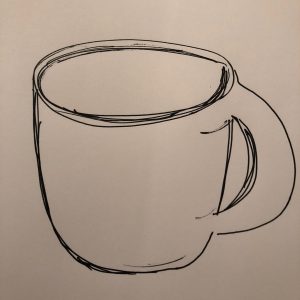 Jesus thank you for taking the Cup of suffering for all of us! For drinking in the brokenness of our world. For suffering with us in the pain of school shootings, death and all of the pain of our world. Thank you Jesus that you have given us the Cup of Salvation. And thank you that you have given us the Cup of Love to drink from each day, each hour, so we can pour out your great love to our world. AMEN
©lillylewin and freerangeworship.com