by June Friesen
As we anticipate the celebration of Christ's resurrection I have been continually reminded of the opportunity this gives us in the Christian faith to ponder new life, a life that is different than it was before. Indeed Christ's life was different after the resurrection as now he no longer had the humanity issue of sin holding onto His power. He had conquered the 'death power' of sin over His human form as well as opened an opportunity for humanity to now embrace a spiritual life in a new way. When one takes advantage of this opportunity that Jesus offers it holds untold gifts, the greatest being the promise of eternal life in heaven. However, in this world discouragements arise and at times they can become overwhelming. Let me share a couple of Scriptures.
1 John 2:24-25
Stay with what you heard from the beginning, the original message. Let it sink into your life. If what you heard from the beginning lives deeply in you, you will live deeply in both Son and Father. This is exactly what Christ promised: eternal life, real life!
Philippians 2:5-16
5-8 Think of yourselves the way Christ Jesus thought of himself. He had equal status with God but didn't think so much of himself that he had to cling to the advantages of that status no matter what. Not at all. When the time came, he set aside the privileges of deity and took on the status of a slave, became human! Having become human, he stayed human. It was an incredibly humbling process. He didn't claim special privileges. Instead, he lived a selfless, obedient life and then died a selfless, obedient death—and the worst kind of death at that—a crucifixion. 9-11 Because of that obedience, God lifted him high and honored him far beyond anyone or anything, ever, so that all created beings in heaven and on earth—even those long ago dead and buried—will bow in worship before this Jesus Christ, and call out in praise that he is the Master of all, to the glorious honor of God the Father. 12-13 What I'm getting at, friends, is that you should simply keep on doing what you've done from the beginning. When I was living among you, you lived in responsive obedience. Now that I'm separated from you, keep it up. Better yet, redouble your efforts. Be energetic in your life of salvation, reverent and sensitive before God. That energy is God's energy, an energy deep within you, God himself willing and working at what will give him the most pleasure. 14-16 Do everything readily and cheerfully—no bickering, no second-guessing allowed! Go out into the world uncorrupted, a breath of fresh air in this squalid and polluted society. Provide people with a glimpse of good living and of the living God. Carry the light-giving Message into the night so I'll have good cause to be proud of you on the day that Christ returns. You'll be living proof that I didn't go to all this work for nothing.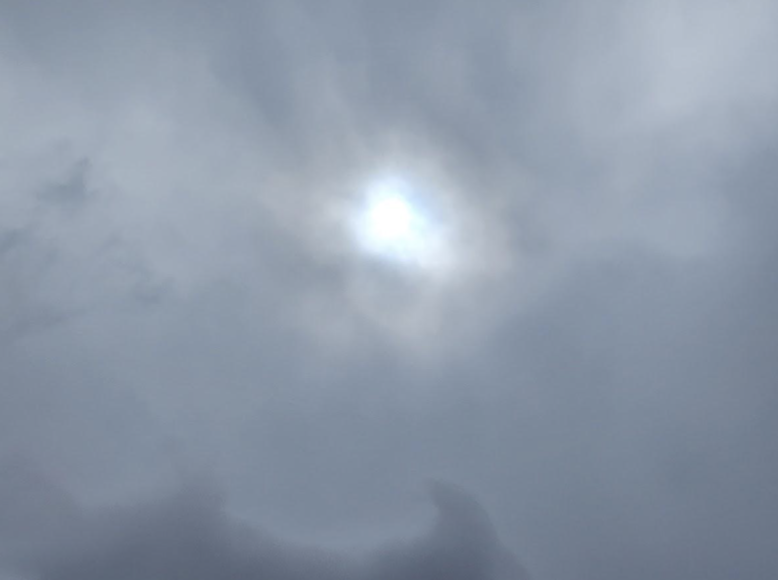 I have chosen to place this photo next as it really was a scene in the sky that brought the title of this writing to my spirit. Recently I was out for a walk with my dog Sasha. It was a blustery, cloudy day with a few sprinkles of rain intermittently. I often glance upwards, not too long, as that can be disastrous if there is an unexpected obstacle in my way. I noticed that the sun was really present although hidden. The wind was blowing and the clouds were on the move – and I noticed that depending on the thickness of the clouds the sun was more visible at times than others. Immediately my mind said, "Well, that is a great example of the Son. He is up in the heavens too, too far for the human eye to see. At times He is more present in my life than He is in others – but He is always there."
Hebrews 13: 5-6 says, " Don't be obsessed with getting more material things. Be relaxed with what you have. Since God assured us, "I'll never let you down, never walk off and leave you," we can boldly quote, God is there, ready to help; I'm fearless no matter what. Who or what can get to me?" As I pondered the presence of God 24/7 and how at times I am so aware and at other times I forget that He is present – again I learned a new way to embrace God each and every day and in each and every situation/circumstance.
JESUS – BRINGS OPPORTUNITY FOR NEW BEGINNINGS!
New opportunities!
New beginnings!
Sometimes they come daily.
Sometimes they come hourly.
Sometimes they come weekly.
Sometimes they come yearly.
Sometimes they are marked by segments of years, accomplishments, goals etc.
Sometimes they are affected by one's choices –
Sometimes they are affected by choices others make –
Sometimes they are affected by mistakes one makes –
Sometimes they are affected by the mistakes another makes –
Sometimes they come as surprises –
Sometimes they come because they were earned –
Sometimes they are rewards of one's efforts –
Sometimes they can be the result of a loss –
Sometimes they may be the result of an addition –
Sometimes (you fill in the blank) ___________ –
Jesus You walked this earth to offer humanity a new opportunity –
A new way to know God our Creator –
A new way to have a meaningful relationship –
But –
Sometimes we feel as if we are not worthy –
Sometimes we feel as if we need to earn it –
Sometimes we feel as if it is only for others –
Sometimes we feel as if we can never be good enough –
Sometimes we feel as if we have totally blown it –
And You reply –
"My child:
I love you just as you are,
I love you in spite of all your mistakes,
I love you in spite of all of your flaws –
Physical, mental, emotional and spiritual –
I love you just as you are.
No money, trillions, billions or millions is needed,
I demand no retribution for the past,
I accept you now, this moment just as you are –
Broken, bleeding, hurting, dying,….
Come my child, there is a change about to happen for you –
A kind of metamorphosis I call it –
A change that I will begin on the inside –
And then it will come out and be revealed to others –
Oh, at times it will seem as if the Son is far away,
At times the clouds of the world will try to hide His presence,
But take some time and ponder –
And look heavenward and see and know
Just as the sun is sometimes bright, sometimes hidden or totally hidden
It still is present and still warms the earth –
So you too my child –
Look heavenward –
See beyond the clouds and skies –
And remember –
"Look to the heavens from where all of My help comes from now and forever. Amen"
And there you have it – a recipe for beginning new!
Writing and photos by June Friesen. Scripture is from The Message translation.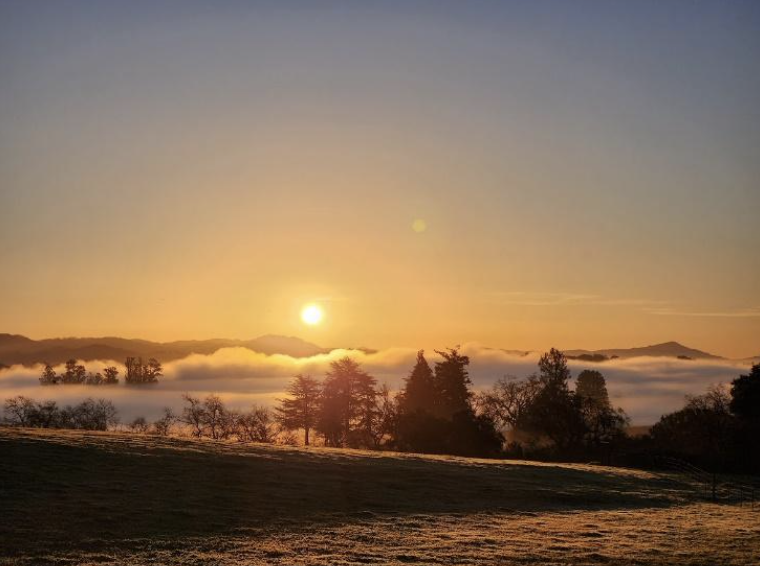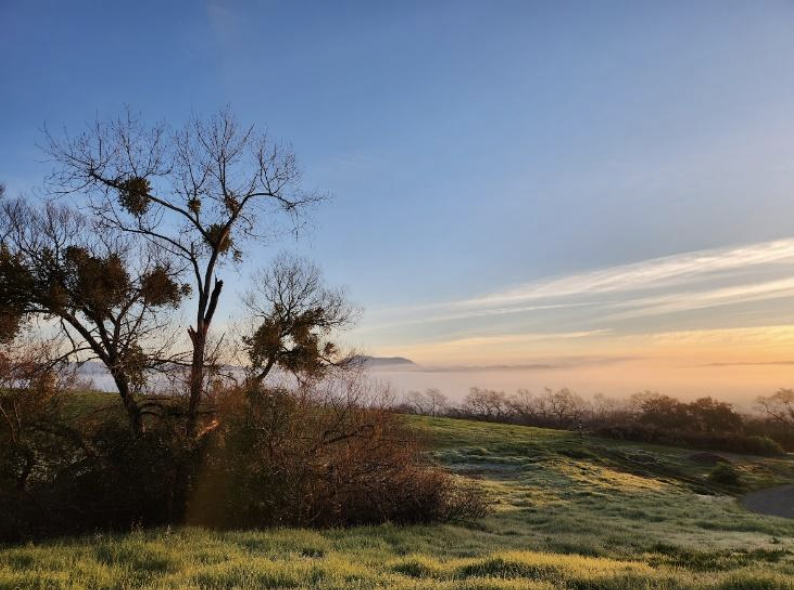 ---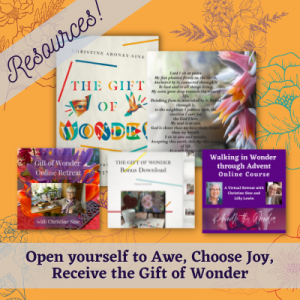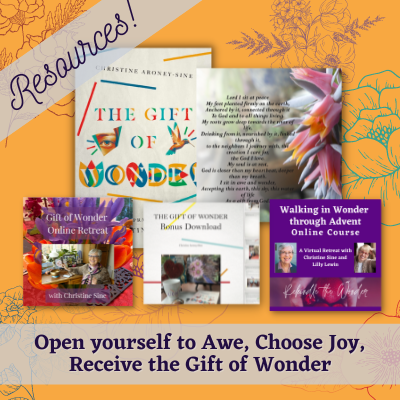 Did you know that alongside Christine Sine's book The Gift of Wonder, we have many resources available to you? The free downloadable bonus packet or beautiful prayer cards featuring prayers from the book, for example – something to hold and behold! Or perhaps you'd like to journey through the book alongside a retreat – we have that too! You can check it all out in our shop!