One of our writers, Jeannie Kendall, has written a wonderful series of poems that reflect "voices" from each section of text from Luke's gospel. She has generously offered for anyone to use for daily readings or a resource, but please attribute her as an author if you use them. Her poetry from the first chapter is included below, but the full document with poems for the entire book can be found in a link at the bottom of this post, as well as under our Prayer, Practices, & Directions resource page.
Luke 1:1-4
The voice of Luke
I am no writer.
Words are not my medium,
But stories are.
I listen to my patients
Hear their pain and fear,
Do my best to diagnose,
And, if I can,
Alleviate their suffering.
This story
I have to share.
My own Physician
Has made his analysis
Of all that ails me
And brought me
Wholeness
I had never known.
Luke 1:5-25
The voice of Zechariah
I felt less of a man.
Not because I could not
Give her a child –
Though that was painful
Beyond explanation.
No, it was because
I could not reach her.
Each month
I saw her retreat,
Withdraw into
Some internal
Place of pain,
Somewhere
I could not decide
If I was unwelcome
Or simply unable to go
Into its depths.
But I had my work;
A place to feel worthy,
Somewhere
To drown out
My inner voices
Of accusation.
So when that one-time
Invitation came
To burn the incense
I left, trying to disguise
My relief at a respite
From the shroud of sadness
Encompassing our home
And the sense of failure
Which was nipping
At my heels
Like a wild dog.
And as I spoke
My words of farewell
I little realised
They were the last words
I would speak to her
For many months,
And that God was about
To change the world
Not just for us
But for everyone,
And for all time.
Luke 1:5-25
The voice of Elizabeth
In the end
It is easier
To let go
Of hope,
To simply uncurl
Your fingers,
And gently
Let it drop
Into the abyss
Of might-have-beens,
Feeling its absence
Almost
As a kind of peace.
And now he stands
Gesturing like a madman
Or a fool.
Yet somehow
I see the light of heaven
In his eyes
And I wonder
If I have the courage
To let hope
Be reborn.
Luke 1:57-80
The voice of Zechariah
My boy:
Words I thought
I would never say.
A day I thought
I would never see.
Our John:
Yet not ours:
Even the name
Not of our choosing
Yet we do not mind,
Glad simply
To be a part of God's plan.
God's spokesperson:
And as he grows
And I see the Spirit
In his eyes
I fear for his future:
An audacious prophet
Is so rarely
Welcome
And truth
Does not always
Bring acceptance.
The full text can be accessed as a pdf here:
Luke's Gospel in Poetry
---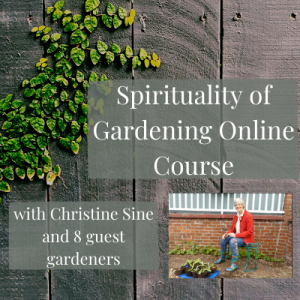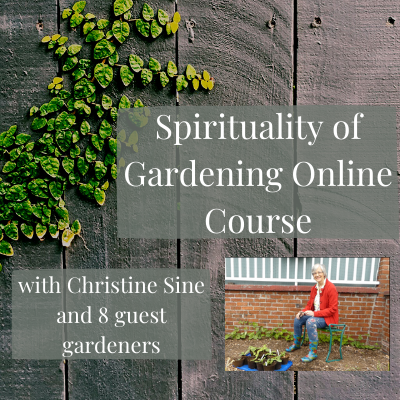 Come the spring with all its splendor all its birds and all its blossoms. All its flowers and leaves and grasses.
~ Goodfellow
Explore the wonderful ways that God and God's story are revealed through the rhythms of planting, growing, and harvesting. Spiritual insights, practical advice for organic backyard gardeners, and time for reflection will enrich and deepen faith–sign up for 180 days of access to work at your own pace and get ready for your gardening season.