River Aln at dawn © George Taylor
by Carol Dixon
Opening words: The steadfast love of the Lord never ceases, his mercy never comes to an end. It pours out upon us, fresh as the morning, sure as the sunrise, God's love never fails. (Lam 3:22 GNB)
Hymn: Every new morning (Words & Music: Carol Dixon)
Every new morning God gives us freely
hearts that are thankful, strength for the task,
people who love us, joy in our service,
all we have need of if we but ask.
God will be with us in all our thinking,
in all our speaking, in all we do;
and as we praise him by all our actions,
God will be with us, seeing us through.
God in the morning, God in the noontide,
God in the evening, throughout the day;
God is within us, and all around us,
behind, before us all of the way.
© Carol Dixon 1998
Opening prayer: St Ninian's catechism (from Cry of the Deer by David Adam)
Within each piece of creation, within each person,
our hidden God waits, to cause us to laugh, and surprise us with his glory.
Within each moment of time, within each moment and hour,
our hidden God approaches us to call our name and give us his joy.
Within each human heart, within our innermost being,
our hidden God touches us to awaken us to his love and his presence.
Everything is within him, the human being, and the heart;
God calls us to open our eyes and our hearts to him in our worship and in our lives.
Awaken us to your glory, God, we pray, today and every day
To enjoy the joys of your creation, and reflect your love.  Amen.
Reflection
The month of March is full of celebrations of Saints' days, especially the Celtic saints – beginning with St. David on March 1st through to St. Cuthbert on 20th March and on 17 March it is St Patrick's day. Patrick was born in 414 AD and his father was a decurion believed to be serving at Banna (Birdoswald) on the Roman Wall. His grandfather was the priest of the church there and as a child he was brought up as a Christian though he ignored his faith and was a wild lad as a young teenager.  In his autobiography (known as his Confessions) Patrick said he first truly discovered God was with him when he was a slave in Ireland as he tended his master's sheep.
David Adam in his book Cry of the Deer writes:
When Patrick was only 16 he was captured by a raiding party from Ireland and sold as a slave to a petty king in Armargh. In an instant his future was gone, the securities of his position and any plans for his life had disappeared. Somehow he managed to meet up with fellow Christians, possibly slaves captured like himself. It would have been easy to despair but instead this is the time when Patrick's faith and his personal relationship with God blossomed. As he later wrote: "I often prayed in the daytime as well as at night – in the forest, on the mountains, and before daylight I was roused to prayer – in snow, in frost and rain – and I felt no harm could come to me for the Holy Spirit seethed within me".
After 6 years Patrick managed to escape and returned home. But Ireland had already captured him in other ways and, as St. Paul heard the call to preach the gospel in Europe, (Acts 16: 6). Patrick dreamed he heard his friends calling to him 'We pray thee, come and walk among us', and in spite of the danger of being put to death as a runaway slave, Patrick returned to Ireland as a missionary where he shared his love of God with friend and enemy alike.
The Celtic Christians, like Patrick, saw God in all of creation, and said their prayers on awakening, at noon, in the evening, and before they went to sleep. They involved God in all they did from building the fire each morning to 'smooring' it (dampening it down) at night. They involved God in every task – there are prayers for milking the cow, making a meal, creating a plough or even for forging a sword. They recognized God as divine creator who cared for and delighted in the universe he created.
Think about something you have made. Something that is precious to you. Something you love.  Gradually over the years it has become battered and a bit broken and it has lost its original purpose. Do you cast it aside & throw it away? Or do you do something to put it right so that you can cherish it even more? I love watching the Repair Shop on TV where people bring precious objects that have seen better days for the team to restore them to their former glory.  The difference between before and after is amazing as so much love and care is put into restoring each one and the joy on people's faces as they see their cherished possession restored is very touching.
David Adam reminds us that God is the great restorer – he looked on the world he had made, the world he declared good and beautiful at its Creation and saw that over the years people had spoiled it, even broken it but instead of abandoning it or destroying it he sent his Son to repair it and bring it back to its former glory in him. As Christians we are blest to have our very own Repair Shop to come to for mending – through prayer, through worship, through fellowship together with Jesus, our redeemer who takes all the brokenness and makes all new again. Like those Repair Shop craftsmen working behind the scenes, as recipients we may not be able to see how he does it but we can see the end result and rejoice.
Prayers (You may like to light a tea light)
In a time of quietness now let's allow God to repair and restore all the brokenness in our lives and in our world as we bring our prayers to him for ourselves, our world, or someone we know to be in need as we listen to a beautiful song by Pete Scott, sung by Sheila Hamil:
I offer you today, Lord
The Lord's Prayer
Closing words:
There are so many wonderful hymns based on prayers of Celtic Christians – from Be thou my vision to Lord of all hopefulness and the magnificently powerful Kaim prayer for protection 'I bind unto myself today the strong name of the Trinity' which is attributed to St Patrick.  One of my favourites is a version of St Patricks Breastplate by James Quinn set to to the Scottish tune Bunessan.
Hymn: This day God gives me (Tune Morning has broken)
Blessing: from the Western Isles from David Adams Cry of the Deer. Called The eye of God.
May the Father who created you with eye benign behold you
The son who dearly purchased you with eye divine enfold you
The Spirit who lives within you with eye refining hold you
In friendliness the Holy three behold you on your bended knee
And the blessing of the Trinity be yours each day, eternally. Amen
Closing music:  An Irish blessing: May the road rise to meet you. (Celtic Thunder)
---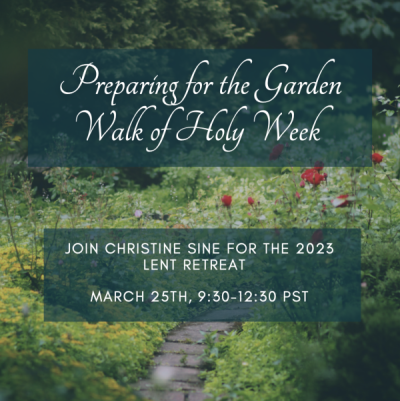 Preparing for the Garden Walk of Holy Week
In the last few days of his life, Jesus moved from garden to garden from suffering to resurrection.
Join Christine Sine for a Lent retreat that reflects on this journey and prepares for the challenging week that follows Palm Sunday.
Click here to register! We are once again offering several price points to aid those who are students or in economic hardship