Welcome to Lent. Tomorrow we celebrate the beginning of this important season of reflection, fasting and repentance with the observance of Ash Wednesday. During Ash Wednesday a cross made from ashes produced by burning Palm Sunday crosses from the year before is rubbed on our foreheads. However, I thought you might also be interested in the days that precede Lent: Clean Monday and Shrove Tuesday. If you are unfamiliar with these days check out my Meditation Monday – Ash Wednesday, Shrove Tuesday, Clean Monday What Should we Celebrate? and Diane Woodrow's post World Social Justice Day, Love Your Pet Day, Clean Monday which as she points out all happened on the same day this year.
Last year, Lilly Lewin and I facilitated a wonderful virtual Lenten retreat Finding Beauty in the Ashes of Lent during which we created artwork out of ashes produced by burning masks. It was therapeutic and renewing. This theme seems even more important this year as we confront the ongoing war in Ukraine, the horrors of the earthquake in Turkey and Syria and the growing impact of climate change around the world. I really do encourage you to take advantage of its availability now as an online course. Alternatively, check out the new YouTube video Ashes Into Beauty I created last week explaining this practice. We all need the renewal that creating beauty out of ashes can give us, and the journey through Lent is one way to find that. I hope you will join us in the journey.
I also planned to create a new "Breaking Down Walls contemplative garden" for my desk over the weekend, but because of the pressure of getting ready for my trip to Australia on Wednesday as well as celebrating my husband's birthday, I never got around to it. However two articles I read this week made me realize just how important and timely this theme is. In the Guardian's article: Tear Down these Walls or Get Used to A World of Fear, Separation and Division I read that "the EU/Schengen area is now surrounded or crisscrossed by 19 border or separation fences totalling 2,048km in length, up from 315km in 2014. Similar trends are discernible worldwide." Walls that split nations in half, or that surround nations to keep out refugees and displaced people are more common than ever. This morning I looked back at my 2019 reflections relating to my Breaking Down Walls garden I created for Lent that year. Then in YES magazine an interesting article about the possibility of tearing down highways made me aware that what divides our communities and our countries may not be a physical wall. Highways often create divisions that displace families and businesses and leave residents whose homes are spared with an increased exposure to pollutants, higher asthma rates, and other health problems, such as cardiovascular disease.
I also spent a lot of time reflecting on the post Noticing Our Blindness and Seeing Differently. Breaking down walls whether physical, emotional or spiritual changes our perspectives in so many ways. It is very liberating.
I am already very excited about my Lenten retreat Preparing for the Garden Walk of Holy Week on March 25th too. This retreat is not just for gardeners, it is for everyone who is concerned about our impact on our garden home called earth. Recognizing the strong connections between the life of Christ and the beautiful creation God gifted us with has become an essential part of my walk during Lent and Easter. When Mary Magdalene encounters the resurrected Jesus as depicted in John 20:15, she came to the garden tomb looking for Christ's body. Instead she finds a very much alive Jesus and she thought he was the gardener. This phrase is not a throwaway line. It is of cosmic significance! Jesus is indeed the gardener of the new creation and his journey from Palm Sunday to Easter Sunday is an inspiring revelation of who he is in relation to creation. When we disconnect his story from its ecological roots, we suffer a dislocation that cuts us adrift. It is time to restore the missing connections. I hope you will join us for this time of scripture reading, quiet reflection and creative fun.
Last but not least, I want to highlight a few Godspacelight resources that are perfect for this season. Ana Lisa De Jong's recently updated collection of beautiful poems Ashes: Poems for Loss are not specifically for Lent but are very appropriate for the season. Ana Lisa provided them free for our enjoyment. Jeanie Kendall's collection of poetry Gospel Eyes is also available as a free download. There are lots of great poems to check out on the blog for this season too. Thomas Merton's most famous prayer My Lord God, I have no idea where I am going is a perfect read for this time.
Many blessings on you as you enter this season of Lent,
Christine Sine
---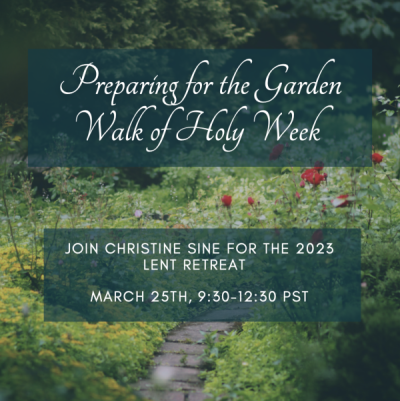 Preparing for the Garden Walk of Holy Week
In the last few days of his life, Jesus moved from garden to garden from suffering to resurrection.
Join Christine Sine for a Lent retreat that reflects on this journey and prepares for the challenging week that follows Palm Sunday.
Click here to register! We are once again offering several price points to aid those who are students or in economic hardship