Last week on Friday, I was in beautiful Northern California having communion over looking the Pacific Ocean with the wonderful group of pilgrims who came to the Finding Your Thinplace Retreat in Wine Country. We gathered at The Bishop's Ranch in beautiful Healdsburg, CA near the Russian River. Our goal was to rest, refresh and refill or empty cups. I know that my cup is overflowing with the beauty of the place and the people who gathered together and created a space to celebrate life with Jesus.
I love celebrating! I think we all need to take more opportunities to celebrate each other, and the events and 'wins" in our lives. Too often we don't take the time to notice small victories and wonders around us. And after all the trauma and drama of the last few years, we need to relearn celebrating while we take time to process and grieve.
When I was a director of Spiritual Formation, I used to get in trouble for talking about celebrating Lent. Lent isn't usually seen as celebration.. I guess a better word, would be PRACTICE rather than celebration. But I'm wondering today about how I might celebrate in my Lenten Practice this year.
I put together this list a couple of years ago for our thinplace community. I invited everyone to consider the type of Lenten Practice they needed. I am asking asking each of us this year, what type of Lenten Practice do you need in 2023? What kind of Lenten Journey is God inviting you on?
Lent= The Season of the Church Year before Holy Week and Easter. 40 Days not including Sunday.
Sundays are Feast Days so whatever you might give up can be enjoyed if you wanted to do so.
Three Traditional Pillars of Lent are:
Prayer
Fasting
Alms Giving and Justice Practice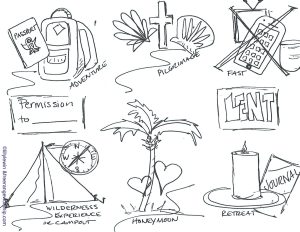 LENTEN PRACTICE IDEAS
What do you want your Lenten Journey to be like this year?
What is Jesus inviting you to focus on as you practice Lent this year?
What do you need in your spiritual life as you begin Lent?
How can you grow closer to Jesus between now and Easter Sunday?
SOME IDEAS TO CONSIDER:
AN ADVENTURE:
This practice of Lent might include physical activity to get you outside or it might include creative activity that you've been putting off or neglecting. Where do you experience the love and presence of Jesus? When and how do you feel closest to God? That's your Thinplace! This could this be your area of practice and focus this Lent.
Or Do you need to experience something new with God? Trying the adventure of a silent retreat or a sabbath practice. Planning more fun and play with God. Perhaps learning something new with God, like reading a biography, learning about a new spiritual practice or even trying a new hobby that could help you connect more with Jesus. Or expanding your knowledge on issues of justice could be the adventure you and Jesus go on this Lent.
Sabbath as Resistance, New Edition with Study Guide by Walter Brueggemann
Practicing: Changing Yourself to Change the World by Kathy Escobar
Tattoos on the Heart: The Power of Boundless Compassion by Gregory Boyle
Thou Shalt Not Be a Jerk: A Christian's Guide to Engaging Politics by Eugene Cho
Bread for the Resistance: Forty Devotions for Justice People by Donna Barber
A PILGRIMAGE:
The Practice of Pilgrimage involves seeing the gifts of the Journey. Most of us cannot travel to amazing places like a regular pilgrimage would involve, like to Iona, Ireland, or Spain. How can you do a pilgrimage in your own town? Discover places of significance …places of prayer, places of conflict, places of beauty and go see and take time to notice what God is doing there.
Take a photo pilgrimage through your past trips and journeys and remember what you learned and discovered about yourself and God, asking Jesus to show you new things from these trips and experiences. Do a photo pilgrimage in your town/city/daily life.
Remember that on pilgrimage, everything is a gift, from the crying babies, to the lines you stand in and the interruptions and detours along the way. All are gifts!
Celtic Daily Prayer: Book One: The Journey Begins (Northumbria Community) by Northumbria Community (2015-09-24) by Northumbria Community;
Celtic Daily Prayer: Book Two: Farther Up and Farther In (Northumbria Community) by The Northumbria Community
Lost in Wonder: Rediscovering the Spiritual Art of Attentiveness by Esther de Waal
A Seven Day Journey With Thomas Merton by Esther De Waal
FASTING:
Practice fasting from politics, news, whining, technology, social media, shopping, or any thing getting in the way of your relationship with Jesus.
God's Chosen Fast by Arthur Wallis
Fasting: Spiritual Freedom Beyond Our Appetites by Lynne M. Baab
May It Be So: Forty Days with the Lord's Prayer by Justin McRoberts and Scott Erickson
WILDERNESS EXPERIENCE/ CAMP OUT
Practices might include hiking, camping, taking time out in nature and places of beauty
Afoot and Lighthearted: A Journal for Mindful Walking by Bonnie Smith Whitehouse
*In God's Creation: Devotions for the Outdoors by Barbara Baranowski
The Gift of Wonder: Creative Practices for Delighting in God by Christine Aroney-Sine
HONEYMOON
How can you fall more in love with Jesus between now and Easter? Honeymoons are times for the couple to focus on one another. Sometimes honeymoons are in beautiful places. Usually Honeymoons have lots of time to be alone and be together. What would a honeymoon with Jesus look like? What would it be like to focus on Jesus as your true love? How could you receive more of the love and acceptance of Jesus? How could you truly experience and know that you are God's Beloved?
You Are the Beloved: Daily Meditations for Spiritual Living by Henri J. M. Nouwen
Life of the Beloved: Spiritual Living in a Secular World by Herni J.M. Nouwen
Lenten Hobo Honeymoon (Daily Reflections for the Journey of Lenten) by Edward Hays
RETREAT
We are all feeling exhausted and burned out due to the pandemic and everything else in our lives. A Retreat Practice might include Sabbath, Silence, and/or Journaling. You could plan actual times of "retreat" each week. Or plan to go on a retreat during the course of Lent. Taking time for creative practices, long walks, bubble baths and times of prayer can all be a part of your Retreat Practice this Lent. You can also join Christine Sine for Preparing for the Garden Walk of Holy Week Retreat
Sabbath Keeping: Finding Freedom in the Rhythms of Rest by Lynne M. Baab
A Retreat with Thomas Merton: A Seven-Day Spiritual Journey by Esther Waal
Prayer: Forty Days of Practice by Justin McRoberts and Scott Erickson
The Cup of Our Life: A Guide to Spiritual Growth by Joyce Rupp
SERVING:.Showing God's love in a practical way! Who in your life, your family, your neighborhood, or at work is in need of extra love, help, or compassion? What are some practical ways you can serve and give to them during Lent this year?
Ask Jesus to show you.
Take time to brainstorm with friends or family, make a list, pray about this.
MUSIC and ART:
Create a play list for your Lenten practice
Play music as a part of your Lenten practice
Create a collage or other art piece as a part of your practice.
LENTEN COLORING SHEETPDF
If you are interested in Pilgrimage, I am curating a pilgrimage to Scotland THIS YEAR! August 28-September 4, 2023. We will be staying at the St Columba Hotel on Iona. More Information FindingYourThinplace.com contact LILLY LEWIN freerangeworship@gmail.com and we are working to get the price down, so more folks can participate this year!
©lillylewin and freerangeworship.com