Happy St. Brigid's Day! Her feast day is February 1 but it can rightly be celebrated the entire first week of February. This year I am feeling Brigid's energy circulating throughout our world. Yes, she is calling us to the hope of the coming season of spring in the northern hemisphere. But if you listen a little more deeply, you can hear her proclaiming the Celtic Christian understanding that God is in everything and everyone. And with that call comes her invitation to pattern our lives after the witness of Jesus of Nazareth.
St. Brigid, 473-524 (approximate dates) was born in Ireland. She was the daughter of a druid poet and a Christian slave servant. Remembered as a fine monastic leader, her monastery was built in Kildare. It soon became a double monastery as she presided over both men and women. The monastery was famous for their generous hospitality and their compassionate care for the sick, the poor and the oppressed. Brigid is also remembered as a healer and one who offered spiritual guidance to others and promoted the ministry of soul friendship. She was also a peacemaker. She intervened in disputes between rival clans, bringing reconciliation. St. Brigid is depicted in an icon in the parish church in Kildare with her foot on a sword.
My feature photo is one that I took in the garden well of St. Brigid, Kildare. The statue depicts her holding a lit torch of fire in front of water that flows from her well. Thus, St. Brigid is revered as a keeper of sacred water and sacred fire. Hundreds of wells bearing her name can still be found in Ireland, Scotland and England.
As a keeper of fire, she and her nuns were guardians of an eternal flame which they kept burning within their monastery. It is said that even after St. Brigid's death they kept the flame alive for a thousand years until it was extinguished when all monasteries were shut down in the sixteenth century. And yet that flame has been rekindled and the light that inspired Brigid is burning brightly!
I can testify that Brigid's spirit is truly alive today. In 2016 I travelled to Kildare and visited her cathedral and garden well. Both made a deep impression. What was surprising was encountering her likeness in many of the village shops. I saw paintings and mosaics bearing her image. Her cross was seen in several of the businesses in town. A pub offered a beer called, "Brigid's Brew." The town seemed to have embraced Brigid as their town saint. Her presence has continued to grow in Kildare.
Recently I visited Kildare virtually. My visit turned out to be a pilgrimage at the website of Solas Bhríde which is a Christian Spirituality Centre of the Brigidine Sisters.
The story of Solas Bhríde began in 1992 when two Brigidine Sisters moved to Kildare with the intent to share the legacy and spirit of Brigid with the world, in and through the town of Kildare. In 1993 the eternal flame of Brigid (mentioned above) was re-lit in the center of the town and a spark from that fire was carried from the town back to the home where the two Sisters lived. Since that time, the Brigidine Order has built an impressive spirituality center which houses educational, artistic, literary and spiritual programs about St. Brigid and of course the eternal flame.
Each year, Solas Bhríde and the town of Kildare celebrate the Festival of St. Brigid. This year the festival will last an entire week, beginning on the eve of her feast day, and running from January 31 through February 7. There are many events, ranging from educational lectures, performing and visual arts presentations, a candlelight pilgrimage, a guided labyrinth walk, a circle dancing, worship, presentations on social justices, ecumenical worship and meditation. And there is more! Here is the link to see the marvelous things this year's festival has to offer.
None of this would have been possible without the collaboration between the Centre and the town. The festival and other activities throughout the year are sponsored by the City Council, other civic groups and an important non-profit group devoted to promoting peace and social justice. I find this to be amazing and inspiring! It is an actual collaboration between a town and a religious group bent on being a light to and in the world. The town and Solas Bhríde are embodying the Centre's stated mission: "To share the Christian Celtic tradition which is a spirituality nourished by ritual, tradition, contemplation, experience and story."
As I perused the pages detailing the festival, I found one way in which I can participate in the festival– and so can you!
The event that I will be participating in is a meditation from the Solas Bhríde team described as "looking towards the light and renewed hope this Springtime." It will be offered at the Centre and is an in-person as well as an online event. The date is February 6 at 7:30 p.m. – 8:15 p.m. (GMT). If you would like to register, write the Centre at info@solasbhirde.ie. I have done so and have received my Zoom Link and look forward to being there. I hope you will join me.
Finally, here is one of my favorite stories about St. Brigid. She approached the local king of the region of Kildare to ask for land on the plain of Curragh so that she could build her monastery. He grudgingly told her she could have as much of the area as her cloak would cover. Brigid laid out her mantle on the ground, and the king watched in horror as it began to spread rapidly over the plains for miles and miles. It had almost covered the whole country by the time he begged her to stop. In Kindling the Celtic Spirit, Mara Freeman says, "Perhaps this story holds the memory of the time when all of Ireland was held within the fold of Brigid."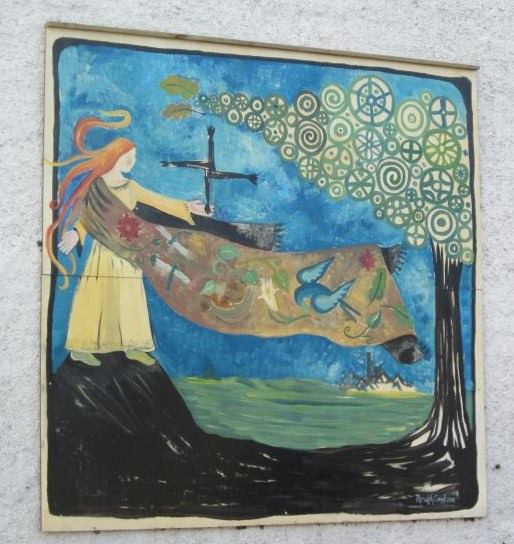 Indeed. It seems to me that the mantle of Brigid is continuing to spread across the world. Solas Bhríde has received visitors from almost every country, including the Dalai Lama who visited there once and can be seen on the website holding a Brigid's Cross with his characteristic smile!
I also believe that Brigid's mantle is growing in ways that transcend geography. In Ireland, on February 6, 2023, the country will hold its first national public holiday, specifically in the name of St. Brigid. Wow!
Many stories about the life of St. Brigid demonstrate that everything she put in her hand seemed to increase. A medieval Irish hymn to Brigid, concludes, "Now in heaven she intercedes for us, sending upon us the gentle dew of God's grace."
I have no doubt that Brigid's mantle has the power of the Holy Spirit to embrace and transform our world. Apparently, all she needs is just a little help from the rest of us.
---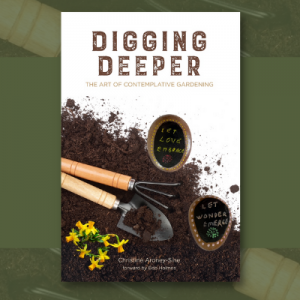 Digging Deeper: The Art of Contemplative Gardening
Are you yearning to Dig Deeper? Perhaps you are looking for refreshment in your contemplative practices or for creativity in prayer. Christine Sine's latest book is packed full of contemplative wisdom and inspiration for creating your own meditative focus.  Click for more details!