Matthew's gospel, chapter 2:1-12 (NIV):
After Jesus was born in Bethlehem in Judea, during the time of King Herod, Magi from the east came to Jerusalem and asked, "Where is the one who has been born king of the Jews? We saw his star when it rose and have come to worship him."

When King Herod heard this he was disturbed, and all Jerusalem with him. When he had called together all the people's chief priests and teachers of the law, he asked them where the Messiah was to be born. "In Bethlehem in Judea," they replied, "for this is what the prophet has written:

"'But you, Bethlehem, in the land of Judah,
are by no means least among the rulers of Judah;

for out of you will come a ruler
who will shepherd my people Israel.'"

Then Herod called the Magi secretly and found out from them the exact time the star had appeared. He sent them to Bethlehem and said, "Go and search carefully for the child. As soon as you find him, report to me, so that I too may go and worship him."

After they had heard the king, they went on their way, and the star they had seen when it rose went ahead of them until it stopped over the place where the child was. When they saw the star, they were overjoyed. On coming to the house, they saw the child with his mother Mary, and they bowed down and worshiped him. Then they opened their treasures and presented him with gifts of gold, frankincense and myrrh. And having been warned in a dream not to go back to Herod, they returned to their country by another route.
REFLECT
Men from a far away land in the East. Men who had been hoping all their lives. Men who had not given up searching, and had become old in the process. Wise men.
These wise men understood the patterns of the stars and they knew the prophecies of old – strong words foretelling the birth of a Saviour, spoken hundreds of years before. The passing of time had not weakened their search, disappointment had not diminished their conviction, age had not extinguished the flames of faith.
The cry from the heart of God echoes across time and down the years, a call and an invitation to all mankind 'You will seek me and find me when you seek me with all your heart' (Jeremiah 29:13).
These wise men were expecting the Messiah – they probably did not know when or how or where, but they knew that one day, He would come. That night they saw an unusual light in the sky. That was all they needed – a nudge, a wink, a finger beckoning. I marvel at their response, at the desire burning within them to encounter the coming King, at their leaning in towards the greater light that had come into the world.
Will we seek to meet God today in the humdrum of our lives? Will we seek Him because we are expectantly waiting for Him? Are we ready for Him to show us something of Himself at any time, at any moment, in any way?
In choosing to believe in something bigger and greater and more glorious that anything they had yet experienced, the Magi had positioned themselves for an encounter with the King of Kings. In faith they had watched as the star rose high in the sky, in faith they had chosen prophetic gifts, in faith they had travelled over 1000 miles, in faith they knelt and worshipped a baby boy.
We have already met Jesus and yet in hoping for prayer to be answered, in the longing for situations to change, desperate for breakthrough, for many of us the waiting has dulled and wearied and blurred our faith. For some, the intentional searching ceased a long time ago, and we consider now that there is no hope – or is there?
The star that hung in that dark sky 2000 years ago still invites us to lean in towards Christ, in faith to follow the light. It is a sign still, for those who have eyes to see and ears to hear the small sweet whisper, 'everything is possible for one who believes' (Mark 11:23).
Dear Father,
Thank you for the example of the Magi. Thank you that they never gave up believing that you, Jesus, would come. One day.
Help me please, I ask. Help me, as I deliberately and intentionally choose today to turn away from hopelessness and despair.
Fan the flames of faith in my heart, I pray, to indeed believe that you have not forgotten me, that you know me and the longings of my heart and that ultimately you have good plans for my life even though it doesn't necessarily feel like that right now.
I choose to rest in your promises and to hold on to the truth. Jesus, you are the truth and you are the answer to all my questions. I choose to heed your voice today above the clamour of competing cultural narratives.
I will wait patiently, and incline my ear to your whispers of love. Amen.
---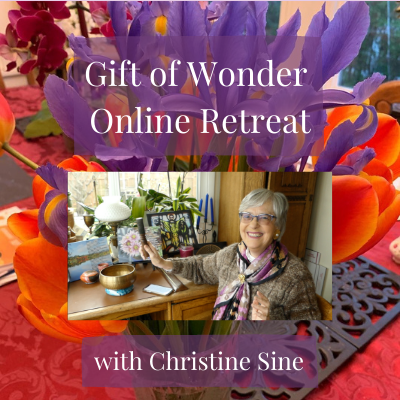 Want to experience more of the awe and wonder that God offers us? Check out the Gift of Wonder Online Retreat by Christine Sine. This retreat allows for 180 days of access for only $39.99 so you can move through the sessions at your own pace.