by Ron Friesen
Have you ever seen a large jar of water with some lemons floating in it? I see it most often in local restaurants in Arizona. I learned this is called "lemon-infused water." I have since learned that you can order "Cucumber-infused Lemonade" and "Pricky Pear-Infused Lemonade."
Thinking about infused beverages reminded me of a verse in the Bible: "27 To them God has chosen to make known among the Gentiles the glorious riches of this mystery, which is Christ in you, the hope of glory" (Colossians 1:27 NIV).
"Christ in you." (Pause and reflect – CHRIST……IN……..Me…..)
CHRIST in you. This Christ who is living in us is the Christ who is indwelt with the all the fullness of the Godhead (Colossians 1:19), a fullness that has existed from eternity past and will continue to exist into the eternal future. Most importantly, it is a fullness that exists in us right now, an Eternal Now existence and experience.
Christ is IN us. The Christ IN us is 'the hope of glory." It is tempting to think of this hope as purely a future hope fulfilled at the final resurrection of our bodies. Some Bible scholars suggest this understanding of the hope of glory. What if we thought of living a life filled with all the potentiality that exists in the fulness of God in us? Many Christians call this "the Spirit-filled life." If the fullness of the Godhead exists in the Christ who is in us, then, accepting the truth that the Spirit of God resides in us is a good start to thinking about Christ IN us.
Christ is US. When we think about a God-infused life we might think of Mother Teresa of Calcutta who worked among those dying on the streets of her city. Or we might think of E. Stanley Jones, the Methodist missionary in India who courageously led Bible Studies under the watchful eyes of secret service agents of the British government. He remarked that the Gospel was so dangerous that its proclamation had to be supervised! Or we might think of the courageous Archbishop Borys Gudziak of the Ukrainian Greek Orthodox Church who, after the invasion of his country, said, "I'm not a military strategist or politician, but I assure you if we pray, if we trust in the Lord, if we look at the example of martyrs of the past and these days, we will find the answers to keep moving forward." In the United States, there are many courageously going to our streets to feed and care for the homeless. One of them is my friend, Terri, who while dealing with a husband with brain cancer, went out each morning with her truck filled with food, blanket and clothes provide for those living under bridges and in drainage ditches. Though Terri's husband died recently, she continues to go out each morning with her heart filled with the Christ who is in her and her truck filled with supplies.
Reading these examples, we might say, "I am no Mother Teresa or E. Stanley Jones, Archbishop Borys Gudziak or Terri." These people only come to our attention because they faithfully lived God-infused lives which draws our attention. Each was faithful to the small task before them filled with the knowledge of "Christ in me is the hope of glory." Their lives remind us that God always equips the called to whatever task before them. If promotion comes or recognition is received, it is only because God promotes and God honors.
You may be the widow carrying for a disabled child, the single father raising four children, the recovering drug addict who continues to battle with the scars left by years of addiction, the teenager who struggles with an abusive living situation, the businessperson who is watching their income decrease as costs rise and customers need to make careful choices as inflation causes them to review how they spend their money. Whoever we are and wherever we are, we can demonstrate that the God-infused life is the "Christ-in-me, the hope of glory" is a present-day reality.
What will our God-infused life look like in 2023?
Writing by Ronald Friesen © 2022 and photos by June Friesen
---
Following The Star Into the New Year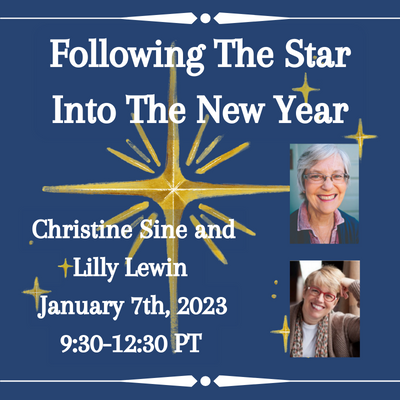 In January we celebrate Epiphany and the coming of the Magi to visit Jesus. Like them, many of us feel we are on a long journey following a star that is sometimes bright and shining, sometimes completely hidden yet still guiding us towards Christ. 2022 taught us important lessons that will shape the coming year. We sense God wants to do something new in our lives and we want to follow in the right direction.
Join Lilly Lewin and Christine Sine online Saturday, January 7th 2023 from 9:30 am PT to 12:30pm PT as they help us reflect on the past year and take time to hope, dream and pray for the year ahead. We will engage in some fun practices like chalking the door and interact with each other in ways that strengthen our faith and draw us closer to God.
Click here to register! We are once again offering several price points to aid those who are students or in economic hardship.