"Who put Joseph in the back of the stable? Who dressed him in brown, put a staff in his hand, and told him to stand in the back of the creche, background for the magnificent light of Mary?" (Ann Weems, Keeling in Bethlehem)
Poor Joseph. I've owned several creches over the years and every year when I set one of them up; it seems so unfair. The three kings have crowns. Mary and the angels have halos. Joseph just stands there. Plain. With no head covering and no special light, he fades into obscurity. 
I once heard a true story about a church's Christmas pageant from a colleague. On the night of the play, the pageant director came to the priest, panicked saying, "We have no Joseph! He's called in sick." The priest said calmly, "Just have one of the shepherds stand near the manger with Mary. Nobody will notice that Joseph is missing. He doesn't have a speaking part." 
He doesn't even have a speaking part.  Maybe that's why it is has been so easy to overlook Joseph. We are a culture that values words. Mary sang a song of joy when the angel told her she was going to have a baby. Zechariah prophesied at the circumcision rite for his son John the Baptist. And while I cannot imagine the Baptist singing; he could sure preach! As for Joseph? Not one word from the lips of Joseph is recorded in the Gospels. 
At least churches who use the Revised Common Lectionary put a spotlight on Joseph every three years. This year on the 4th Sunday of Advent, December 18, we will again hear his story from the Gospel of Matthew (Matthew 1:18-23).
The story begins with his predicament. Imagine Joseph's shock when he learns from Mary that she is pregnant! The news is even more shocking to him when Mary explains that the conception is "by the Holy Spirit."  In Franco Zeffirelli's movie, Jesus of Nazareth, when Mary tells Joseph the good news, he says, "That's too much for any man to believe." And Mary says simply, "But you are not any man, you too are chosen." We can imagine that Joseph would have preferred not to have been chosen at that moment. 
His immediate solution, to rid himself of this particular nightmare, was to break off their engagement quietly. And to his credit he does not want Mary shamed in anyway. Technically, under Jewish law, Joseph could have called for justice. Mary could have been stoned to death. But instead of acting hastily he deliberates and sleeps, and then dreams. And what a dream! 
An unexpected window opens and with it, divine light and guidance. God's will for him is revealed. An angel of the Lord reassures Joseph that a higher purpose is at work. A new earth-shattering plan for humankind has begun and God needs Joseph to take his part in the unfolding drama. He is assured that his pregnant fiancé is in her condition by an act of God and is asked to accept her as his wife. Amazingly, Joseph does what is asked of him. He takes Mary as his wife even though she is pregnant. We speak of Mary's surrender to God often. But what of Joseph's surrender? 
His response to God's call is truly an act of faith, a radical faith. Joseph may have not been a man of words, but he was certainly a man of action. To marry a woman who was already pregnant and then to adopt her child knowing that the child was not of his own body was to break the law as stated in the Torah. The action he took on behalf of Mary and Jesus was contrary to his own religion's beliefs. Putting aside the law of his Jewish faith, Joseph followed in the footsteps of the great prophet Hosea. He elevated compassion–his concern for Mary–above strict adherence to the law. Again, this was a radical move on his part!  
Opting for compassion and relationship over punishment and separation, where else do we see Joseph's behavior reflected in scripture? Who else cared more about people and less about keeping the letter of the law, as long as it continued to keep people marginalized? Yes. Sounds like Jesus to me. 
Joseph's action pre-figures the new justice of Jesus– compassion over religion. Jesus quotes Hosea twice in the Gospel Matthew, and both times the same citation: "I desire mercy, and not sacrifice" (9:13, 12:7). In other words, I desire compassion. This compassion-in-action is one that restored dignity to human beings who had been cast outside the shelter of the synagogue and the local community. Joseph's act of saying yes to both God and Mary, made him the perfect role model for his adopted son, Jesus. Joseph reminds us of the important roles that fathers play in families. 
Joseph had the courage to discern the inner authority of God's calling to act with compassion. He had a dream, and based on that, he turned his life upside down. This is an invitation for us to consider taking our dreams, and our impulses that arise from prayer and meditation, seriously. How do we discern the inner authority of God speaking to us?  
Decades ago, a man named John Sanford wrote a book called Dreams: God's Forgotten Language. Sanford weaves together both biblical and psychological sources, and draws the conclusion that our dreams can be from God. 
 He writes,
We have decided that a person may find God everywhere except in our own soul, which is in fact the fountainhead of religious experience. More often than not, as Christians, we want creeds, not religious experience, we want dogma not inspiration. We much prefer the security of our rationality to the awesome experience of dealing with a living voice.
Like Joseph, what might happen if we trusted that our own inner experiences are of divine origin? What would happen if we were able to take compassionate and radical actions by trusting the living voice? What if we trusted that our bodies and souls are temples for the Holy Spirit- that indeed God-is-with us? Wouldn't we become more equipped to live as the people of God? Compassionate. Loving. Just. Can we learn to trust as Joseph he did-that divinity is born in the most unlikely of places?
This Advent and Christmas is a good time to remember and give thanks for the life and ministry of Joseph. Invite Joseph into your prayer. Be on the look-out for the images of Joseph in this life: the single father, the adopting father, the "stay at home" father. Keep an eye out for robust images of Joseph in art, drama and literature. For he, like Mary and Jesus, certainly shone with God's light and love. The Holy Family invites us to do the same. May we too become living lights of God's love and compassion. 
---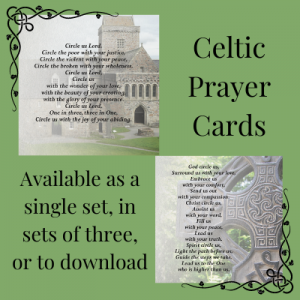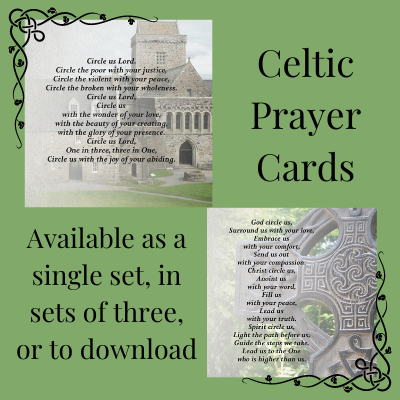 Celtic Prayer Cards include 10 prayers inspired by ancient Celtic saints like Patrick or contemporary Celtic writers like John O'Donohue. A short reflection on the back of each card will introduce you to the Celtic Christian tradition, along with prayers by Christine Sine and beautiful imagery crafted by Hilary Horn. Celtic Prayer Cards can be used year-round or incorporated into various holidays. Available in a single set of 10 cards, three sets, or to download.