Yesterday was the beginning of Advent for most of the Western church. This year it is a full four weeks long as Christmas Day falls on a Sunday. I love Advent, and though I thoroughly enjoy starting with Celtic Advent and a 40-day preparation for Christmas, it is really this weekend that marked my real Advent focus. I pulled out my icons and other Advent images. I created a new Advent garden; we purchased our Christmas tree and set up our Advent wreath on the dining room table. I love lighting the appropriate candles each morning as we eat breakfast and reflect on the season.
My theme for this year is Proclaiming Justice, Seeking Peace Through Advent.  There are so many places that are caught up in the horrors of war, so many deaths from mass shootings here in the U.S. and so much suffering caused by our rapidly changing climate that I find myself approaching this season with feelings of joy and expectation but also of grief and lament. As we look at the Advent story this seems appropriate as the story of Mary's pregnancy and the birth of Jesus is a story of joy and lament.
Mary was a rebel, who shouted out her defiant and outspoken words of justice and freedom from the Empire of the rich and powerful in the Magnificat. This Freedom Song for the Poor is sometimes referred to as The Christmas Carol of Justice. Unfortunately we rarely hear it recited in its entirety during the build-up to Christmas. We want it to feel magical and radiate light, hope, joy and peace and its message of judgement and the upending of the status quo social order. Mary believed her unborn child was the promised Messiah who would bring justice to the world. She would have raised him with that in mind. His rebellious spirit was seeded in his unborn body and grew throughout his childhood as Mary and I think Joseph too, instilled more of their rebellious ideas in his heart.
The German theologian Dietrich Bonheoffer recognized the revolutionary nature of Mary's song.  Before being executed by the Nazis, Bonheoffer spoke these words in a sermon during Advent 1933:
"The song of Mary is the oldest Advent hymn. It is at once the most passionate, the wildest, one might even say the most revolutionary Advent hymn ever sung. This is not the gentle, tender, dreamy Mary whom we sometimes see in paintings.…This song has none of the sweet, nostalgic, or even playful tones of some of our Christmas carols. It is instead a hard, strong, inexorable song about the power of God and the powerlessness of humankind." (quoted from The Radical Subversive Message of the Magnificat.)
There is some evidence that the Magnificat was banned in certain times and places by oppressive dictatorships. During British rule in India, the singing of the Magnificat in church was prohibited because of its inflammatory lyrics. So, on the final day of British rule in India, Gandhi, who was not a Christian, requested that this song be read in all places where the British flag was being lowered (from Craig Greenfield). It is possible that dictatorial governments of Guatemala, Argentina and El Salvador found Mary's proclamation of God's special concern for the poor so revolutionary and such a threat to authority, that they also banned any public recitation of the Magnificat. These are radical words; words that still have the potential to topple governments and bring down the powerful from their thrones.
I could not help but think about this as I looked through the photos sent to me by a friend who recently visited the Church of the Annunciation in Nazareth where there is an incredible collection of images from around the world of Madonna and Child. So many of these images come from countries where there continues to be injustice shown to the poor and the marginalized. What difference would it make if we took the Magnificat seriously and lived our lives according to its revolutionary words?
Read through the Magnificat, here quoted from The Voice. Spend time this week reflecting on this subversive message. Examine the images in this post. You might even like to look at the more extensive collection here.  Mary's message is spoken across all cultures and in each place calls us to follow a radical Jesus.  In what ways do you feel God calling you to speak out through this season of Advent for those who are disadvantaged?
Mary: My soul lifts up the Lord!
47     My spirit celebrates God, my Liberator!
48     For though I'm God's humble servant,
        God has noticed me.
    Now and forever,
        I will be considered blessed by all generations.
49     For the Mighty One has done great things for me;
        holy is God's name!
50     From generation to generation,
        God's lovingkindness endures
        for those who revere Him.
51     God's arm has accomplished mighty deeds.
        The proud in mind and heart,
        God has sent away in disarray.
52     The rulers from their high positions of power,
        God has brought down low.
    And those who were humble and lowly,
        God has elevated with dignity.
53     The hungry—God has filled with fine food.
        The rich—God has dismissed with nothing in their hands.
54     To Israel, God's servant,
        God has given help,
55     As promised to our ancestors,
        remembering Abraham and his descendants in mercy forever.
---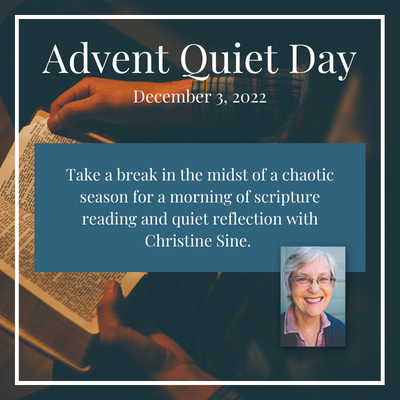 Only a few more days to sign up!!! Join Christine Sine for a time of quiet reflection on December 3rd, 2022. Slow down the busyness of the season and nourish your soul with contemplative focus and reflection. All the details can be found here:
https://godspacelight.com/event/advent-quiet-day/