by Tom Sine
"Young people are a more powerful force than ever in the UN climate summit, the UN's youngest climate advisor tells BBC News in Egypt. 

Greta Thunberg has skipped the Sharm el-Sheikh meeting, calling a forum for 'greenwashing' as she continues to ask if her generation can live in a sustainable future? 

But young people from countries at high risk from climate change say they are 'calling it out' from inside…Vanessa Nakate from Uganda will tell governments to wash their 'oil-stained hands.'
Additionally, for the first time ever young people have had a Youth Pavilion where they met with UN Secretary-General Antonio Guterres (COP27:Without Greta, activists make waves at climate summit, BBC, 2022).
The Economist had already described their view of our likely future before the conference began.
To accept that the world's average temperature might rise by more than 1.5°C, declared the foreign minister of the Marshall Islands in 2015, would be to sign the 'death warrant' of small, low-lying countries such as his. To widespread surprise, the grandees who met in Paris that year, at a climate conference like the one starting in Egypt next week, accepted his argument. They enshrined the goal of limiting global warming to about 1.5°C in the Paris agreement, which sought to co-ordinate national efforts to curb emissions of greenhouse gases."

No one remembered to tell the firing squad, however. The same countries that piously signed the Paris agreement have not cut their emissions enough to meet its targets; in fact global emissions are still growing. The world is already about 1.2°C hotter than it was in pre-industrial times. Given the lasting impact of greenhouse gases already emitted, and the impossibility of stopping emissions overnight, there is no way Earth can now avoid a temperature rise of more than 1.5°C. There is still hope that the overshoot may not be too big, and may be only temporary, but even these consoling possibilities are becoming ever less likely.

The response to all this should be a dose of realism. Many activists are reluctant to admit that 1.5°C is a lost cause. But failing to do so prolongs the mistakes made in Paris, where the world's governments adopted a Herculean goal without any plausible plan for reaching it. The delegates gathering in Egypt should be chastened by failure, not lulled by false hope. They need to be more pragmatic, and face up to some hard truths."
The Economist urges more immediate action.
First, cutting emissions will require much more money. Roughly speaking, global investment in clean energy needs to triple from today's $1trn a year, and be concentrated in developing countries, which generate most of today's emissions. Solar and wind power can be cheaper to build and run than more polluting types, but grids need to be rebuilt to cope with the intermittency of the sun and the wind. Concessionary lending and aid from rich countries are essential and a moral imperative. However, the sums required are far greater than what might plausibly be squeezed out of Western donors or multilateral organizations such as the World Bank."
Those of us who are people of faith need to aggressively join those in Gen Next, like Young Evangelicals For Climate Action as well as the many young secular environmental activists who are aggressively responding to this huge environmental crisis as we race into the troubled 2030s!
Let me know what your ideas are for joining those aggressively working to preserve this good creation in the coming decade as an essential Christian practice.
Check out 2020s Foresight: Three Vital Practices for Thriving This Decade of Accelerating Change. It is designed with questions at the end of chapters to be used as a group study book to creatively respond to the climate crisis and other challenges in this time of concerning change. 
I welcome your response: email me at twsine@gmail.com
---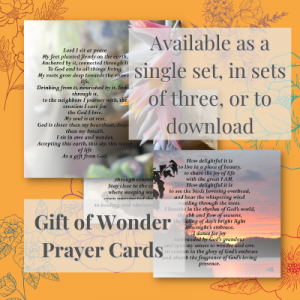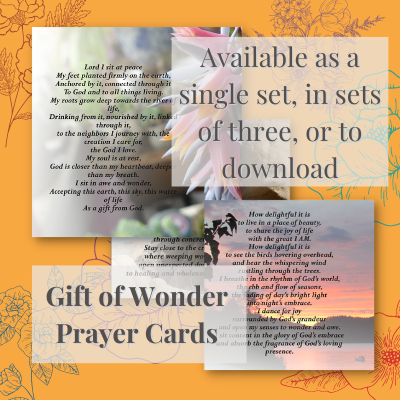 Enjoy the meditative focus of beautiful prayer cards. Open yourself to awe and wonder – or gift someone the joy of prayers and photographs by Christine Sine. Experience a piece of her excellent book through twelve prayers and reflections beautifully illustrated with photographs from Christine's personal collection. Available in a single set, sets of three to share, or a convenient downloadable form to enjoy instantly. You can find these options and more in our shop!