Many of you know that the house church we host in Nashville is called thinplace. We have led a thinplace gathering in three different states and in many different forms including a zoom church group on Tuesday nights that started during covid and is still going strong.
The history of thinplace begins back in 2001. My husband Rob and I went on our first trip to the UK that summer. We were going on a three week adventure to experience some of the alt worshipping communities (creative worship communities) we'd heard about and to study at Wycliff Hall at Oxford. It was an amazing trip and truly the first pilgrimage we ever took, even before we really understood what going on pilgrimage and being a pilgrim was all about!
During our time at Wycliff Hall we encountered the word " thinplace" for the very first time! It just happened to be that while I was in a workshop doing contemplative painting, Rob was in a class led by Esther De Waal. Who is one of the godmothers of Celtic Christianity.
So what's a thinplace?
Thinplace: the Celtic Christian term for the places that are thin, the places where heaven and earth touch, places where you can and do experience The Holy…experience God's presence. 
The Celtic Christians believed that there were physical places where the Spirit could be felt, where God's presence was tangible, where the veil between heaven and earth is THIN.
The Celtic saints built their monasteries at these places.
Places like Iona in Scotland, the Holy Island of Lindesfarne in England, and much of Ireland would be considered thinplaces.
For you, a Thinplace might be by the water or in the woods, hiking or taking a walk in nature, at the ocean, at a river or waterfall, in the mountains, or other places of beauty where it's easy to feel the presence of the Spirit… like watching a sunset or the stars at night.
Finding Your Thinplace….
We all have places where we experienced the presence of God…experienced being close to The Holy, but how do we experience more of this in our everyday lives? Rob and I came home from that first trip to England asking just this question. What would that look like?
One of the things we did first was think about how our home might become a thinplace for our family and for other people. We began to pray that God's peace would fill our home and that guests would feel this. We took the TV out of our family room/livingroom/lounge so it wouldn't be the first thing that got turned on when we came home from work. We started choosing art that spoke to us, rather than things we'd inherited from our families. We wanted the environment in our home to fell peaceful and have beauty. Just so you know we had two young sons, a dog and a small house and a clergy budget, so this wasn't extravagant change all at once, but rather a process and a process of thinking differently about our lives. More Silence, more Rest, more Intention.
Finding Your Thinplace Retreats and Pilgrimages
In spring 2022, I made a pilgrimage to Iona in Scotland for an artist retreat. I just knew I needed to go. I knew I needed to be on Iona, one of my favorite places on the planet. AND I knew I needed to do art, to create art in this amazing place! The two years of covid and lock down had taken it's toll on this extrovert with anxiety and depression issues and I needed to be on pilgrimage in the worst way!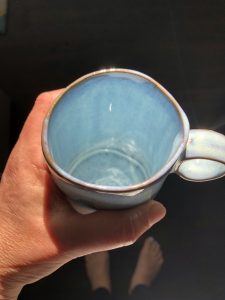 My cup was empty. I needed to find ways to refill it so I could keep pouring it out!
I traveled to Iona with my husband Rob and my sister Lucy. For some reason, Rob traveled with one of the oldest suitcases we own, the one we took on our very first pilgrimage in 2003! In it, he found one of my business cards from the early 2000s and our days in Cincinnati.  It was interesting that it didn't say "freerangeworship" on the card, instead it said
"Thinplace. A Pilgrimage of Discovery and Creativity." on the front…
The concept of finding your thinplace and experiencing thinplace has been a part of me for almost 20 years!
Later that week, sitting in the abbey, writing in my journal and praying, God reminded me that thinplace came way before freerangeworship and my current business focus.
The Spirit reminded me that I'd longed to take people on pilgrimage and help them experience the beauty and wonder of God outside their normal everyday life.
Jesus reminded me that I've wanted to take people on pilgrimage since our family took our first pilgrimage to Lindesfarne in 2003
So I decided to JUMP.
For over twenty years, I've helped people engage and experience God using all their senses. I have helped people get outside their box and go outside literally in order to see the wonder of God in all creation, in art, in places and people.
I've spent twenty years designing and creating sacred space prayer room experiences and leading workshops on creative worship and retreats on silence and sabbath. All involving experiential learning and participation .
What I know is that we really don't need more information about God . We need time to experience more of God .
I took a big leap of faith and decided that it's time to rediscover thinplace and invite others to join me!
I've booked space on Iona in August 2023 and planned a retreat for February 2023 in California Wine Country at The Bishops Ranch in Healdsburg, CA a thinplace on it's own, that happens to be near my other favorite spot called Goat Rock on the Pacific Coast.
Finding Your Thinplace Scottish Pilgrimage August 28-Sept 4th, 2023 staying at the St. Columba Hotel on Iona August 30-Sept 4th.
What is a Finding your thinplace retreat?
After the past few years of craziness, I think we all have empty cups. Finding Your Thinplace Retreats and Pilgrimages will have space for you to get away and find rest. Space for you to refill your cup and rediscover the things you love.
A place to process some grief. 
A place to reflect and recharge in a place of beauty.
I invite you to join me. Give yourself permission to reconnect with your soul. 
Give yourself permission to reconnect with yourself and your God.
"Are you tired? Worn out? Burned out on religion? Come to me. Get away with me and you'll recover your life. I'll show you how to take a real rest. Walk with me and work with me—watch how I do it. Learn the unforced rhythms of grace. I won't lay anything heavy or ill-fitting on you. Keep company with me and you'll learn to live freely and lightly." Matthew 11:28-30 THE MESSAGE
Give yourself the gift of a Finding your Thinplace Retreat or Join us on Pilgrimage in 2023.  Like the Celtic Saints of old, we will have 12 spots available for each trip. So book soon!
I am happy to chat with you about each of these experiences. Just email me Lilly Lewin at  findingyourthinplace@gmail.com
©lillylewin and freerangeworship@gmail.com