By Tom Sine
Christine and I recently celebrated our 30th anniversary.  We reflected back on the early days of our marriage here in Seattle. We also celebrated our wonderful three decades of life, marriage and learning how to share God's generous hospitality with good friends in Britain, Australia, New Zealand and the United States and Canada.  However since the pandemic began our traveling has cut back and we do miss the hospitality of our friends in Britain and down under.
I suspect many of our friends don't know that when Christine and I began our journey together over three decades ago we decided to make hospitality as a major part of our shared life. When we settled in Seattle we bought an ancient house that was built in 1910 before the First World War and the first global pandemic. It was surprisingly inexpensive back then. It consists of three two bedroom apartments stacked on top each other. Christine did a great job of directing a little remodeling on all three floors.
Christine lived in community on Mercy Ships, before we were married, where she headed up the medical ministry. I lived in community with a small household for Christian men. Not surprisingly we purchased this three apartment house to create a modest  Christian community we call Mustard Seed House.
For 30 years we have been inviting younger couples to live in the other two units. We always offered them reduced rent which is becoming increasingly important for Gen Y and Z as rent prices are soaring in Seattle. Christine and I have so enjoyed life with our new friends as we all tried to help one another life our best lives as people of faith. So many good memories.
To join us in Mustard Seed House Community we ask them to share a meal with us once a week where we share about our faith and issues in our lives and faith, and we garden together once a month and share the produce from the garden. Last year we harvested and shared 100 pounds of tomatoes and 400 pounds of apples. Before the pandemic we enjoyed offering hospitality to large groups of other friends.
After we stepped down from Mustard Seed Associates which we ran out of our garage, we deeded over our 40 acres on Camano Island to Circlewood headed by James Amadon as a Christian Environmental Study Center.
Then Christine started her new blog site godspacelight.com in 2008. I have been surprised and delighted how people all over the planet so enthusiastically not only started tuning into this site on spirituality, prayer and community but also posting on her site. I don't know of any other Christian sites on prayer and spirituality that engage over one to two thousand Christians a day from all over the planet.
I plan to start posting on Christine's site virtually every week. Much of my posts will be about Gen Y & Z that I call "the Good News Generation." Many of the young in our churches that are a part of the Good News Generation, are not only keen in their spiritual practices but they also care much more about issues of environmental, racial and social Justice.
For example, Rebecca Conner, who is Christine's newest assistant, is a member of the the Good News Generation and is also an active member of the Covenant Church. Like many in her generation she is particularly concerned about the daunting changes facing the environment. She earned a BS in Environmental Science and a BA in Philosophy at North Park University in Chicago. Rebecca has just returned from Fairbanks Alaska where she worked a leader in a Flora Field Crew in an environmental project before coming back to Seattle to work with Christine.
I also am a big fan of Gen Next. In fact in my most recent book 2020s Foresight: Three Vital Practices for Thriving in a Decade of Accelerating Change that I wrote with my co-author Dwight Friesen, I describe a number of the good news generation who live in co-housing to reduce their living costs so they have more discretionary time to work in neighborhood empowerment projects to extend hospitality to people who have been displaced increasing waves of severe weather.
I recently did a Futures Creativity Workshop with a Presbyterian Church outside of Seattle. These church leaders knew their congregation was graying like many mainline churches. However, they hadn't noticed they no longer had any young families. During they work shop one of the five creative groups came with a creative new way to offer hospitality  to young families. This group remembered that they had a large building that was under utilized.
They came up with the creative idea of offering an art class to elementary school students after school to reduce child care costs to young families…which is likely to be very popular and provide a community service.
If you and your congregation are interested in my leading a Creativity Workshop in your church or share how you create innovative ways to both be a difference or make a difference in these turbulent times you can contact me at twsine@gmail.com or 206-524-2111.
This is your invitation to join the good news generation in creating new ways to both be a difference and make a difference expanding God's hospitality in times like these.
---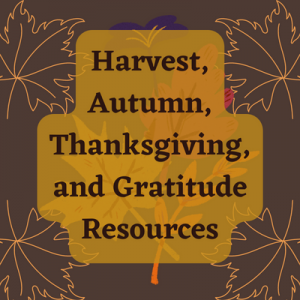 Did you know? Godspace has many resources available for the season of Autumn and the season of Thanksgiving! From harvest helps and reflections, holiday guides, an online retreat, litanies/liturgies, prayers, and more – check it out on our Seasons & Blessings page!