by Tom Sine Featured Photo by Cynthia Friesen Coyle*
I am so appreciative of Christine's invitation to rediscover the gift of hospitality in these pandemic times. I also welcome the opportunity to share some important insights about the gift of hospitality in the first-century Christian community. I discovered these important insights in the important book Making Room: Recovering Hospitality as a Christian Tradition by Christine Pohl.
First, I was surprised and impressed to learn that the first-century church gathered in a new form of community that the world had never seen before. This community of the followers of Jesus became a new form of family comprised of people from different races, cultures, and socioeconomic backgrounds.
Essentially this new family of Jesus congregated in homes and residential communities that not only worshiped together and cared for one another – they also actively reached out to those in need that lived in their larger community. I doubt the world had ever seen this kind of community care for neighbors in need.
Christine Pohl stated "the early church regularly met for worship in the household of believers. In such a location hospitality was a natural and necessary practice. It helped to foster family-like ties among believers and provided a setting in which to shape and reinforces a new identity"p.32
Extending hospitality to strangers who were struggling is one of the primary distinguishing characteristics of the early church from the surrounding environment. "Writings from the first five centuries demonstrating the hospitality in defining the church as a universal community…in providing care for the poor the stranger and sick."P33
Unfortunately, as a consequence of the ongoing Covid Crisis churches today, in many western countries are suffering a crippling decline not only in attendance and giving, but increasingly in reaching out to our neighbors locally and globally.
Thankfully, however, there are still some churches creating innovative ways to provide for neighbors in need locally and globally. The Mennonite Church has created one remarkable form of empowerment that is having an impact on their neighbors not only in North America but also on the lives of our most vulnerable global neighbors as well.
The Mennonite Church in the United States and Canada have launched a campaign to counter both the growing environmental crisis and declining economic crisis of our poorest neighbors.
They have set the goal of planting one million trees not only in the US and Canada but Latin America and the African continent as well. Mennonite Church USA NEWS "Tree Planting Initiative" December 9, 2020
I realize that planting a million trees may not be within reach for your denomination. However there are some modest ways that those in your congregation could help.
One of the characteristics of our poorest neighborhoods in the US, that we have recently have been learning about, is that they have virtually no shade or fruit tress in their neighborhoods. Could your church, possibly with churches in those neighborhoods, start planting some fruit trees and shade trees? In the past decade I have seen a number of mainline churches, invite retired neighbors and those and those being hammered by the pandemic to sign up for a plot in their community garden. Is that within reach in your church? What impact could it have for those struggling where you live, if your struggling congregation joined others in creating one new venture tree planting or community garden projects?
This is your invitation to invite members of your congregation to experience what that first generation of the family of Jesus did in hospitality. This is your invitation to join those that are discovering the satisfaction of collaborating with our struggling neighbors to make a real difference in times like these
We would love to learn how you and your church collaborate with other congregations in creating innovative opportunities, taking time and resources to express the hospitality of Jesus as we race into our turbulent tomorrows. We would love to share some of your innovative examples of the hospitality of the community of Christ in your neighborhood. Send your examples of community empowerment.
We will post some of your examples of neighborhood engagement to motivate other congregations in the turbulent 2020s. 
Tom Sine twsine@gmail.com check out: 2020s Foresight: Three Vital Practices for Thriving in a Decade of Accelerating Change
*Photo by Cynthia Friesen Coyle, from the Mennonite Men JoinTrees project: "Another 412 trees were recently planted along the Indiana Toll Road in two separate projects. This is the second year in a row that Mennonite Men teamed up with Indiana Toll Road to plant trees in open areas along the interstate. We look forward to another project next spring and hope this work promotes the establishment of trees along our highways to add beauty, reduce mowing, support biodiversity, and sequester carbon. To explore projects like this in your area, contact Steve Thomas at SteveT@MennoniteMen.org."
As an Amazon Associate I receive a small amount for purchases made through appropriate links. Thank you for supporting Godspace in this way.
---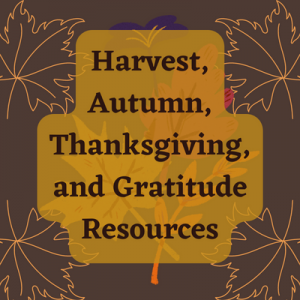 Did you know? Godspace has many resources available for the season of Autumn and the season of Thanksgiving! From harvest helps and reflections, holiday guides, an online retreat, litanies/liturgies, prayers, and more – check it out on our Seasons & Blessings page!