by Elaine Breckenridge. Featured photo and below of a restaurant sign in Galway, Ireland, 2016
A few years ago, I had the fortune to go on a pilgrimage to Ireland. One day we spent the morning walking in The Burren, a wild landscape located in County Clare. It was beautiful and also very wet and windy. Afterwards, we piled into our small tour bus and headed to Galway for lunch. As I was getting off the bus, I caught a glimpse of myself in the driver's rear-view mirror. My appearance was a disaster! It was if every strand of hair on my head was growing in a different direction. As we walked and grew near the restaurant, I said to my traveling companion, "I don't like to be seen looking like this in public. I hope there is a restroom near the front door so I can fix my hair." And then, turning the corner, here is what came into view: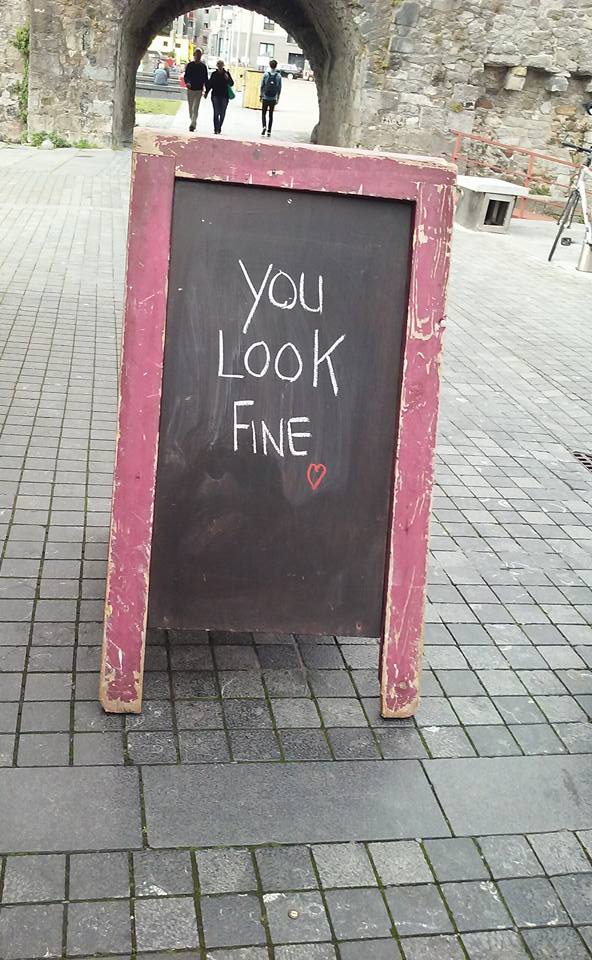 "You look fine." Immediately I relaxed. I was not alone! The sign was a warm gesture which said to me, "You are welcome just the way you are. Come on in." I entered the restaurant without a care in the world. It was a moment of hospitality that I will always remember. Hospitality, for me, is being welcomed in such a way that I feel accepted and comfortable. That is certainly what happened when I saw that sign. And speaking of signs, that particular sign points to the reality of the hospitality of God.   
The God whom I know is one who assures me, personally, that I am accepted and acceptable. I say "personally" because I do not simply believe this as a point of doctrine (I do, in fact) but because it is something that I experience in prayer. In prayer, I am often aware of how deeply I am loved by God. God is not only creator, host and guest, but God also serves us as a companion. God is longing to be in a life-giving relationship with all of us. This was made quite apparent in the Incarnation. God put on flesh in the person of Jesus to make the point that God is with us. God journeys with us as we journey through life. We are never alone because in life, in death, God is always with us. 
A writer, Paula D'Arcy once said, "God comes to us disguised as our life."  (Rohr, Richard, Everything Belongs) We can expand that by saying that God's hospitality, also comes to us disguised as our life. God is always reaching out to us and often welcomes us in surprising ways. I am remembering one time in particular.  
Both of my adult sons have left the Christian Church. They have not left Christ and though they do not say creeds on Sunday mornings, they actively exercise their baptismal vows: following Christ, serving others, respecting the dignity of every human being, caring for creation. 
Still, when my youngest son made his move to join an Eastern spiritual ashram that follows the path of yoga and a lineage of yogi masters, called Ananda, I was unsure. I decided to meet these people who would be shepherding my then eighteen-year-old son. 
I met with two of their ministers. They invited me into their temple. We took our seats in chairs configured in a small circle. One of them asked, "As a way of getting to know one another, I wonder if we might meditate together?" I was surprised, but willing to accept the invitation. They offered no prayers, gave no instruction except to say that a ringing of a small singing bowl would begin and end our time of silence. We sat in silence for at least twenty minutes.  
I was surprised by the experience of the gentle silence which enabled me to practice my form of Christian contemplative prayer –almost immediately. I felt held by their practice without being led into their practice.  I dropped into my heart center by saying the Jesus Prayer. God was right there welcoming me, encouraging me, comforting me. The message was clear, I had no reason to fear for my son's soul. 
It was an extraordinary experience of hospitality. I felt welcomed by people who were not cross-carrying Christians but who follow the witness and celebrate the life of Jesus. They are on a spiritual path which produces the fruits of peace, love and joy. They shared those fruits with me and gave me the space to have my own experience of prayer that day. It was a beautiful moment to be welcomed into a circle of prayer led by people outside my faith tradition. God embraced and blessed us all in that circle.  I was reminded by what Henry Nouwen wrote,
"Hospitality means primarily the creation of a free space where the stranger can enter and become a friend. It is not to change people but to offer them space where change can take place. Hospitality is not a subtle invitation to adore the lifestyle of the host, but the gift of a chance for the guest to find their own."
In his book, One River, Many Wells, Matthew Fox, writes that "All spiritual traditions can learn from each other and offer something fresh from their experiences and teachings." (P. 436) I believe that is true and I have made a study of many of the religions of the world. However, this was the first time I had sat in a circle with non-Christians and experienced God-with-us. As the psalmist wrote, "Where can I go from your spirit? Or where can I flee from your presence?" (Psalm 139:7, NRSV)   
Accepting God's hospitality means surrendering to what we are being offered in any given moment. By surrendering to that present with an open mind, an open heart and an open body, we experience the hospitality of God. The German 13th century theologian and mystic Meister Eckhart said "All paths lead to God, for God is on them all equally for the person who knows." (Fox, p. 11) 
The breadth and depth of that statement and God's hospitality can be experienced by going to and from the heart experience. For it is there that we cultivate God's wild hospitality within us, meant to be shared with the world. And with that sharing, all of humanity will someday know shalom, God's peace and wholeness.
As an Amazon Associate I receive a small amount for purchases made through appropriate links. Thank you for supporting Godspace in this way.
---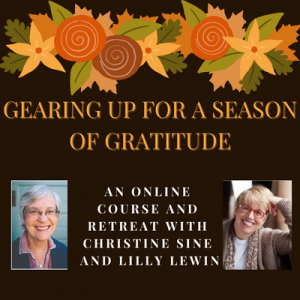 Christine Sine and Lilly Lewin inspire ways to get geared up for the coming season of gratitude in this popular online course! Sign up for 180 days to enjoy this retreat at your own pace – including craft tutorials and print-outs plus much more. Check it out in our shop!