by Tom Sine, originally posted on his site New Changemakers here
Most church leaders have been rudely awakened – during the ongoing Covid Crisis – to a rapid decline in church attendance, giving, and volunteering. One of the most concerning metrics is the declining attendance of Gen Y & Z which Pew Research has predicted for over a decade.
With all this very concerning bad news I want to trumpet some very encouraging good news about Gen Next. Gen Y & Z are the Good News Generations. Gen Y Millennials were born between 1981 and 1996. Gen Z Zoomers were born after 1996. According to Pew Research: "Gen Z looks a lot like Millennials on Key social and political issues."
Part of the reason for this is Gen Y & Z are the first digital generations and they are also more richly multicultural. As a consequence, these two generations are not only more aware of issues of environmental, racial, and economic justice. Most importantly a greater percentage of these two generations want to use their lives to make a difference in society than older generations.
The tragedy is that church leaders aren't aware that Gen Y & Z are the Good News Generations. Nor are many church leaders considering a new approach to these two generations. Few are considering enabling them to use their lives to create neighborhood empowerment projects … before persuading them to become members of their churches first.
Tisha Shank, a Clapham Associate Member wrote, "We have been critical witnesses of institutional low points, including The Great Recession of 2008, multiple unjust police shootings, massive sex abuse scandals in Protestant and Catholic church leadership, rampant school shootings, overwhelmed medical facilities during the height of COVID in 2020, and the growth of increasingly divisive media and political cycles. These experiences have not only shaped our distrust of institutions, but it has shaped our formation overall, including our spiritual formation. This leads us to another key attribute of my generation: religious disaffiliation." – Gen Z: A Generation Reconstructing – The Clapham Group
This perspective leads a number of Gen Y & Z to to disconnect from churches. However, it also motivates a number of Gen Y & Z to join those doing profound neighborhood change-making from creating community gardens to job training. For example, one black church in a community with high unemployment offered courses in the construction trades which made a real difference for those just getting started.
Is your church ready to Empower Gen Y & Z to create community empowerment projects in the turbulent 2020s without joining your church first?
Photo by Callum Shaw on Unsplash
---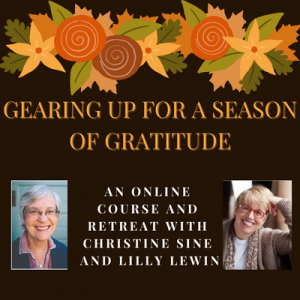 Christine Sine and Lilly Lewin inspire ways to get geared up for the coming season of gratitude in this popular online course! Sign up for 180 days to enjoy this retreat at your own pace – including craft tutorials and print-outs plus much more. Check it out in our shop!