My friend Archie is taking over for me for freerangefriday this week …enjoy his pilgrim wisdom! Lilly
Camino De Santiago- St. James Pilgrimage
For I was hungry, and you gave Me something to eat; I was thirsty, and you gave Me something to drink; I was a stranger, and you invited Me in"  – Matthew 25:35 NASB
Behind the Camino metaphors and parallels, I heard the faint whisper of my  inner voice of love.
During my Camino with hours and hours of walking, listening and welcoming (perhaps showing hospitality?) to whatever comes to mind, was one of the gifts of my pilgrimage. Prayers for families and friends came in abundance. What a thought to see these prayers as guests and to welcome them. At one point during my camino, I told my Facebook friends that I might have prayed for them- remember I had an abundance of space and time for prayers- and some of my friends asked for prayers- what an honor!-And yes, I got to pray for families, friends and nations-especially Ukraine- during my Camino de Santiago early this summer.
Listening turned into plumbing my past life experiences. Have you ever pulled the drain stopper in your bathroom sink to try and unclog it? You will find not just hairs, but also black grime and slime stuck on the drain stopper. Well, some of my listening was like unclogging a drain stopper but most were pleasant memories that evoked prayers of gratitudes and praise songs- yes, I was singing along the camino and one time I joined a group of young people doing the "macarena song and dance."
Yes, plumbing my unconscious is welcoming and inviting guests from my past.
One of the literature for the Camino de Santiago pilgrimage says that the camino starts when our feet take the first step outside our home. I had decided to have two kinds of pilgrimages, first was what I called a friend-pilgrimage and the other was the Camino de Santiago pilgrimage. My two- week pilgrimage took me to four countries, Denmark, Faroe Islands, Switzerland and Spain. I visited my European friends from my ministry years in Europe. My Friend Pilgrimage  was to honor their friendships, prayers and support during my early years of being a missionary in Western Europe.
The second week of my pilgrimage was the Camino de Santiago. This pilgrimage is one of the most popular Catholic pilgrimages that started around the 7th century, neglected and forgotten over the preceding centuries, and during the late 20th century, it gained popularity once again and this time, not just for the Catholic pilgrims but for anyone wanting or willing to walk for miles and miles, day after day, weeks after weeks to go on a pilgrimage; either to fulfill a religious devotion for the devotee, or to find something new about themselves, or as one of the peregrinos (pilgrim) that I met told me her camino is a "reset" for her life, and for some, it could be to reach deep within their soul. These pilgrims on the Camino are seekers, simple hikers, adventure backpackers and tourists that trail the over 700 miles (or more depending which of the several Camino Way one chooses).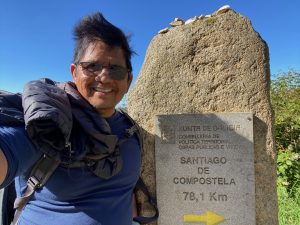 My Camino was the last segment of the Frances Way, from Sarria to Santiago Compostela (St. James Cathedral) where the apostle's body was apparently buried-hence the pilgrimage-. This last segment of the Frances Way is 111 kms/68 miles, at least seven days hike. This is the minimum Camino one can do to earn a pilgrim certificate.
My first day of Camino, the terrain with a steep 500 feet elevation climb in the first 45 minutes looked relatively easy on paper. I underestimated the peaks, telling myself that I have conquered numerous 1,000 plus feet- elevation gain on one of California's Sierra Nevada 10-11,000 feet summits. Well, at the end of my first five hour walk, I hyperextended my groin was sore from the steep hikes. I survived the first day but I questioned my recovery time, can I walk the following  6-8 hour day hike? I also have to mention that two weeks prior to my Camino, preparing for my walk, training on a stair-step machine at my local gym, I hurt my foot that triggered a gout flare. I told my wife Tamara that if I have another gout attack during my Camino, I would either rent a bike ( yes, you can do a bike Camino) or cut short my camino pilgrimage and go back to my friend Patric in Switzerland to heal if my feet can't walk anymore Well, I limped my way to Santiago Compostela. Welcoming the physical pain and pushing my body too is like allowing invited guests to stay longer even if the food, drinks, games and stories had been exhausted.
During my Camino I paid attention to my gait, the weight of my backpack and overall listened to my body. The walk gives plenty of stunning vistas, the different kinds of roads, village attractions, like old stone chapels, Camino arts, dairy farms, small vineyards, stone houses, and an occasional chat with local town folks. These attentive moments were welcomed guests that formed a prayer. Whatever memory comes to my attention, I turned it to prayer. In between thoughts and prayers for family, friends, the world, I would pray different heart prayers like the Jesus Prayer- Lord Jesus, have mercy on me, a sinner. I also prayed Psalms 91: – "O Lord come to my assistance, O Lord make haste to help me". One of my other favorite prayers I pray throughout the day even before the Camino is : " In You O Lord, I move and live and have my being, I me O Lord, You move and live and have Your being."
Behind the Camino metaphors, parallels, and prayers for others, I heard a faint whisper; my inner voice of love, loving on me, God loving on me.
To talk about my Camino using metaphors and parallels connects my soul to its power until its power fades, the silent whisper is heard. Perhaps the metaphors and parallels gave way to a dead end, a dead end where metaphors come short. The inner voice of love came whispering to my ear when all my metaphors, the pain on my feet, my back from carrying my backpack and from walking for many hours had broken me through.
The first common metaphor was the backpack I was carrying. The weight on my back was light the first day or rather the first few hours and if you have carried a backpack for an extended period of time before you know what I am talking about. I have over a decade of wilderness backpacking, and know the technical know-how, but my years of backpacking experience didn't spare my physical pain. I told my friends through Facebook about this metaphor and that I carry them through prayers in my backpack, not knowing the weight of their burden, I simply told them I just carry them in my backpack and giving them to Jesus unloads the burden of bearing the weight. I don't know what it would be like if I had done the Camino prior to the internet age, so, everyday when I made it to my 'albergue"- hostels- I would post my experience on social media. Of course, there would be instant replies and comments from my friends and my metaphor connected my experience to those of my friends.
Then it hit me, my metaphors and parallels appeared to have a life of their own. It is like a guest wanting more, demanding that I have a better narrative of my life different from what life I have; a metaphor that compares my Camino with my friends and others with their own "Camino pilgrimage". So, this is where I came to a dead end and I heard the inner voice of love. Gone were the metaphors.
This Camino was about hearing the inner voice of God's love, the unconditional love that can not and should not be compared to any other Caminos. I was in one of my hard and painful walks when I heard these words and it reminded me of Henri Nouwen's "spiritual imperatives" where he wrote- as a secret journal- of his anguish and pain but also where he found freedom. This secret journal of his turned into a book called: " The Inner Voice of Love".
A friend made a comment on my first FB Camino post that sums this up when she said: "Have a good Camino Archie! It's a wonderful experience and everyone has their own Camino." It was a wonderful Camino, a glimpse of what my pilgrimage on God's beautiful creation here on earth has been. A pilgrimage that gave me hints of the glimpses of what beauty awaits us when we see Jesus face to face and while we are already one and united with Jesus in the here and now, the inner voice of love was a whisper I will always need to hear.
Welcoming strangers and guest as Christ is the heart of hospitality, in my camino, I was the stranger.
Archie Honrado is a spiritual director, prayer retreat guide serving urban youth workers and a
certified substance abuse counselor. Archie was part of Youth Specialties Soul Shaper Board
and Soul Care Team together with Lilly Lewin. Archie and Lilly for over a decade have
collaborated and co-curated prayer sacred spaces for the National Youth Workers Convention.
Archie lives in the Redwoods, the land of Yurok Indigenous people in Northern California with
his beautiful wife and two young boys.