Editor's Note: The following reflection has been excerpted from Hospitality – Open Doorways To The Kingdom With Us. The accompanying recipe is from Hunza Pie – Great Way To Use Greens. We hope you enjoy this series of seasonal hospitality reflections and recipes!
Don't forget to show hospitality to strangers, for some who have done this have entertained angels without realizing it! (Hebrews 13:2 NIV)
These words revolve in my mind today as I remember rich hospitality we have experienced in the last couple of months and anticipate the hospitality to come. Easter is over and we have entered a season that beckons us to be hospitable to friend and stranger alike. One of Christ's first appearances after his resurrection is as the stranger on the Emmaus road, His true nature is recognized only when he breaks bread together with his fellow travellers. This is the first Eucharistic celebration of the new kingdom.  He also comes as Christ, the friend by the sea of Galilee, preparing breakfast for his closest followers.
Through the doorways of hospitality to friend and stranger, those first disciples were welcomed to the banquet feast of God.  Today too, the purpose of God's people is to invite stranger in and offer hospitality by breaking bread together, sharing the Eucharistic feast. By so doing we both welcome Christ and represent Christ.
~  ~  ~
Hunza Pie
A great vegetarian dish for a picnic or camping trip. the vegetable mix can be adapted depending on what vegetables you have available and what you like.
INGREDIENTS:
– 2 cups whole wheat flour
– 1 cup wheatgerm
1 cup golden flax meal
– 6 ounces margarine or butter
– 1/2 cup milk or water (I sometimes use whey left over from making yoghurt)
– 1 teaspoon vegetable salt
– 25 stalks Swiss Chard or other garden greens ,leaves coarsely chopped
– 2 1/2 lb potatoes
–  1 1/4 lb cottage cheese
– 1 teaspoon mixed herbs (I like Italian herb mix)
– 1 teaspoon salt
– 1 large onion, chopped
– 1 teaspoon dried basil, or 1/4 cup fresh chopped
– 2 cloves garlic, minced
– 1 cup mushrooms, diced
– 1 cup squash (e.g. zucchini), chopped or 1 cup broccoli
METHOD:
1. Pastry:
2. Sift flour and salt into bowl. add husks in sifter to flour fold in wheatgerm and flax meal. Rub in margarine until mixture resembles coarse breadcrumbs. Mix with enough water to make a stiff dough. Knead lightly. Cut pastry into 4 pieces. Cover and place in refrigerator for 20 minutes. Roll out 1/4 of pastry on floured surface and place in base and up sides of a 9 inch pie dish. Do same with second pastry section. Spoon over cold vegetable mixture. Brush edge of pastry with water. Roll out remaining pastry in 2 pieces and place over pies. Trim edge with a sharp knife. Make slits in top. Bake in a hot oven (400) for 15 minutes then reduce heat to 375 and cook further 15 – 20 minutes until golden brown.
3. Filling:
4. Peel potatoes and cut into cubes. Cook in salted water until tender. Drain.
5. Cook onions in a medium skillet with 1 tablespoon oil until brown. Add chopped mushrooms and squash. Cook a further 5 minutes. Add chard, garlic and herbs. Cook a further 5 minutes. Add cottage cheese and salt. Allow to cool.
SERVINGS: 12 from each pie
We love to eat it with hot sauce together with a tomato, basil, squash and mozzarella salad or with a quinoa salad.
---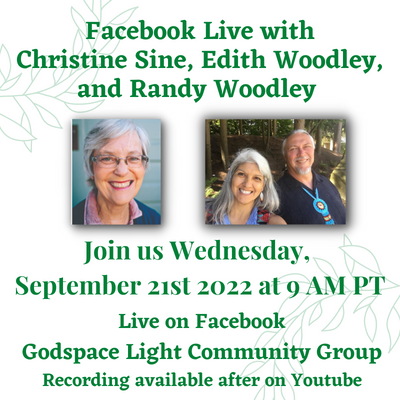 Next Facebook Live!
Join Christine Sine, Randy Woodley, and Edith Woodley for a discussion on Hospitality and the Land. Wednesday, September 21st at 9 am PT. Happening live in the Godspace Light Community Group on Facebook – but if you can't catch the live discussion, you can catch up later on YouTube!