by Jamie Noyd, via Lilly Lewin
Editor's Note: Lilly is on vacation this week, and her friend Jamie Noyd generously contributed this reflection for her Freerange Friday! Jamie Noyd lives in Northern Kentucky and serves with InterVarsity Christian Fellowship on the national Faculty Ministry team as an Associate Director and Director of Via Divina for Faculty developing and directing pilgrimage experiences.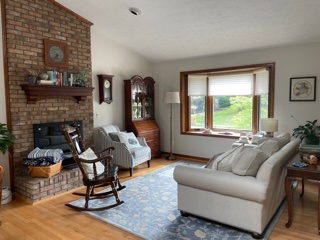 When I consider living into the practice of hospitality, I think of creating lovely, tidy spaces. Whether it was my dorm room in college or bedroom at home, I have always enjoyed selecting items that would tell my story even as the space welcomed friends to gather. I have since transferred this energy to a small home that I've redecorated over the past decade. Each space is comfortable, coordinated, and connects to passions for literature, pilgrimage, and beauty. 
One thing these spaces aren't – they aren't messy. The order provides a sense of peace into which I can invite others, but maybe this tidiness also includes a bit of control that inhibits fully welcoming them. When I first set up my home, I pictured many groups of friends and family gathering here. Hanging out. Having deep conversations. Feasting over meals cooked together. But that didn't happen for years.
At some level I wanted to manage the relationships as I managed the home, just as I had seen my parents do. During my growing up years, my family presented safe, neat images of our lives whether at home, at church, or with friends. That is, stories with little conflict and little mess. Though the messes existed, I learned early on that it was best to cover them up with a pleasant exterior. When people came over to visit, life and spaces needed to be in order. Not having experienced many other types of hospitality, I followed the family way.
I thought such tidy stories and places would welcome people and they did to an extent. However, the type of community I longed for didn't develop. At first I wondered if I hadn't shaped the places and the image of myself just right. I had assumed that if I, like my parents, kept out the messiness, then people would want to come. So I tried harder to create the right space and the right story. But, it seems, that the lack of deep connections wasn't because I didn't shape the space or times well, but because I tried to shape them too much. The tidy images of how I wanted a dinner to go or a conversation to progress often superseded what was actually happening. In this mindset I missed connecting with people in what was taking place right before me. I missed community.
Over the past couple of years I've been learning that nourishing, soul-filled hospitality that brings about deepening relationships isn't about shaping a flawless space or conversation. It's about showing up messy and allowing unfinished stories to bump into one another. But before I could invite others along this new path, I first had to show up messy with myself. I had to tear apart the boxes that held those safe, neat images.
One of those boxes is that of scholar. For decades I strove to be thought of as a scholar in a tweed jacket, professorial sort of way. However, I'm more of an unconventional learner, passionate about pilgrimage and literature, but not drawn to the rigors of the academy. I wondered if people would listen to what I had to share if I veered from that traditional path. Another box is that of single woman. It seemed that people were (or maybe I was) most comfortable with my being either a contented and strong woman not desiring male companionship or someone in a committed relationship. However I don't want to sit in the first box anymore, nor can I make the second happen. As I started questioning the images of the scholar and the single woman in which I had packaged myself, I felt lost.
These are scary places. They hold both tears and laughter. There's a lot of fear. And quite a lot of hope, in an uncertain sort of way. I was scared about sharing these messy stories with others. Scared that people would turn away when I left the boxes.
But . . .
They have stayed.  And they have even stayed longer than I had expected in this messy way of being. This shouldn't have been so surprising. In the gospels, the people who open up fully in all their mess to Jesus are the ones who fall deeper into community with him.  I think of the Samaritan woman at the well and see Jesus' hospitality as he sits with her in the questions and discomfort of her situation. In this space of welcome, she draws closer to Jesus and eventually to the rest of the village. I also think of Peter walking with Jesus after the resurrection. Jesus steps into the mess of Peter's denial by asking three times if Peter loves him. As Peter stays with this conversation in its pain there comes an even deeper relationship with Jesus. This pattern is repeated over and over.  Those who open up their messy lives find a community — those who stay in their boxes, end up walking away.
Now I see hospitality not primarily about creating those tidy spaces. It's about sharing and walking with one another in our messes. I still have those well-ordered gathering areas in my home. Not sure if that will change. But in those spaces I'm not neat. The items I love are all around: travel photos, teapots, books, desks, pottery.  However, they no longer represent finished stories in my life. Now, they are ways to open up renewed stories in all the pain, joy, and mess of life. As I gather with others laying out desires and passions, fears and griefs, I'm seeing God show up and shaping surprising stories. It's a rich hospitality of messy community.  
What are your stories of hospitality that welcome messy community?   
---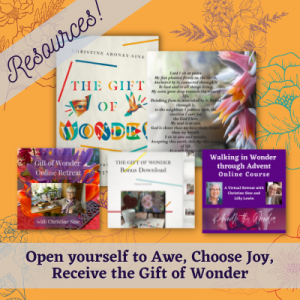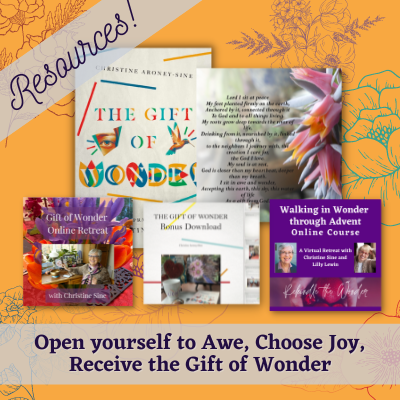 Did you know that alongside Christine Sine's book The Gift of Wonder, we have many resources available to you? The free downloadable bonus packet or beautiful prayer cards featuring prayers from the book, for example – something to hold and behold! Or perhaps you'd like to journey through the book alongside a retreat – we have that too! You can check it all out in our shop!