guest post by David Pott; all photos courtesy of David Pott. Featured photo: St Cuthbert's coffin with monks by St Cuthbert's Cave from the album cover of Take Up My Bones by  Arð – Artist: Gabriel Danilchik
Here in the UK I am on the hunt for coffin carriers! It's not just to walk from a hearse to a graveyard, but to assist with a challenging 130-mile pilgrimage actually carrying a coffin through northeast England from the River Tees via Durham, Newcastle and up the coast to Lindisfarne from September 12-24th. So how has all this come about?
Early in the year I became aware that the amazing illuminated Lindisfarne Gospels are coming back to home territory and will be on display at the Laing Art Gallery in Newcastle from September 17th until December 3rd 2022. I noted that already a range of activities and events were being planned, but nowhere was there any talk of pilgrimage! Why would a pilgrimage be appropriate? St Cuthbert who lived c634 – 687 was perhaps the greatest of the Northern Saints – a man of great holiness and compassion who was both a bishop and a hermit and known as a miracle worker. About a hundred years after his death, raids by Vikings led the monks on Lindisfarne to flee, taking with them in a specially made coffin, the body of St Cuthbert and the precious Lindisfarne Gospels. For 200 years the coffin travelled widely around the north of England keeping one step ahead of the Vikings, until in 995 they felt it was safe to return from Ripon to Lindisfarne. However Cuthbert, apparently communicating from his coffin, had other ideas which is why his shrine is at Durham Cathedral and why the city came to be. When you consider all those coffin journeys with the Lindisfarne Gospels back in the 7th to 10 centuries, surely a pilgrimage to celebrate the presence of the gospels in the region would be appropriate? 
With mixed feelings, knowing what all this might involve, I felt that familiar stirring within and a call to propose a pilgrimage. As the vision clarified, I imagined taking a facsimile of the Lindisfarne Gospels in the coffin with us. There is an admission charge for the exhibition so limited numbers will see it, but taking a facsimile through the region would enable many more people and especially school children to see and handle it and learn its amazing story. 
In March, I committed to pray daily that if this vision was on God's heart, there would be confirmations during that month. That definitely came and included the offer of the £6,000 facsimile copy of the gospels belonging to the Religious Resources Centre for this area. It is hugely impressive and the biggest and heaviest (9kgms!) book I have seen. Also I was so encouraged when the Durham and Newcastle Dioceses agreed that the pilgrimage would be their main contribution in connection with the exhibition.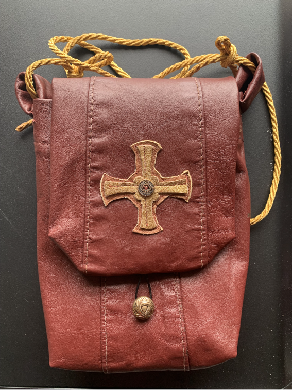 So on the strength of these positive indicators I ventured forth, but I have had my wobbles as I have faced the organisational mountain! One morning in May, when I was struggling with it all, the scriptures in Celtic Daily Prayer began with Psalm 84:5 "Blessed are those whose strength is in you, who have set their hearts on pilgrimage." I knew that the pilgrimage preparation was beyond my own strength, but that it could be done through God's power. I wrote in my journal that I needed to look upon this as a 4-month pilgrimage until it's physically completed on September 24th. Moments later I was reading the next passage for that morning in John 4 which included "4 months until harvest!" I felt that was a very reassuring promise for me. There will be a harvest through this pilgrimage – I've no idea what that will look like, but a harvest there will be! A few days later the reading was Genesis 26:12 "Isaac sowed seed in the land and the same year reaped a hundredfold." So as I write emails and make phone calls to people all along the route of the pilgrimage, I imagine it as sowing seeds for this harvest.
As I continue to work through the admin mountain, there are many encouragements such as the fact that around 30 schools are going to take part. A local undertaker has said he will supply us with shoulder pads, but best of all, my daughter Emily has made a most beautiful leather pouch. This will hold a facsimile of St Cuthbert's Gospel of John which was his favourite gospel. This book, which is only 5.4 x 3.6 inches, is the oldest book in Europe which still preserves its original binding. We know that during the coffin journeys it was indeed carried round the neck in a pouch.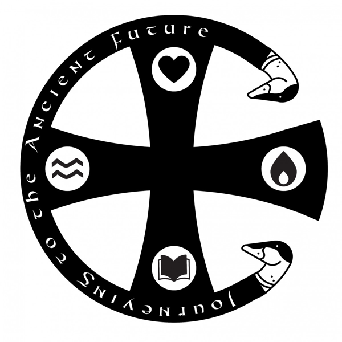 Another delight is the specially designed logo we will wear on our t-shirts. The letter C does not just stand for Cuthbert or for the coffin, but also for the cross which is central and also especially for Christ. Carrying the coffin is in some ways analogous to carrying the cross. The cruel cross symbolised Roman oppression and death and yet Jesus totally transformed its meaning by dying on it. In the same way, the coffin is perceived as very much associated with death and yet our coffin we trust will have a transformed meaning as it will contain the Word of Life. The symbols for love, life and light are key themes for us and very prominent in Cuthbert's favourite gospel of John. The book symbolises the gospel as well as learning. The ducks are actually eider ducks which are often called cuddy ducks after St Cuthbert. They remind us of St Cuthbert's great love for creation.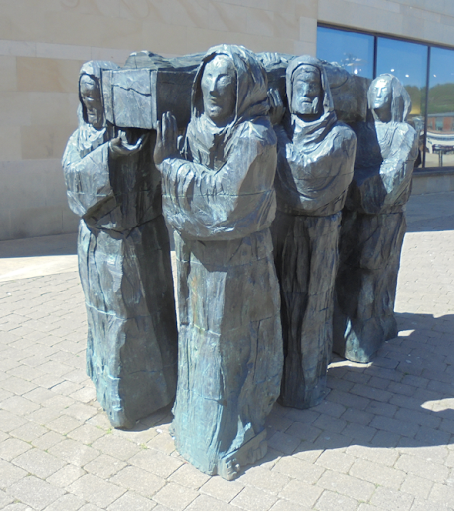 This statue by local sculptor Fenwick Lawson in Durham's Millennium Place recalls the coffin journeys. There were seven coffin carriers at that time and there will be seven people taking care of the coffin and the facsimiles on this pilgrimage. We will certainly be glad to welcome others joining us to relieve weary shoulders and share the load!  
Finally, in the late 10th century, Aldred, who was provost of the community in Chester-le-Street and who inserted his translation in early English into the Lindisfarne Gospels, added some valuable information at the end of the book. He mentions that Eadfrith, the Bishop of Lindisfarne "wrote this book for God and St Cuthbert." In both the planning and the execution of this pilgrimage, we can do no better than adopt the same purpose. May all that is done "for God and St Cuthbert" be a rich source of encouragement, enlightenment and blessing for all who participate.
All the basic information about the pilgrimage is here: https://durhamdiocese.org/the-lindisfarne-gospels-pilgrimage/ It includes details about joining the pilgrimage which is happening September 12-24th. 
If you would like a prayer diary to follow the pilgrimage, please email David at dlpott@gmail.com 
---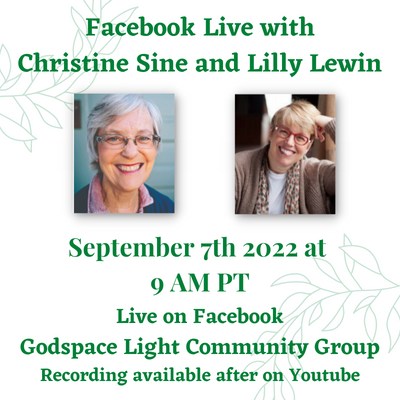 Join Christine Sine and Lilly Lewin LIVE on Wednesday, September 7th 9:00 am PT for a discussion on Celebrating the Gift of Life. Find the live discussion in our Facebook group, Godspace Light Community Group – or stay tuned to Christine Sine's YouTube channel to catch it later!