I have just returned from a couple of wonderful days at Lake Ketchum visiting a good friend. We went kayaking, created hypertufa pots and we observed morning and evening prayers each day from the Northumbria Community's wonderful book Celtic Daily Prayer. In the mornings I sat and drank in the beauty of Lake Ketchum and the delight of being so close to God's creation. The dragonflies fascinated me and the deer feeding her young by the lake was an absolute joy. In between time we talked about life, spirituality and the tools we need to remain resilient and grounded in our faith. We also ate lots of good food, including this wonderful Norwegian bread recipe my friend often makes.
The richness of this time of hospitality was refreshing and renewing, as good hospitality always is. And the hospitality was expressed in so many ways. There wasn't just the hospitality my friend offered, there was also the hospitality of the beautiful place in which she lives and of the creatures that inhabit it.  There was also hospitality expressed by her sister and friends who invited me into their friendship circle for a little while to make the tufa pots. And there was the generosity of another friend who came to visit while I was there.
When I returned home I embraced yet another form of hospitality, the hospitality of returning home. The warmth of my welcome by my husband Tom and our dog Goldie made me aware of how easily we take the hospitality of a good home and relationships for granted. The delight of walking round the garden to harvest beans, tomatoes, squash and basil added to my sense of welcome. The generosity and the bounty was a wonderful gift of hospitality from God whose gifts of good food we eat every day and often take for granted.
Being a good guest, as Diane Woodrow suggested last week, is to delight in being in a place. To delight in the experiences, the food and the friendships we are presented with. And as I discovered this week, being a good guest is just as important at home as it is in someone else's home. We are all guests, not just of God but of our families, our friends and of our world. Accepting the bounty that is provided and thanking those who have tended it in our absence is as important as thanking those we visit and share fellowship with.
Watch this video of morning prayers from Northumbria. The Celtic saints who inspired these prayers were very hospitable people. Take time to contemplate their lives and the ways they reached out to both people and the creatures of God's world. During the time for scripture and meditation, reflect on Hebrews 13:2, here quoted from The Voice,  Don't forget to extend your hospitality to all – even to strangers – for as you know, some have unknowingly shown kindness to heavenly messengers in this way. 
May God bless you and enrich your faith through this short time of worship and contemplation.
---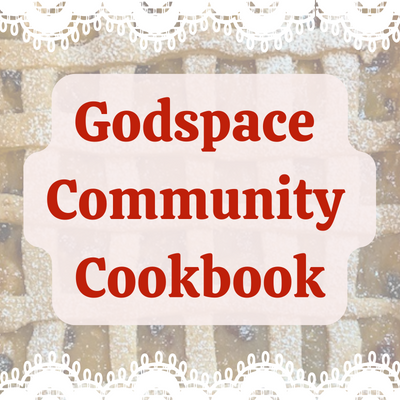 Share your hospitality with Godspace!
From NOW until September 30th, we are collecting recipes across our Godspace community for our first-ever cookbook. A portion of royalties will benefit anti-hunger programs! Send your recipe written in your own words, where it came from, and why it's special to you to godspacelight@gmail.com – if you send 3 or more recipes in, you will receive a FREE digital copy of the finished cookbook! For more information check out this post:
https://tinyurl.com/GodspaceCommunityCookbook