reflection, prayers and photos by Carol Dixon – feature photo of St Aidan's statue, Lindisfarne
I was first introduced to St Aidan when I attended the Duchess's Girls' Grammar School in my hometown of Alnwick, Northumberland and was put into St Aidan's House (the other 'houses' were St Oswald, St Cuthbert & St Paulinus). I proudly wore my blue sash for 6 years as part of my school uniform and although I wasn't taught much about him, I did discover that following his consecration on Iona in 635, he came to our area to found a monastery. It was Aidan's arrival on the Holy Island of Lindisfarne that rekindled the flame of Christianity in Northumbria and his influence was much wider encompassing the whole of the north.
Many years later I discovered more about St Aidan while reading David Adam's book Flame in my heart – St Aidan for today. David describes how Aidan and his small band of monks first settled on the island and marked out the land for the monastery around the edges with a low turf bank. Aidan couldn't wait to clear the land and raise the buildings within the 'vallum' – a place of peace and regeneration, where locals and pilgrims could be welcomed in the guest house and given hospitality, where bread could be broken together and bread shared together in communality, where they could serve each other as they served God. But first, they must claim this wild landscape for God and banish all negative forces; and that meant prayer, an intense time of prayer to consecrate this enclosure for God. 
In his book, David imagines how the days of prayer would have unfolded (based on stories circulating about Aidan's life written shortly after his death) and he includes his own prayers in the Celtic tradition which follow the pattern that Aidan and his brothers might have used.  Most powerful was the Celtic prayer tradition of praying to God of the Seven Directions and seeking God's blessing.  
I was inspired by this wonderful way of praying – so different from my Presbyterian upbringing – and from time to time I have used this style of prayer in my own devotions. So when I was preparing some worship for St Aidan's Day (31 August) I decided to try and write my own version of what Aidan may have prayed, based on those used by David Adam.
First Aidan would have looked eastward over the land to the sea, praying in the direction of the rising sun:
Praise God for this new day
For the blessing of the rising sun
and for the light of Christ shining in our hearts.
Bless all that come from land and sea
May they find welcome and peace and hospitality. 
There would have been a time of silence, each brother adding to the prayer, letting it fill his heart: May this be a holy place, a place of peace. Let the peace be in beauty that surrounds us, a place that is a joy to the eyes, a place where heaven and earth meet.
Next Aidan would look southwards in the direction of Bamburgh, where his friend, King Oswald (whom he had known as a young man on Iona) and his court made and maintained the laws of the land. He prayed:
Praise God for the noontide
and the powerful shining sun.
Praise God for each day and for the growing things 
that flourish in its warm brightness. 
May the blessing of God pour out on all near and afar.
As they prayed each brother tried to picture some of the people at the palace, not only the king and the leaders but servants and slaves, women and families, praying that all may know the liberty and joy of the children of God.
Aidan then turned to the west, to Ireland which had been his home originally and to Iona, the isle he loved and had left to answer God's call.  If the tide was in, he could still see the sun set over the sea dividing the island from the low-lying coastal flats and imagine the communities of prayer he had left. 
Praise God for the evening, for the twilight calm,
the settling of the sea and the winding down of the day,
and the evening murmurings of seals and sea birds.
Praise God for times of rest and restoration.
May God's peace surround us and keep all from harm. 
Aidan turned to the north, the area of darkness and the unknown and prayed:
Praise God for the mystery of the darkness. 
May the Spirit's gentle presence illumine us in our doubts and fears
and protect us from evil this night and all nights. 
May this Holy place be a place of healing and tranquillity 
and all who are ridiculed, ignored, or persecuted find this a place of sanctuary. 
The brothers prayed for protection and made the sign of the cross, asking God to shield and guard them.  Here was a spiritual battle to be fought, every bit as real as the battle Oswald had won for God at Heavenfield near Hadrian's great wall inland.  Aidan's thoughts too went out to the indigenous peoples, the Britons whose land had been taken, those who had been driven from their homes by the conquering Anglo Saxons and was saddened by the thought of all who had lost their lives on both sides, Christians among them. 
The circle was complete, the area within the enclosure where the monastery was to be built was dedicated, but there were still three directions to be acknowledged as God's own.
Bending to the earth he prayed:
Praise God for soil we stand on, 
for the bounty of the seasons
and for Christ, the living bread, our sustenance. 
May the ground beneath us be fruitful and grow
And may we be faithful stewards of this precious earth. 
Next he lifted his arms heavenward and prayed: 
Praise God who raises us to life in Christ, for the vast beauty of the heavenly sphere. 
Praise God for vision and imagination, for the faith of our fathers 
and mothers gone before, who surround us with their prayers. 
May this sacred space be a place where we touch the hems of heaven 
and the veil between earth and heaven parts. 
The last direction was inward. Aidan listened to the waves in the silence, touched his head and prayed a prayer that would become an ancient prayer of the church through the ages:
God be in my head, and in my understanding;
God be in my eyes, and in my looking;
God be in my mouth, and in my speaking;
God be in my heart, and in my thinking;
God be at my end, and at my departing.
[Old Sarum Primer, also attributed to Pynson's Horae, 1514]
Aidan knew that each of them, called as he had been, to serve this bare island must respect all who came to this holy place, high born or low born, for with them came Christ – Christ in each meeting, Christ in the other, best expressed in the Communion (Common Union) and in the breaking of bread together. He recognised that all who believe in God are fellow members of Christ's body whatever their ethnicity.  Aidan's heart was aflame with love for God, for creation, and for all his fellow beings.
So what is the relevance of this type of praying to those of us living in the busy world of the 21st century? 
I believe that we can use the example of the prayer of Seven Directions, taught and lived by the Celtic saints, and adapt them for our own situations.
We can take this strange and powerful kind of praying to our hearts,  into the sacred space that is within us,  and pray them for our own places, for our own communities, our countries, our leaders, for our beautiful earth which we have been commissioned to care for by God and for our fellow human beings whom we have been called by Christ to love and serve. And when better to do it on and around St Aidan's Day.
May we be richly blest as we emulate the examples of these prayer heroes of old.  
My friend, retired minister Revd Stuart Brock, puts it so ably in his hymn celebrating the saints: 
All Saints (Tune:  Streets of Laredo. trad)

With thanks we remember the songs and the stories

of saints and great heroes from long ago day,

of Aidan and Cuthbert, of Hilda and Caedmon,

who lived out the Gospel and walked in the Way.

They followed the calling of Jesus their Master

obeying the teachings they found in God's word.

They preached and they practised the love that they found there;

By rich folk and poor folk their teaching was heard.

And saints there are many right up to our own day,

who live quiet goodness and love in Christ's name.

Their unsung devotion and generous giving

Seeks no recognition, publicity, fame.

We follow the footsteps of these saints and heroes

as we try to follow our Lord in our day,

and with all God's people, both well-known and unknown,

we love and we care and so walk in Christ's Way.

© Stuart Brock 2006 Used by permission

(written for a service for All Saints in St George's United Reformed Church, Morpeth)
And finally, a prayer attributed to St Aidan
'Leave me alone with God as much as may be.
As the tide draws the waters close in upon the shore,
Make me an island, set apart,
alone with you, God, holy to you.
Then with the turning of the tide
prepare me to carry your presence to the busy world beyond,
the world that rushes in on me
till the waters come again and fold me back to you.'
The iconic statue of St Aidan on Lindisfarne is slowly crumbling away and there is an appeal by the villagers and churches on Holy Island to raise funds to repair it.  Anyone interested can look on St Mary's Parish Church Lindisfarne Facebook page to find out how to support the appeal. https://en-gb.facebook.com › StMarysHolyIsland › posts
Flame in my Heart – St Aidan for today by David Adam publ. by Triangle ISBN 0-281-05033-3
As an Amazon Associate I receive a small amount for purchases made through appropriate links. Thank you for supporting Godspace in this way.
---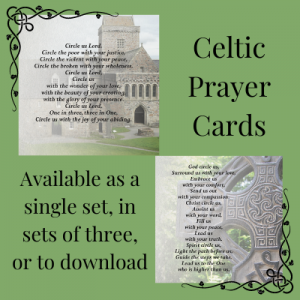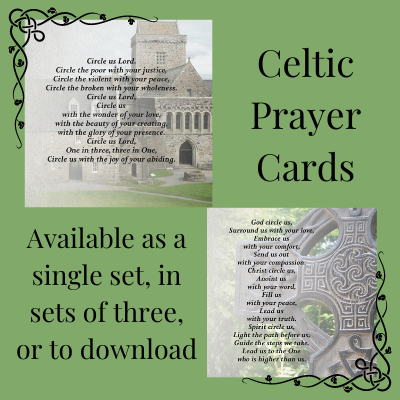 Celtic Prayer Cards include 10 prayers inspired by ancient Celtic saints like Patrick or contemporary Celtic writers like John O'Donohue. A short reflection on the back of each card will introduce you to the Celtic Christian tradition, along with prayers by Christine Sine and beautiful imagery crafted by Hilary Horn. Celtic Prayer Cards can be used year-round or incorporated into various holidays. Available in a single set of 10 cards, three sets, or to download.