by Tom Sine, as originally published on his blog New Changemakers
People from London to South Africa are experiencing record heat waves. In my last post, I described how a number of churches in the US are offering air-conditioned spaces, with beverages, for those in their community who are at risk from unprecedented heat waves.
Thankfully President Biden & the US Congress and Senate have passed a historic bill to address the accelerating rate of global warming in the United States that is being recognized globally.
"The law directs $369bn toward investing in renewable energy and reducing America's planet-heating emissions, marking the country's most significant effort yet to combat the climate crisis. Experts have estimated the bill could reduce US emissions by about 40% by 2030, compared with 2005 levels, close to Biden's goal of cutting emissions in half by the end of the decade."

"Biggest Step Forward Ever…" The Guardian August 16, 2022
The Guardian was right. It was the "biggest step forward ever " in the United States. However, given the alarming rates of global warming we not only need to open shelters in our churches, we also need to join people all over the US who are making serious changes in our personal lives to create a sustainable environment for our children and grandchildren.
Here is a list of 10 steps most of us could take to reduce our carbon footprint for Gen Next excerpted from a list provided by the Washington Post February 22, 2022:
1-Create less food Waste

"The environmental consequences of producing food that no one eats are massive. Keep a list of the food you have on hand and organize your refrigerator so you can keep track of what is inside."

2-Ditch your grass

"Replacing grass with plants is among the most important ways to keep a yard eco-friendly. Laying down mulch is an easy place to start. It quickly kills grass and offers a blank canvas for planting."

3-Save coral reefs by packing smartly for your beach vacation

"Skip sunscreens and toiletries that contain oxybenzone and other chemicals and opt for mineral-based products instead. And remember to pack a reusable water bottle, utensils and bag, so you can avoid single-use plastic."

4. Shop sustainably by buying less

"In many situations, the "greenest" product you can buy is … nothing. Unless your purchase represents a significant upgrade from what you already own — say, swapping out your old gas-guzzling car for an electric vehicle — you are better off trying to refurbish or repurpose existing items than acquiring more stuff. Instead of buying paper towels, tear up old T-shirts to use as rags. Give your family's discarded books and toys to younger children in your neighborhood. Build your own "circular economy" in your community and your home."

5, Protect our Forests

"There are a number of groups that aim to help protect forests and old-growth trees. Joan Maloof, founder of the nonprofit Old-Growth Forest Network, said land trusts often buy and conserve land, and that the Land Trust Alliance runs findalandtrust.com to help connect people to organizations close to them."

6. Trade in for an electric car

"One of the most powerful individual actions people can take against climate change is to change the way they get around… New electric vehicles can be expensive — even the most affordable have a suggested sale price between $30,000 and $40,000. But as more car manufacturers start producing EVs (General Motors has even said it will only make EVs by 2035), the cost of these cars is expected to come down."

7. Weatherize your home

"Weatherization comes in many forms, but the easiest is closing up the cracks around windows and doors."

8. Learn about the link between climate change and racial equality

"One study in the Proceedings of the National Academy of Sciences found that Black and Hispanic communities in the United States are exposed to far more air pollution than they produce through actions such as driving and using electricity. In contrast, White Americans experience better air quality than the national average, even though their activities are the source of most pollutants."

9. Consider carbon offset

"Without systemic changes in the way society functions — such as an electric grid powered completely by renewable energy or a food system that generates lower amounts of greenhouse gas emissions — it is pretty much impossible for a single person or even a large institution to go completely carbon-free."

10. Pass it on

"Educating your peers is a great way to multiply your efforts. Share this article with your friends and family and help them take steps to make their lives a little more climate-friendly."
This is your invitation to join people of faith who care deeply about both God's good creation and our offspring who will value the significant difference we have made.
Photo by Markus Spiske on Unsplash
---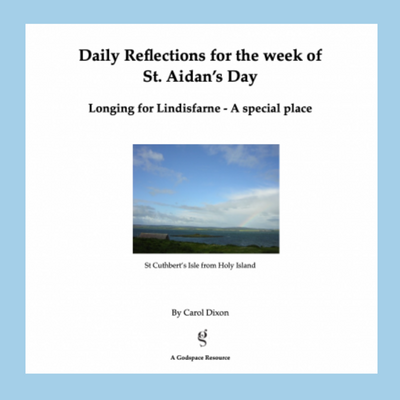 Did you know we have a resource for St Aidan's Day?
Download now for free and enjoy these daily reflection prayer poems by Carol Dixon.
Also includes a music download for "A Special Place" by Carol Dixon! Check it out in our shop.